Ransomware is here to stay. And while most antivirus software offer anti-ransomware protection, it will do you no harm if you were to add an additional layer of protection to your Windows computer, to protect it against ransomware. Ransomware typically enters your system by deceit and then goes on to lock access to a file or data and demands that a ransom be paid to the creator for regaining access.
We have already taken a look at some free anti-ransomware software which help remove ransomware. Today we will take a look at BitDefender Anti-Ransomware, also called as BitDefender AntiCryptoWall.
BitDefender Anti-Ransomware
Once you have downloaded the setup file from the BitDefender website, run it to install it. Once the installation is completed, you will see its ion appear in the system tray and its UI near it.
Click on the Settings wheel to set the basic general program settings.
Once you have done that click on the Immunization slider and turn it to the On position.
Once you have done that BitDefender Anti-Ransomware will immunize your computer. What it does is basically it does not allow executable files from %appdata% and %startup% to run.
Once the process is completed, you will see Immunization status as On.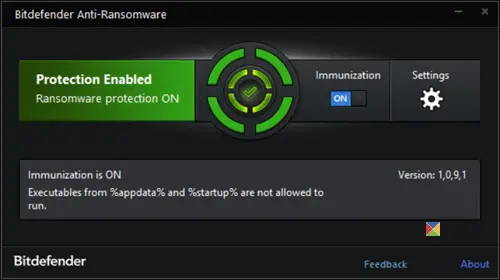 Your Windows computer will now be protected against CryptoWall and CTB-Locker ransomware. When these ransomware take control of your system, they encrypt your local files with randomly generated 2048-bit RSA pait, that's associated with the infected computer. While the public key remains on the infected system, the private key can be obtained, only by paying off a ransom! If the payment is not made, the key is deleted, leaving you in the lurch!
That is all you need to do.
Visit the BitDefender website to download it. UPDATE: This tool is no longer available on their website – but you could dowload it from Softpedia.
TIP: Since this freeware is not available, you may check out other free anti-ransomware software.
Stay safe! Prevent Ransomware from getting onto your computer. Take some basic steps to take to stay protected & secure.