Are you looking for free VOB file player software for Windows 11? If so, this post will interest you.
VOB is a video file format used for DVD videos. It stores video, audio, DVD menus, navigation content, and subtitles. Now, if you want to play a video in VOB file format, you need a dedicated media player that supports this video format.
Can I play VOB files on Windows Media Player?
No, you can't play VOB files in Windows Media Player Legacy on the latest Windows 11 platform. You either need to install the required video codecs or convert your video to a format compatible with Windows Media Player. You can also use a third-party media player that lets you play and watch VOB files. In this post, we are going to list down some great free VOB file players that you can use.
Best free VOB File Player software for Windows 11/10
Here is a list of the best free software using which you can open and play VOB files on your Windows 11/10 PC:
VLC media player.
KMPlayer
GOM Player
PotPlayer
Kinovea
FFmpeg
SPlayer
SMPlayer
File Viewer Lite
1] VLC media player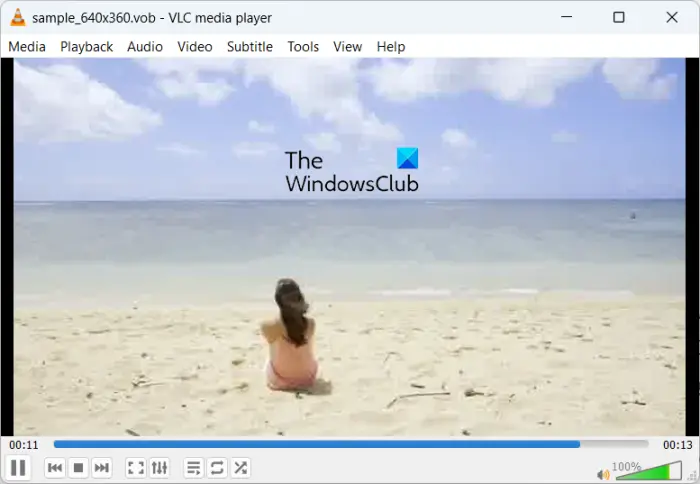 Well unsurprisingly, the top choice for a free VOB file player would be VLC media player. It is one of the most popular free and open-source media players that supports almost all media file formats. Using it, you can also open and play videos in .VOB file format.
Talking about features, you get all the essential video playback options in it. Plus, it also allows you to add subtitles to your videos. You also get options to customize aspect ratio, zoom your videos, capture screenshots, change video playback speed, and more. Besides that, some other features of this VOB file player include Media Information (view/edit metadata), Effects and Filters, Codec Information, and more.
All in all, VLC media player is one of the best media players with the capability to play DVD videos in VOB format.
2] KMPlayer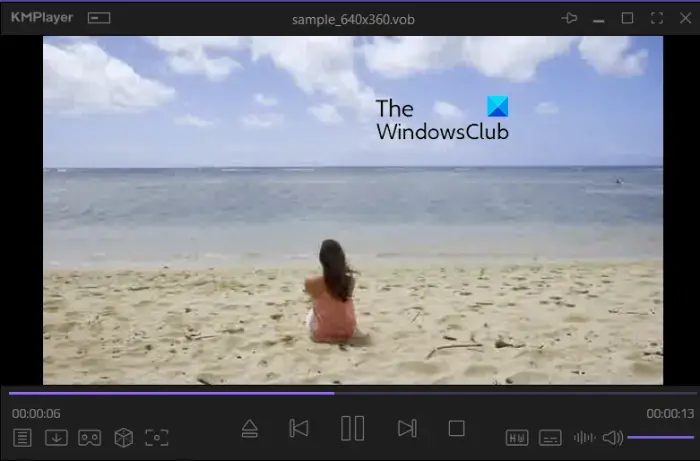 KMPlayer is a great free 4K player that you can use to play VOB video files on Windows 11/10. This media player supports a variety of media file formats plus UHD, 4K, and 8K videos up to 60fps.
It comes with standard as well as advanced video playback functionality to customize your movie-watching experience. Some of the features that you can utilize in it include VR mode, hardware acceleration, built-in video codecs (HEVC, h.264, VP9), export images from video, GIF screen recorder, movie thumbnail generator, and more. It also provides a feature to keep KMPlayer on top while doing other activities on your computer.
It is another good media player that you can use to play VOB files. You can download it from here.
3] GOM Player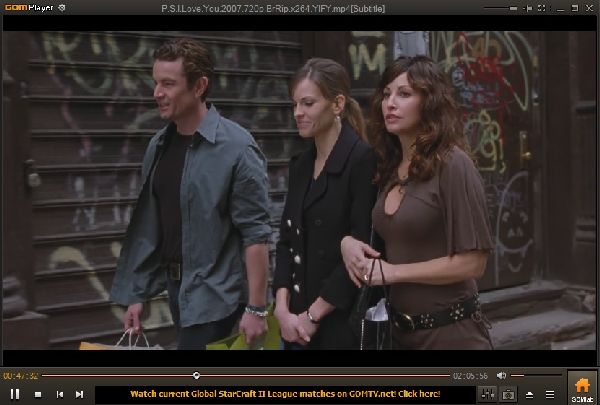 GOM Player is an advanced video player that lets you play VOB files. It is a good media player to watch VOB and other locally saved files, online videos, YouTube videos, and 360-degree videos.
While watching videos, you can zoom your VOB videos, change their aspect ratio, pan and scan them, rotate or flip them, insert subtitles to your videos, and slow down or speed up your videos. You also get some audio-related features including Audio Equalizer, Normalizer, Voice Filter, Reverb Filter, etc.
It is also a good pick to watch videos in VOB file format.
Read: Best free WebM to MP4 converter software for Windows.
4] PotPlayer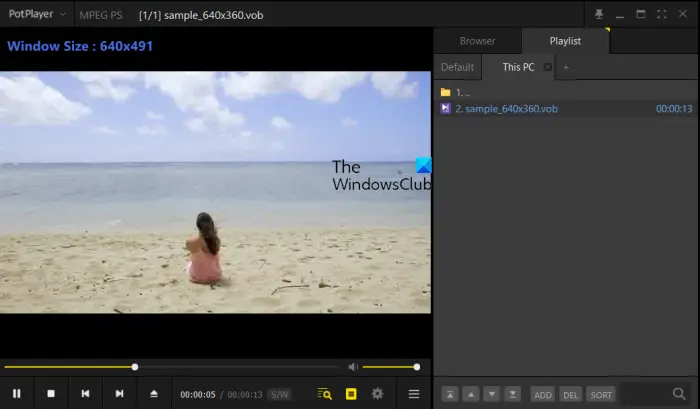 PotPlayer is a free VOB file player with advanced functionalities. You can browser and select the VOB file you want to play using its built-in file browser and play it. It lets you change the playback speed, apply video and audio effects and filters, adjust the aspect ratio and frame size of your video, etc. It also supports Text subtitles(SMI & SRT), DVD(Vobsub), and Blu-ray subtitles.
Some additional features of this free VOB file player include Direct3D9 Ex Flip Mode and Overlay, Bookmarks, DVD, TV, and HDTV device support, and OpenCodec support. In general, PotPlayer is another good software to play VOB files on Windows 11/10.
5] Kinovea
Kinovea is a free sports video analysis software for Windows 11/10. It lets you play and analyze videos in a variety of formats including VOB. Apart from that, it also supports MPG, MOV, FLV, 3GP, MKV, WMV, and more video file formats.
If you want to analyze videos that you have saved in VOB file format, this software is great. It offers multiple annotation tools, a magnifier tool, stopwatch, spotlight, and many other tools. Plus, you can play and analyze VOB videos in slow motion. There are many more features that you can use in this VOB player.
Read: How to open MOV files in Windows?
6] FFmpeg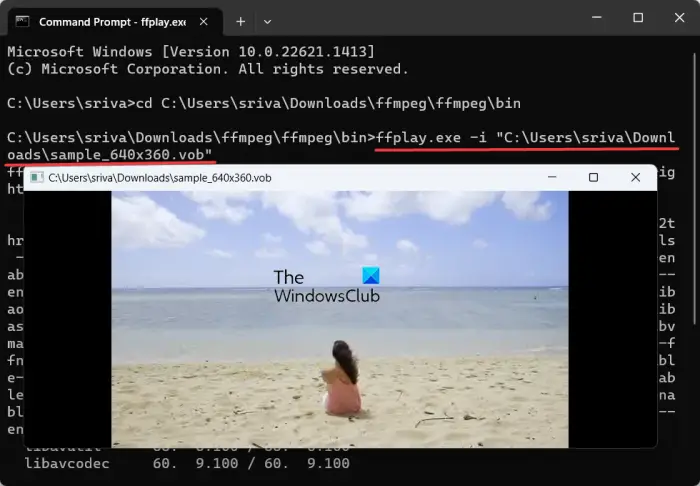 FFmpeg is a command-based video utility using which you can play VOB and other videos. It comes with different applications that are used to view videos as well as edit videos. One of its applications is FFPlay.exe which you can use to watch VOB videos. Here's how:
First, download the FFmpeg software from its official website and unzip the archive folder. Now, open the Command Prompt window using the Windows Search function.
Next, navigate to the folder where the ffplay.exe file is present in CMD. It is present inside the bin folder in the FFmpeg download folder.
After that, enter the command in below syntax to play your VOB file:
ffplay.exe -i <VOB File with full path>
An example of such a command is as follows:
ffplay.exe -i "C:\Users\sriva\Downloads\sample_640x360.vob"
In the above command, replace "C:\Users\sriva\Downloads\sample_640x360.vob" with the full path of your VOB file.
As you enter the above command, it will open the VOB file in its player window. You can open the video in full screen, play/pause the video using the spacebar, and use other basic playback functions.
See: Best Free Video Metadata Editor software for Windows.
7] SPlayer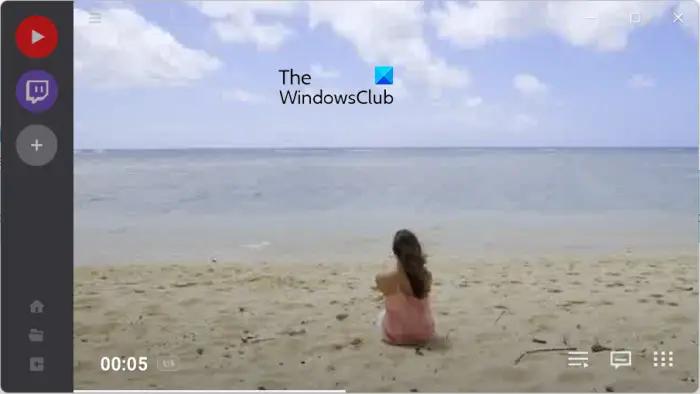 The next VOB file player you can use is SPlayer. It is a simple video player that lets you play videos in several file formats including VOB. You can change the video playback speed and customize audio settings.
It also integrates itself with YouTube and Twitch. So, you can directly open both these video-sharing and streaming platforms within this media player.
Read: Best FLV player apps for Windows.
8] SMPlayer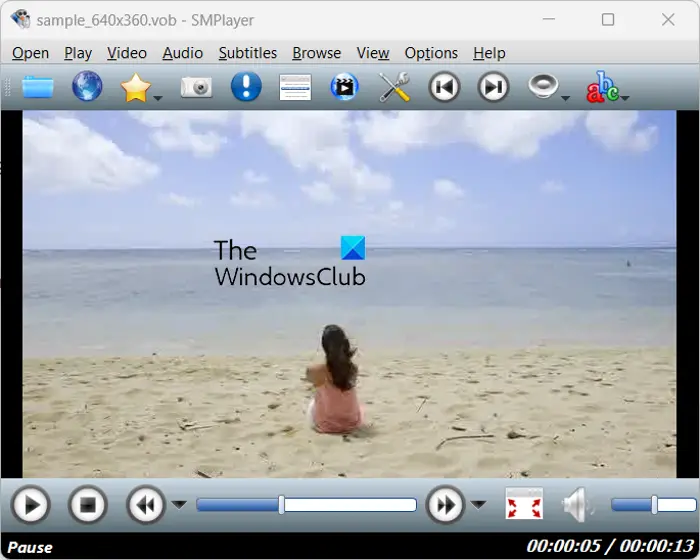 You can also try SMPlayer to watch VOB files in Windows 11/10. It is like a conventional video player with all the menus at the top. You can easily access and customize your experience using these menus. All essential playback features are available in it. You can download it from smplayer.info.
9] File Viewer Lite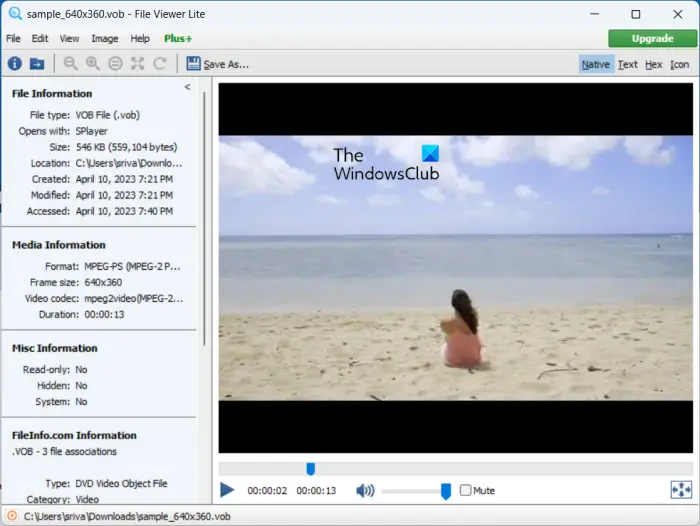 File Viewer Lite is the next free VOB file player for Windows 11/10. It is a free universal file viewer that lets you open and view over 150 file formats including VOB files. So, along with several other types of files, you can also watch videos in VOB, MP4, AVI, MKV, WEBM, and many more.
It provides only a few basic playback options including seek slider, play/pause, and mute/unmute. So, if you want advanced playback functions, try some other software from this list.
I hope this helps.
What is the best free DVD VOB player?
VLC media player is one of the best VOB file players for Windows. It is an all-in-one media player with advanced features that enhance your movie-watching experience. You can also use KMPlayer, GOM Player, and PotPlayer which are great media players and comes with various handy video playback features.
Now read: How to watch 360 degree videos on Windows PC?