The latest craze sweeping YouTube is 360-degree videos. In fact, it has become a trend of sorts! A 360-degree view differs from the conventional video viewing experience in a way that it makes every scene come alive. Just by moving fingers around, you can explore every angle and get an experience like never before. If you like the idea and want to be a part of this latest trend, here are two programs to help you experience it on your Windows 11/10 devices.
Watch 360 degree videos on Windows 11/10 PC
Using freeware GOM Player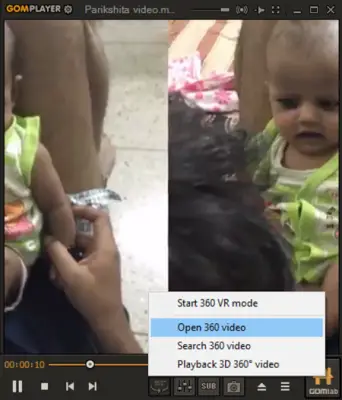 GOM Player is a popular video player that plays any video format in a 360-degree view. It's a compact and easy-to-use. The Media Player for PC installer can be downloaded from the link given at the end of the article. The download file is just 32 MB in size.
Once downloaded, launch the installer. The GOM Media Player Setup window will appear on your device's screen. Follow the wizard to set certain options such as file associations and to decide which components to install. When prompted with an optional software installation, decide whether or not you'd like to install the additional software. You may want to uncheck the option to install 3rd-party offers,
When the main screen of the player appears, hit the Play button. Next, choose the video that you want to play in a 360-degree view and hit the play button. If your video supports a 360-degree view, GOM player will play the video in 360-degree mode.
Likewise, you can select Preference and adjust settings of the player to get better viewing experience. GOM Player is completely free for everyone to download and use. Also, GOM Player's skinnable interface and advanced filter controls make the program highly customizable to suit preferences of Windows 11/10 users.
GOM Player Video Formats Supported: FLV, MP4, MOV, MPG, TS, AVI, DivX, ASX, WMV, M4V, DAT, IFO, VOB, 3GP/3GP2, Rm/Rmvb, MOV, OGM. Additional formats can be played with external codecs.
GOM Player Media Player Formats Supported: MP3, .M4A, .AAC, .OGG, .FLAC, . WAV
You can download GOM Player from here. Works on Windows 11/10/8/7.
360 Viewer Windows Store app
360 Viewer is an extension for Microsft Edge browser that lets you view 360 videos and photos from many popular websites on your Windows Mixed Reality headset. Get it from the Microsoft Store.
Using Video 360 Windows Store app
Video 360 claims to be the first 360° media player in the Windows Store. With this new app you can zoom and pan 360 degrees around the videos and use pinching/swiping gestures to simply move your phone. The app is developed by Webrox, the developer of one of the most popular YouTube app 'Tubecast'.
Video 360 is pretty much simple to use. All a user has to do is purchase the app from Windows Store and launch the app. Upon launch, the app auto-launches Tubecast with a 360° video search and lets you find a video you want to watch in Tubecast. Here, you can tap the '360°' icon in the upper right-hand corner of the video to watch the video in 360-degree mode.
All in all, Video 360 appears to be a great app that allows you to view the scene just like a cameraman.
Can you watch 360 videos on PC?
Yes, you can watch 360 videos on a PC without any problem. Although in-built media players do not allow you to watch 360-degree videos on Windows 11/10 PC, you can get a third-party tool to get the job done. For example, 360 Viewer is one of the best apps you can download from the Microsoft Store to watch 360 videos fluently.
Can Windows Media Player play 360 videos?
Windows Media Player may not be able to handle 360 videos on Windows 11 or Windows 10 computers. However, you can use the Movies & TV app to watch 360-degree videos without any lag. On the other hand, you can download third-party tools such as 360 Viewer or GOM Player.
Go get it from the Windows Store.