Here is a list of the best free vCard creator software and online tools. vCard or Virtual Contact File (VCF) is a standard contact file format to exchange contact details. A VCF file can contain information like name, website, email, phone, address, work profile, logo image, photo, social media links, and more.
Now, if you want to create a VCF or vCard file, you need a dedicated application designed for this purpose. In this post, we are going to provide you with a list consisting of multiple free software as well as online tools using which you can generate vCard files. These are very easy to use and require a few steps to create a VCF file.
Best free vCard Creator software and online tools
Here is a list of the best free vCard creator software and online tools:
Contacts
vCard Editor
vCard generator
vCard Maker
Smart vCard
ZAPPED
1] Contacts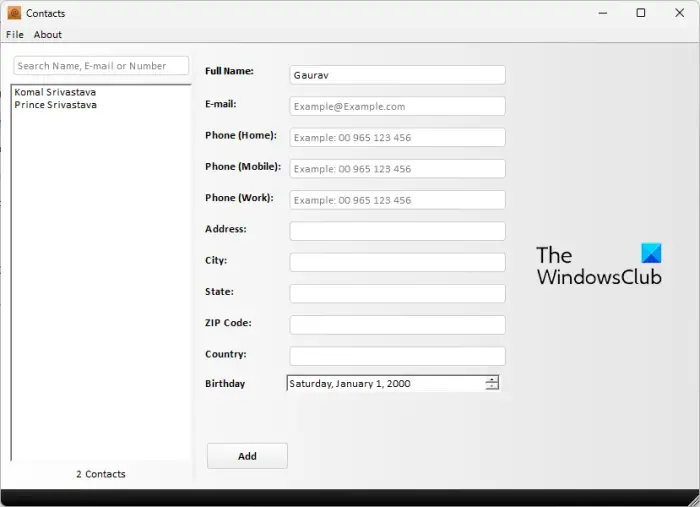 Contacts is a free vCard creator software using which you can create VCF contact files. It lets you create vCard files in version 3.0 format. You can also import existing vCard files and edit them accordingly. It is extremely lightweight and easy to use.
How to create VCF files using Contacts?
To use it, simply download and install it on your PC, and then launch the application. You will be able to view various contact details fields on its main interface. Just start filling in the details of the contact you want to create, such as full name, email, phone numbers, address, city, state, country, zip code, birthday, etc. Once done, you can press the Add button to create the contact and add it to the list.
Similarly, you can create multiple contacts and they will be added to the left-side panel. You can then save the VCF file by clicking on the File > Export All option.
Download it from sourceforge.net.
Read: Save scanned Business Card as Virtual Contact File with Office Lens.
2] vCard Editor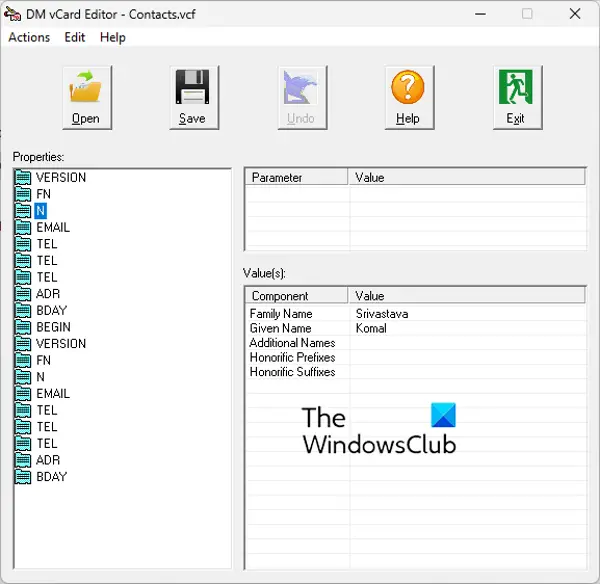 As you can guess by the name, vCard Editor is free software that allows you to edit your VCF files on Windows PC. It is a portable application that you can download and run on the go. You can then click on the Open button and import the source VCF file. After that, you can click on a field and view and edits its value as per your need. Once done, press the Save button to save changes in the opened VCF file.
You can also add more fields to a property to the vCard file. For that, right-click on a property name in the Properties column. After that, select the new property that you want to add to the group.
It is a basic portable vCard editor software. You can get it here.
See: How to import Apple Contacts to Windows PC?
3] vCard generator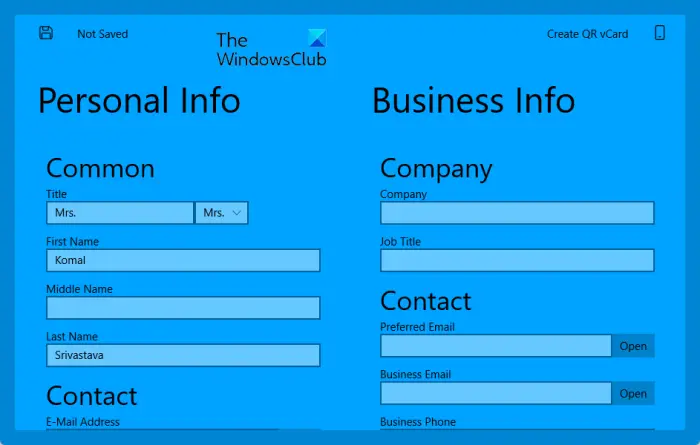 vCard generator is a free vCard creator app for Windows 11/10. It lets you generate contact files in a few steps. You can install it from Microsoft Store and then open it. On its home screen, you can view all the contact fields that you need to fill. Just enter information including Title, Company, Phone Business, Name, Job Title, Fax, Mobile Number, Address, Personal Website, Email, etc. When you are done entering these details, click on the Save file button present on the top-left of its GUI. You can type the filename and press the Save button to export the VCF file.
The good thing is that it also lets you create QR vCards. This app is available on Microsoft Store. So, install and use it.
4] vCard Maker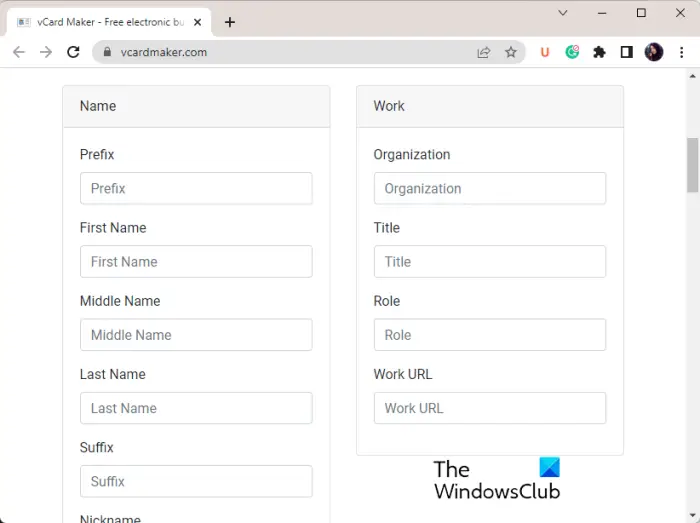 vCard Maker is a free online vCard creator tool. It lets you quickly create VCF contact files online without putting in any effort.
How to create VCF files online using vCard Maker?
First of all, open its website in your web browser and scroll down a bit. You will see various empty contact fields. Simply enter the contact details you want to create. You can add contact information including First Name, Middle Name, Last Name, Nickname, Organization, Role, Title, Work URL, Work Email, Home Phone, Work Phone, Home Address, Work Address, Birthday, Anniversary, Images (logo/ photo), Social media Profile Links, and more.
After you are done adding all the details, you can preview the output as well as view the respective code. To save the VCF file, click on the Generate button.
Check it out here.
See: How to import Gmail or Google contacts into Outlook?
5] Smart vCard
Another free online vCard creator on this list is Smart vCard. This web service allows you to generate beautiful and responsive HTML‑based digital business cards and vCards. You can share the contacts or host them on your domains. Additionally, you can also share contact details by a link or QR code. It is a really nice vCard tool with some interesting features.
How to create vCards online using Smart vCard?
You can open its website in a web browser and tap on the Create your own button to get started. Now, you can provide image attachments including the brand logo and profile picture. After that, start entering your vCard information which may include first name, last name, gender, job title, business name, business address, business description, etc.
Now, you can add many more fields to your vCard as per your requirements. These information can be phone numbers, email, websites, calendars, locations, and much more. You can even add some secondary details like Discord ID, Twitter, Vimeo, Facebook, Snapchat, and many more social media links.
Furthermore, you can insert media, text, embed code, product details, etc. As you add details, you can view its preview in a dedicated section. If all is done, you can press the Save Contac button to export the contact details in a VCF file.
It is one of the best free vCard generator tools that allows you to create vCards with tons of details about a contact.
Related: How to Import Contacts from People App to Microsoft Outlook?
6] ZAPPED
ZAPPED can be another alternative to a vCard creator. It is a free online vCard generator tool that lets you make vCards online. It lets you create responsive and elaborative vCards with a lot of contact details. To use this web service, you first need to register an account on its website. After that, sign in, press the Create vcard button, and start creating your own vCard files without any hassle.
You first need to enter the URL, contact name, and description, and then press the Create button. It will then provide you with several other fields to enter contact information. It lets you select the desired vCard theme. Also, you can add details like logo image, favicon, background, name, company, job title, birthday, etc.
In case you want to add more customized fields, click on the Blocks > Add block button and then select a field and enter the respective detail. Once done, press the Update button to save the vCard file. You can share this file online or save it locally in VCF format.
It also provides a handy feature to generate a vCard QR code. You can download the QR code image in PNG format. Or, if you want to directly print it out, you can do that too.
It is another great vCard generator tool using which you can make responsive vCards.
Read: How to export Outlook Calendar in CSV file?
Where can I create a vCard?
You can create vCard files online in your web browser. For that, you can use web services like Smart vCard, vCard Maker, and ZAPPED. These are nice online tools to quickly generate vCards online. Plus, these are free services which is an advantage. If you want to use a free offline desktop application to create vCard files, then you can use Contacts. We have discussed these software and online tools in detail above; so checkout.
How do I convert a CSV file to vCard?
To convert a CSV file to vCard, you can use this free software called CSV to vCard. You can download and install this software, and then open it. After that, browse your locally saved CSV file containing contact details. It will read all contacts fields and data automatically. You can then select the vCard property for each CSV field. Once done, you can press the Convert button to convert CSV to a VCF file. The converted VCF file is in vCard version 3.0 (RFC 2425) format.
Hope this article helps you find a good free vCard creator.
Now read: