In the first part, we learned how to export contacts from People App as an .CSV file to your Desktop. This part deals with importing contacts to an Outlook account, which completes the process of migrating contacts from People App to Outlook 2019/2016/2013.
Import Contacts from People App to Outlook
You will need to follow these instructions (assuming you have the Outlook app opened),
Click File, choose 'Open & Export' and then 'Import/Export' visible in the right pane.
The action will prompt the 'Import and Export' wizard to start. When the wizard does start, select 'Choose Import from another program or file' option and then click Next.
Next step, select 'Comma Separated Values' option and hit Next.
Then, browse to the .csv file you would like to import.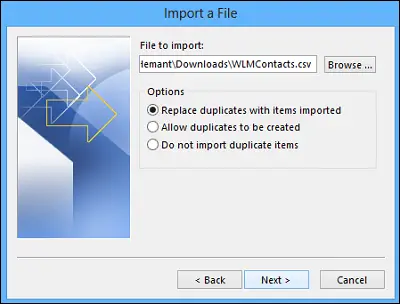 Here, under Options, choose whether to replace duplicates (existing contacts), create duplicate contacts, or not import duplicates.
Click 'Next' and choose the destination folder for your contacts. Contacts should be selected by default, but if it's not, scroll up or down until you find it. Click Next!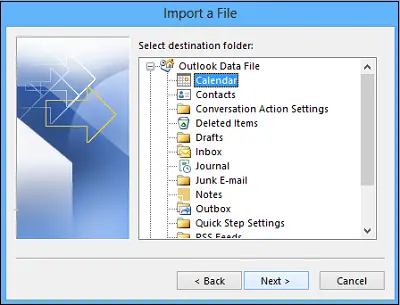 Make sure the checkbox next to Import "MyContacts.csv" (assuming that's your file name) is selected.
Pause here for a while before you click the 'Finish' button. Why? Because you'll need to "map" some of the columns in your CSV file to the contact fields in Outlook. Mapping could certainly help turn imported contacts the way you want.
So, map your CSV file columns to Outlook contact fields.
Click the Map Custom Fields button. Upon clicking, the Map Custom Fields dialog box appears.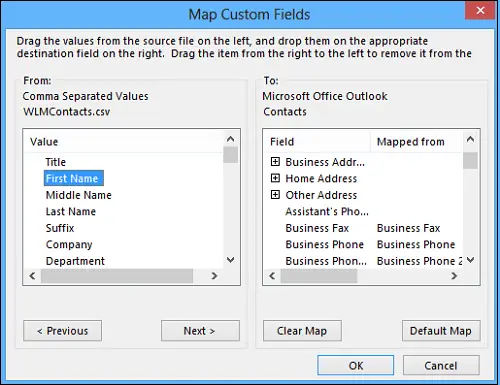 Under 'From' on the left, you'll see a box with the column names from the CSV file you're importing. Likewise, under 'To', you'll see the standard fields that Outlook uses for contacts. If a field matches a column in the CSV file, you'll see your column under Mapped from.
Here' you'll probably need to do some manual mapping. For instance, in the imported file, the contact's cell phone is in a column named "Cell Ph." It won't have an exact match in Outlook. But you can find a suitable match in Outlook by doing this:
Scroll down in the pane on the right, and you'll find Other Address, which has a plus sign (+) next to it. Click the plus sign to expand what's under it, and you should find a good match, Mobile Phone.
For the mapping simply drag one entry from the left and drop it over other suitable entry in the right pane. Once done, the entries would appear in the desired mapped form.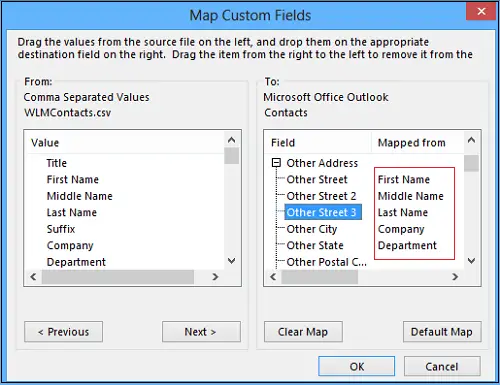 One at a time, drag the rest of the values from the left pane to the appropriate Outlook fields in the right pane.
Finally, click Finish. Now, you have completed the process of importing contacts from People App to Outlook.
Your contacts are now successfully imported into Outlook.