It is a good practice to keep all contacts and emails in one place. That's where Microsoft Outlook finds its potent use. The application allows storing all emails, contacts, calendars, etc in one place in an organized fashion. However, it's an uphill task and certainly not as easy as it sounds. Migrating Contacts from Google, Yahoo or others is a bit tricky. That said, what about the contacts hiding in the People App for Windows? This tutorial walks you through the process of Exporting or Migrating Contacts from the Windows People App to Microsoft Outlook & explains how you can do it in a quick time.

For convenience, I decided to cover the topic exporting or migrating contacts from People App to Outlook in 2 parts.
Part 1 – Configuring Outlook with your Live account/People's App because, by default, the People app uses the MS Live account you use to log into your machine or store Contacts. And Export contacts. This will be covered today.
Part 2 – Import contacts to another account in Outlook.
Migrate Contacts from People App to Outlook
Open Outlook app, click File and select Add Account option.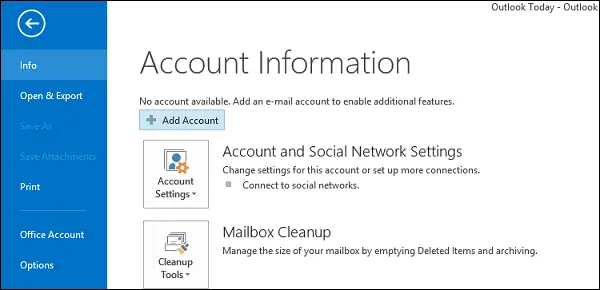 Next, under Account Information section on the right, choose 'Add Account' option and enter the necessary information required to add an account like Name, email address, and password. If you need to configure others, check "Manual setup or additional server types" box. Then click the Next button to finish the process.
The contacts are stored in multiple accounts. Now, you need to export contacts to Outlook. How do you do it? Simple, open IE browser, log in to Outlook.com or Live.com website by your own account.
Adjacent to the Outlook icon, you can notice a drop-down arrow. Click the arrow and select "People" tile.
Next, under the 'Manage' section, select 'Export' option.
Choose Save File and click OK. Save and download the .csv file to your desktop.
Next in procedure steps, is to Import contacts into Outlook by following the instructions. This is a bit complicated, but Microsoft manages to explain it well via a nice write-up. That process makes the second part of our tutorial which will be covered tomorrow.
NOTE: The People app in Windows now no longer appears as a standalone app in Start Menu.
It remains as an Inbox app and can be launched to manage your contacts from the button in the Mail and Calendar apps.