Criminals can attack your computer by several means, and one of the most popular is through the built-in USB ports. A person could easily plug a USB stick into your ports to introduce malware or copy all of your important and personal files. The best way to solve this problem, from our point of view, is to use USB port-locking tools. These programs will ensure no one can copy files via the USB ports at will or install malware, among other types of problematic files.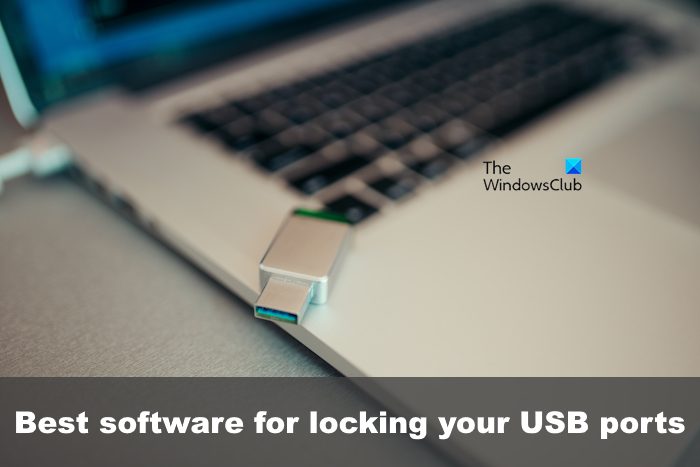 Best free USB Port Locking software for Windows PC
To protect your data, you can lock your USB ports from working with USB sticks. You can use one of these free USB port-locking software to do so easily:
URC Access Modes
Nomesoft USB Guard
Windows USB Blocker.
We have seen how to restrict access to USB drives using the Windows Registry or Device Manager, now let us take a look at these free USB locking software.
1] URC Access Modes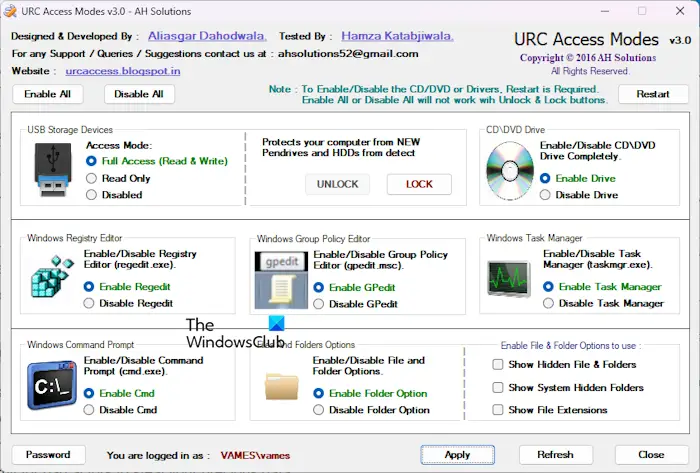 First, we want to look at a tool known as URC ACCESS MODES, which has been around for quite some time. You see, with this program installed on your computer, it makes it very difficult for bad actors to steal your precious data.
To begin using this application, please visit the official page and download it for free.
Once done, perform the installation. If you are asked to download and install .NET Framework, please do so without hesitation. Bear in mind it could take a few minutes to download and install .NET Framework.
After installation, the program should open automatically, showcasing many cool features.
Here you can disable access to your USB ports. You can also choose to make the ports Read Only. Additionally, users can disable the CD/DVD drive with just a mouse click.
If you are using a USB mouse, then you might not want to disable the plugs unless you have other means of navigating the operating system.
When you're done with making the changes, hit the Apply button, and that's it.
Fix: USB ports are not working in Windows
2] Nomesoft USB Guard
Another wonderful tool to consider is one called Nomesoft USB Guard, and yes, it can shut down your ports. After you've downloaded the file to your computer, you must go ahead and install the app on your computer.
Once done, please launch it with administrator privileges, or it will not work.
Hit the Continue button to reveal the main menu. From there, you can disable or enable the use of all USB ports.
You can also choose to make removable drives either Read only, or both Read and Write.
READ: How to disable the USB driver using Group Policy
3] Windows USB Blocker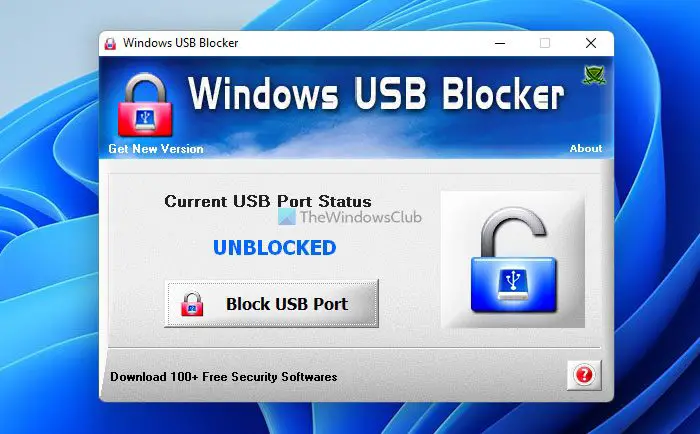 The final tool we want to look at here is one called Windows USB Blocker. It is a simple USB security software that allows you to block and unblock your USB port to access. The USB port is one of the prime areas where the virus can enter in the system. So, blocking and unblocking storage devices on any Windows system now can be done very easily and effectively with a Windows USB Blocker.
You might also want to check out these USB related tools:
Can we lock the USB port?
Yes, it is possible to lock USB ports on a Windows computer via free applications and the device manager, setting permissions, and access controls via the group policy settings.
READ: What is a USB Drop Attack?
How do I stop data leakage from USB devices?
You must always scan your USB drives with the latest version of your anti-virus tool before opening them. You can also protect your USB drive with a password and encrypt files and folders to keep contents protected from prying eyes.