IPTV is a service that uses the Internet to offer both live and on-demand material. IPTV services are less expensive than streaming services such as Netflix. IPTV allows you to view countless live TV stations and VOD material in various quality forms. There are several IPTV service providers available on the internet. Make sure you sign up for an IPTV service that offers better material at a lower cost. To access and view material provided by the service provider, you will require an IPTV player. There are several IPTV applications for Windows PC. In this post, we have selected and analyzed the top 5 free IPTV players.
Free IPTV Players for Windows PC
There are various free IPTV Players for Windows users. Some popular video players integrate an option to play IPTV content. However, not all of them are worth recommending. We have made a list of top-of-the-line free IPTV Players that you can download, install and use on Windows 11/10 computers. The following are the best free IPTV Player for Windows PC:
VLC Media Player
Web IPTV Player
Kodi
GSE Smart
MyIPTV
Let us talk about them in detail.
1] VLC Media Player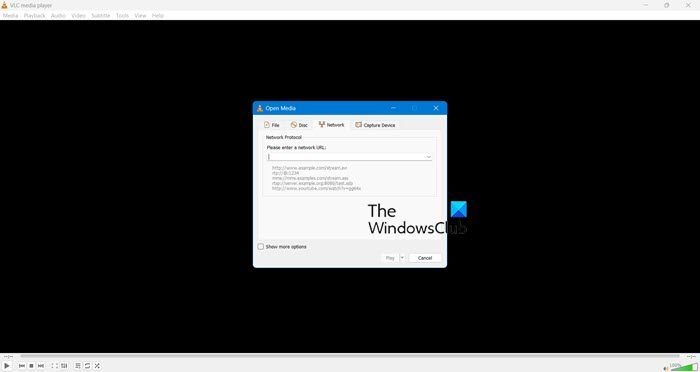 VLC allows you to stream any audio/video file with no problems. You may use it to access IPTV material along with playing & accessing media files from a local disk. The VLC Media Player has no advertisements and is free to install and access. The following steps can help you stream IPTV on VLC:
Open VLC Media Player.
Click on Media > Open Network Stream or just hit Ctrl + N.
Click on Network and type the M3U URL that your IPTV provider gave you.
Now, you can play the content after selecting it.
Hopefully, now you know how to access the content of your IPTV on VLC Media Player.
Read: How to record Desktop Screen using VLC Player
2] Web IPTV Player
This IPTV Player, as the label suggests, is only accessible via the website. When contrasted to certain other IPTV players, Web IPTV Player fetches material quickly and enables you to stream content again with no problems. This online IPTV Player is completely free to use and does not demand any registration. The following steps can help you stream IPTV on a Web IPTV player:
First, open a browser on a computer or mobile device.
Then navigate to the Web IPTV Player homepage, which is located at https://web.iptvplayers.com/.
In the space provided, add the M3U URL given by your IPTV provider. Please keep in mind that you may also upload the M3U Playlists data to Web IPTV Player.
You need to wait for the data to load before tapping the Play option.
Select Watch
To access Web IPTV Player, go to web.iptvplayers.com.
Read: Computer freezes when watching videos
3] Kodi
Kodi is a free media player that also functions as an IPTV client. IPTV addons allow you to install and watch IPTV content on Kodi. Some IPTV add-ons are found in the original Kodi repo. The majority of IPTV extensions must be downloaded from third-party sources. The M3U link on the PVR IPTV Simple Client addon is the simplest way to broadcast IPTV on Kodi. The following steps can help you stream IPTV on Kodi:
Start the Kodi application.
In the top-left-hand corner, right below the Kodi logo, select Settings.
Select the Add-ons button on the following page.
Then choose Install from repository and click on All repositories (move to the next step if All repositories is absent).
Scroll to the bottom and choose PVR clients on the following screen.
Navigate and choose PVR IPTV Simple Client.
The dashboard for the addon will appear. Choose Install.
To install the required supporting addons, hit OK.
The PVR IPTV Simple Client addon will begin installing.
It will start downloading after a few seconds.
Finally, an Add-on downloaded notification will appear on the top right-hand side of your screen.
You can access your IPTV from there. Kodi can be downloaded from kodi.tv.
Read: Kodi won't install or open on PC
4] GSE Smart
One of the excellent IPTV players for Windows is GSE Smart. This IPTV player is accessible exclusively as an APK file and is completely free of cost to download from PlayStore as well. To install the GSE Smart IPTV, one must employ android Emulators such as BlueStacks. The given IPTV player additionally enables viewing multimedia content on your local storage.
The GSE Smart Player is not available as standalone Windows software. To access it, you need to first download and install Bluestack and then, from the PlayStore, search and install GSE Smart. Do keep in mind that it is not advisable to install and use GSE Smart on an inferior computer as you are using BlueStack, which is a demanding app and can hinder your watching experience.
Read: Video Playback issues, problems and errors on Windows
5] MyIPTV Player
MyIPTV is a trustworthy IPTV player that can be downloaded and used for free. However, one should not install this IPTV player via an.exe file or a third-party program, as you would with other IPTV players. On a Windows PC, you may install the MyIPTV player straight from the Microsoft Store by searching for it or by going to microsoft.com. You may see your IPTV service provider's programming by entering the M3U playlists link. The following steps can help you stream IPTV on MyIPTV player:
Navigate to the Settings tab and select Add new playlist and EPG source.
Select a list of local or remote channels.
From the menu, choose the channel playlist by name and hit Refresh.
Navigate to the Channels area and select a station to watch live.
That's how you can use MyIPTV Player.
These are some of the best IPTV players you can install on a Windows computer. However, no one is objectively better than the other; everyone has personal preferences. I would go for Kodi or VLC due to their simple UI and familiarity, but that's just my preference.
Also read: Best Free Media Players for Windows.