At times, you may have experienced issues where, when you have played a video on your Windows PC; the video may start to freeze or lag. Most of the time, such issues are caused by bad or corrupted Codec Packs, Flash plugins or player or Device Drivers. Let me suggest a few fixes which can help you resolve such issues.
Windows is not just an operating system for business and work, but it's also great for entertainment of all kinds. Want to listen to your favorite music? No problem, go ahead. If playing video games and watching movies are your guilty pleasure, then, by all means, take your time. Now, what happens when you're unable to play videos via your Windows 11/10 computer? You tried playing videos offline and online, but to no avail, so you're wondering if the operating system is acting up, or maybe it's the entire computer.
Why video is not playing in Windows 11?
There is no particular reason why you are unable to play videos on Windows 11 PC. To play a video, it is necessary that the video player that you use should support the video format. If your media player does not have the required video codecs, you can download them online from the official website of the media player (if available). If you are experiencing glitches while playing videos, your display driver might have been corrupted. Updating the display driver will fix this issue.
Fix Video Playback issues, problems & errors in Windows 11/10
Several reasons could be the cause of the issue, and as such, we're going to talk about some of these fixes in hopes that at least one will change your day for the better.
Run Video Playback Troubleshooter
Issues with Codec Packs
Update Display or Graphics Driver
Remove & reinstall the Graphics card driver
Install the Flash plugin.
Let us see them in detail.
1] Run Video Playback Troubleshooter
From the Start Search, open Control Panel > Troubleshooting > View all. Now run the Video Playback Troubleshooter and see if that helps you.
UPDATE: Microsoft has deprecated the MSDT-based Windows Troubleshooters. You have to use the new Get Help based Video Troubleshooter.
2] Issues with Codec Packs

The main problem I have seen in most of the cases, us that this happens due to installing different codec packs which might create conflicts. For example, when you install the VLC Code pack or maybe the K-Lite Codec Pack, the Codec version may be different resulting in playback issues.
Then the first thing I would recommend to do is to uninstall all the Codec packs like K-Lite Codec Pack, Media player classic, VLC, and MPC Star.
After uninstalling all the Codec packs, reboot the System. Then run Windows Media Player troubleshooting packs to make sure the native Codec is intact. Use this guide to troubleshoot Windows Media Player issues. If you are using Windows Media Player, run the Fix WMP Tool mentioned in that article.
Once you have completed that process, then reboot the System again.
Next, download Shark007's Codec Pack from here. These are Windows Media Player Codecs, and that's all you need to play almost all the formats.
The Codec pack contains a Settings Application, to be used in conjunction with your Windows Media Center setup. This will enable each user to choose different splitters and decoders for specific filetypes. The application will also allow you to choose from 10 different speaker configurations from 'same as input' and all the way up to full 7.1 channel output.
3] Update Display or Graphics Driver
A lot of times the issue of broken video playback is caused by the graphics card driver, and a simple update could set things right again.
Go ahead and press Windows Key + R to invoke the run box. After that, type devmgmt.msc into the box and press Enter to launch Device Manager. Navigate to "Display adapter" and right-click on your graphics card, then select Update driver and move on from there.
There expand "Display adapters" and see if you have a yellow exclamation mark. If it exists, it means that Display Drivers haven't properly installed. You need to update your drivers.
4] Remove & reinstall the Graphics card driver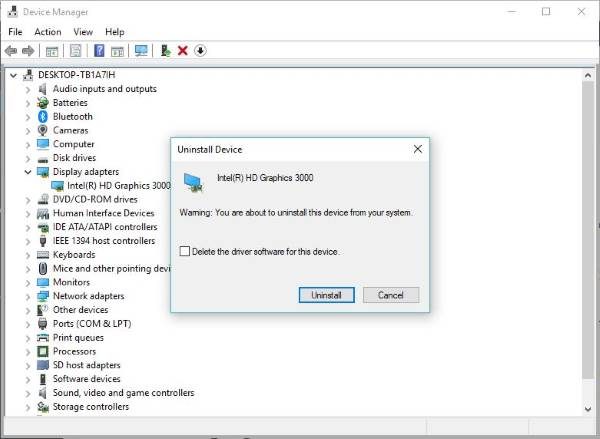 Press on the Windows Key + Run, then type devmgmt.msc in the Run dialog box. Click Enter, and watch as Device Manager fires up. Navigate to "Display Adapters" then right-click on the graphics card.
The near-final step is to click Uninstall, then tick the box that says "delete the driver software for this device." Close Device Manager and then proceed to restart your computer to move forward.
After restarting, the system should automatically reinstall the speaker. If not, follow the above procedure to return to the Device Manager. Travel off to "Display Adapters" then right-click on the graphics card.
Here, simply enable the graphics card again, restart your computer again, and from there, everything should work as intended.
These steps are usually good enough for fixing most problems regarding the no playback of video content on Windows 11/10. Still, it might not be enough. Therefore, we've got something else that might work.
You may also go to the manufacturer's website and download the appropriate drivers and install it. Once you install the Drivers, reboot the System and test your Video Playback.
5] Install Flash plugin
On the web, Flash is no longer a huge deal, but some websites still rely on it to show video content. For these rare cases, we recommend installing Flash from the official website to see if it fixes your playback issue.
Alternatively, it might be best to forget about the website you're using because Flash is a security risk, and prone to bugs that may affect your web browser.
How to install HEVC codec on Windows 11 for free?
To get the HEVC codec on Windows 11, you need to install HEVC Video Extensions. It is available on Microsoft Store. Open Store and search for the same. But it is not free. You have to pay the required amount to purchase HEVC Video Extensions from Microsoft Store. After installing it, you can play HEVC videos in any app on Windows 11.
This should help!