Here is a list of the best free appointment reminder software for Windows 11/10. Using these free software, you can easily set up multiple reminders for your upcoming appointments on your desktop. These software pop up a reminder for your appointments at the scheduled time with an alarm sound or tone. This way you can make sure that you don't miss out on your important appointments. You can also set up reminders for other events like to-do tasks, birthdays, anniversaries, upcoming events, and more.
You can add multiple appointment reminders with the help of these freeware. Plus, if there is an appointment that reoccurs over a time period, you can also reschedule it. Many software also provide a Calendar view to check out all the appointment reminders scheduled for a month. Some handy features like a task list, add custom alarm music, and more are also available in a few of these free appointment reminder software. You can check out the list to get suitable software to schedule your appointment reminders on your Windows PC.
Best Free Appointment Reminder Software For Windows 11/10
Here are the best free appointment reminder software for Windows 11/10 PC:
Free Countdown Timer
Wise Reminder
Multi Reminders
Desktop Reminder
Remind-Me-Please
StickyPad
1] Free Countdown Timer
Free Countdown Timer is a free appointment reminder software for Windows. It lets you add multiple appointment reminders for specific times. You can add information about the appointment and also set up a reminder tone. It contains a lot of tones that play on the appointment reminder such as Guitar, Cuckoo, Bells, etc. If you want, you can even add a sound of your choice in MP3 file format. You can also use this software for vacation countdown, break, and other timers.
To use this appointment reminder software, simply click on the Add button to bring up the Timer section. After that, you can either use Countdown (add an appointment reminder for the same day) or Count till/from date and time (set up a reminder for some other date). Now, simply enter the time and date of the appointment. And, add the brief details of your appointment in the Label box. You can then choose the desired alarm tone and then customize the alarm volume, repeat sound, snooze, etc. Lastly, click on the OK button to complete the process.
It shows all the newly added appointment reminders with the remaining time and date, chosen alarm tone, and appointment label on the main interface. It also provides an option to save the appointment reminder settings as Backups (.tmr). So, in case, the reminders are removed accidentally, you can restore them whenever you want.
It is a great appointment reminder that comes for free. You can download it from here.
See: Break Reminder software to help you take a break from your computer.
2] Wise Reminder
Wise Reminder is another nice free appointment reminder software for Windows 11/10. You can simply add one or more appointment reminders with respective descriptions in it. Using its Repeat menu, you can even add appointment reminders that are repeated over time. It lets you choose time for repeated appointments including Daily, Weekly, Monthly, and Yearly.
It pop-ups a message with a sound on your screen to remind you about your appointments. The pop-up shows the appointment description. It lets you change the default music by manually adding a sound to this software. The main GUI of this software contains two sections called Unfinished and Completed. In the Unfinished section, you can view all the upcoming reminders. While in the Completed section, it shows all the finished appointment reminders that you can reschedule.
This is a beautifully designed appointment reminder software that you can use for free.
Read: Alarm Stickies lets you create and set alarm reminders on Windows PC.
3] Multi Reminders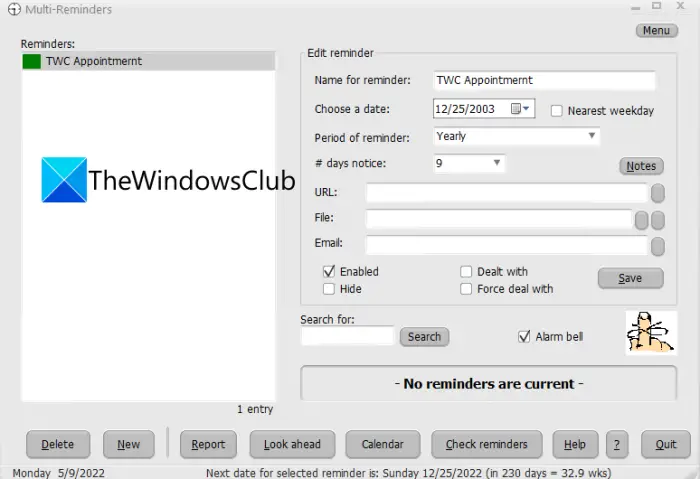 Another appointment reminder software that you can use on Windows 11/10 is Multi Reminders. Using it, you can add reminders for appointments as well as for upcoming events, TV programs, movies, birthdays, etc.
You can add multiple reminders with the time period (Yearly, Daily Weekly, etc.), days' notice (set up an early reminder before the appointment), etc. It also lets you add a URL and files with the appointment reminder. You can also find an Alarm Bell option that is basically used to play a sound when the reminder is popped up. It has a default alarm tone that you can't change. When you set up an appointment reminder, it is shown on the left-hand side of the interface. It provides a search feature to find a particular appointment reminder.
You can also view the Calendar with all the appointments for the present month). Plus, there are features like Look Ahead (check the reminders for the rest of the week, next week, etc.) and Check Reminder (view current day reminders) in this software. A handy feature called Report is available in it that shows your appointment reminders with details like reminder name, start date, etc.
You can download this software from here.
RELATED: How to create, remove or set a Task Reminder in Outlook?
4] Desktop Reminder
You can also try Desktop Reminder to set up appointment reminders on your Windows 11/10 desktop. It is used for managing tasks and your to-do lists easily. With the help you this freeware, you can set up not only appointment reminders but reminders for anniversaries, business, birthdays, and other events. It also lets you customize color codes for different categories of tasks.
It has a feature called Urgency that enables you to set up a reminder before the actual timing of an appointment. There is also a Recurrence feature using which you can reschedule the same appointment reminder which is going to be repeated in the future. You can view miniature calendars at the bottom of the screen with appointments and tasks in different colors.
This free version of the software lacks some features such as custom alarm sound, task grouping, Calendar view, and more. You are required to get the paid version of this software to unlock these features. You can get the free version here.
See: Concenturio is a free Alarm Reminder software for Windows PC.
5] Remind-Me-Please
Remind-Me-Please or RMP3 is yet another free appointment reminder software for Windows 11/10. It lets you create appointment reminders easily. Plus, you can also set up reminders for other events, birthdays, etc.
You just have to add data and time of appointment to set up its reminder. It also lets you add a reminder message and choose a sound alert. Furthermore, if there are some events being repeated daily, weekly, monthly, or yearly, you can also set up recurring appointments. It can also be used to set up reminders for warnings or alerts that pop up before the actual event.
Some handy tools are also available in this freeware. These features are Duplicate selected events, Edit events, Push event to next occurrence, Task list (create to-do list), Calendar view (check all appointment reminders on the calendar), and Backup & Restore.
If you liked this software, you can download it from here.
Read: Safe software download sites to download Windows software free
6] StickyPad
StickyPad is one more free appointment reminder software for Windows 11/10. Just like sticky note software that you can play anywhere on your desktop screen. However, with this software, you can set up your reminders for upcoming appointments. Not just appointments, you can also set up reminders for important occasions, holidays, tasks, and more.
It is very easy to use. Just launch StickyPad and enter appointment information. Then, press the downwards arrow icon and click on the Set Reminder option. After that, set up the reminder date in MM/DD/YYYY format or enter the reminder time (e.g., 15 minutes). You can even enter the accurate reminder time in hr:min:sec AM/PM format. When it's time for the appointment, a pop-up will show up on your screen with the appointment details. The only drawback of this software is that it doesn't;t play any sound for the reminder.
It is a simple appointment reminder tool that you can use for setting up reminders for your appointments.
Now read:
What is the best free appointment reminder app?
There are a lot of good free appointment reminder apps for Windows. You can try software like Free Countdown Timer, Wise Reminder, or Multi Reminders to set up reminders on your desktop. There are many more that you can check out below. If you are looking for an online appointment scheduling tool, there are web services like Vagaro.
Read: How to set up Recurring Popup Reminders without using any software
Which software is best for sending reminders of appointments?
In my opinion, Free Countdown Timer is one of the best free appointment reminder software that you can use on a Windows 11/10 PC. It lets you set up multiple reminders with a custom sound. Besides that, Wise Reminder is also a good one as it also lets you add repeated appointment reminders.
Is there a free scheduling tool?
Yes, there are multiple free scheduling tools. If you are looking for one for Windows, you can try Shutter to schedule a particular task.