One of the most frustrating feelings is when you buy a piece of hardware and it fails to work. This is what has happened with Astro A10 users. According to some reports Astro A10 mic is not working on some computers and consoles. In this article, we are addressing this issue and will see how to fix it.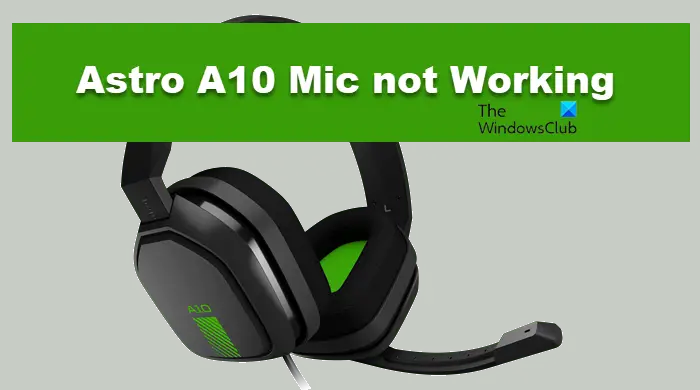 Why does my Astro A10 headset work but not the mic?
Astro A10 is a wired headset, you can just plug it into your computer and start using it. However, some users find that their Astro A10 headset is working fine as they can listen to the audio but the mic is not working. It can happen if you are using an incorrect audio driver or an outdated headset driver. If your headset is not set as the default device, then also this problem may occur.
Fix Astro A10 Mic not working on PC or Xbox
Before fixing the issue, you need to know whether your device is compatible to run Astro A10 Mics. You see, Astro A10 has a jack connecter has 5 poles and not all the computers are compatible with it. If your computer is not compatible with this standard, you may have to look elsewhere. You can try buying a mediator or connecter that supports this standard, but there is still no guarantee that it will. This method has worked for some, but not for all.
If Astro A10 Mic is not working on compatible devices, check out the following solutions to resolve the issue.
Restart your console or system
Set the Microphone to Default
Check if Microphone is enabled
Run Recording Audio Troubleshooter
Update Audio Drivers
Troubleshoot in Clean Boot
Let us talk about them in detail.
1] Restart your console or system
The issue that you are facing can be nothing but a glitch. This glitch can be resolved just by restarting the console or the system. So, go ahead and turn off your device and unplug the cords. Wait for three minutes, connect the wires, and turn on your computer. Then check if the issue persists. Hopefully, this will do the job for you.
2] Set the Microphone to Default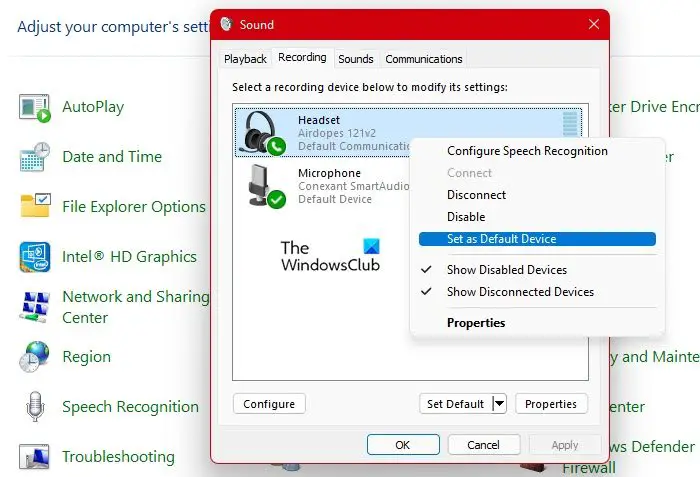 Try switching the Astro A10 to the default microphone and see if that works. Usually, when you plug your headset in, the computer tends to change the default settings. However, if it fails to do that, we have to make amendments manually. Follow the given steps to do the same.
Open Control Panel.
Change View by to Large icons.
Click on Sound.
Go to the Recording tab, right-click on Headset (or Headset Microphone), and click Set as Default Device.
Now, check if the issue persists.
If there is a third-party app such as Zoom, Meets in which you are using the microphone, try changing its default Microphone as well. Hopefully, this will do the trick for you.
3] Check if Microphone is enabled
If you have disabled the Microphone for privacy reasons or some other app disable the feature then it is time to enable it. Follow the prescribed steps to do the same.
Launch Settings.
Go to Privacy & Security (Windows 11) or Privacy (Windows 10).
Click on Microphone and enable it.
You should also check if the app that you are trying to use Microphone on is allows to use it or not.
4] Run Recording Audio Troubleshooter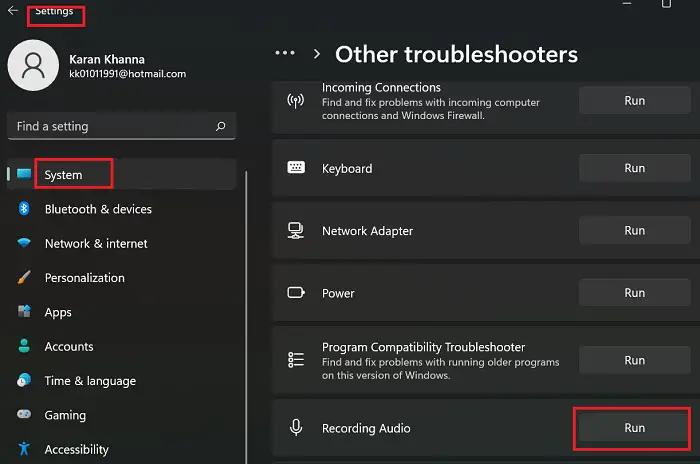 Let us make Windows do some job. We are going to deploy Recording Audio Troubleshooter and see if that works. Use the following steps to do the same.
For Windows 11
Launch Settings.
Click on System > Troubleshoot > Other troubleshooters.
Click on Run associated with Recording Audio.
For Windows 10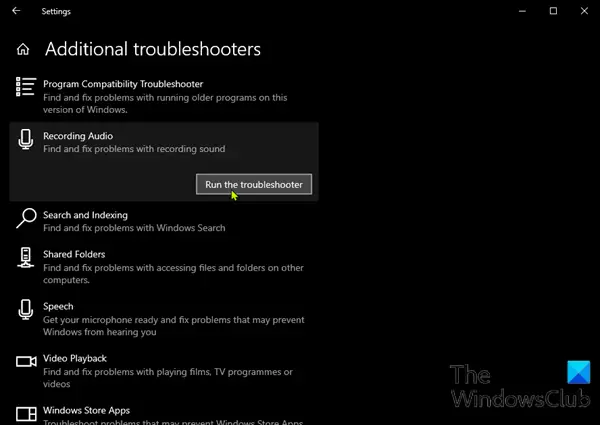 Go to Settings > Update & Security.
Click on Troubleshoot > Additional troubleshooters.
Select Recording Audio > Run the troubleshooter.
Let it run, and hopefully, it will do the job for you.
5] Update Audio Drivers
Next up, we need to update the Audio Drivers and see if that works. There are various methods to do the same, so, pick one from the following and update the drivers.
After updating the driver, check if the issue persists.
6] Troubleshoot in Clean Boot
Last but not least, we can not ignore the fact that a third-party application can also interfere with your audio drivers and stop the microphone from working. You need to perform Clean Boot and find out what's causing the issue. Then remove it and your problem will be resolved.
Hopefully, these solutions will do the job for you.
How do I set up my A10 mic?
A10 Mics are wired, so, there is no setup involved. However, depending on your computer, you may have to buy a separate Y-split connector. Once you have everything, assemble the headset, plug the volume control cable into the headset and the other end into your computer or the Y-split connector (and then the connector to the system).
That's it!
Also Read: