While using Microsoft Teams, some users have noticed that the Arrow keys are not working. To check if it is a hardware issue, they tested their keyboards in other applications, like Notepad, Word, etc., and the arrow keys worked fine. This post offers some suggestions that may help the affected users get this issue fixed.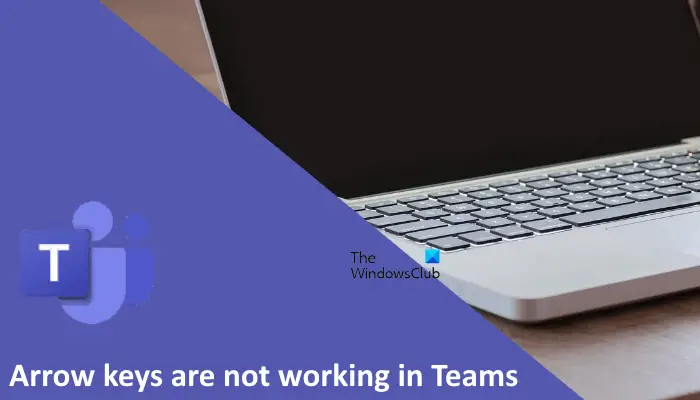 Fix Arrow keys are not working in Teams
If the Arrow keys are not working in Teams, you can try the solutions mentioned below. But before you begin, check your Windows OS and Microsoft Teams for updates and install them if any are available:
Relaunch Microsoft Teams
Clear Microsoft Teams cache
Disable GPU Hardware Acceleration in Teams
Troubleshoot in the Clean Boot
Repair or Reset the Microsoft Teams app
Below, we have explained all these fixes in detail.
1] Relaunch Teams
Sometimes a minor glitch causes the problem. Therefore, we suggest you close and relaunch Teams and check if the issue persists. Follow the below-listed steps:
Exit Microsoft Teams.
Click on the System Tray, right-click on Teams, and select Quit.
Press the Win + R keys, type taskmgr, and click OK.
When the Task Manager appears, select the Processes tab and see if the Teams is running in the background. If yes, right-click on it and select End Task.
2] Clear Microsoft Teams cache
A cache is a temporary storage for apps and software. This storage is used by apps and software to store data temporarily. When a user performs a particular task in an app or software, it pulls this data from the cache in order to get the job done quickly.
If the cache data gets corrupted, it also impacts the performance of the respective app or software. In such a case, deleting the cache fixes the problem. The problem that you are currently experiencing might be occurring due to the corrupted Teams cache. Delete the Microsoft Teams cache and see if it helps.
3] Disable GPU Hardware Acceleration in Teams
Sometimes, performance issues occur in Teams due to the GPU hardware Acceleration. If you have enabled this feature in Teams, turn it off and see if it brings any changes.

The instructions to disable GPU Hardware Acceleration in teams are provided below:
Launch Microsoft Teams and open its Settings.
Select the General category from the left side.
Select the Disable GPU Hardware Acceleration checkbox.
Restart Teams.
4] Troubleshoot in Clean Boot
The Clean Boot starts your computer in a basic state with only a limited set of files and drivers. This state will help you troubleshoot the problem occurring in your system.  After entering Clean Boot State, launch Microsoft Teams. If the arrow keys work in Teams, there might be a startup or background application causing the problem. Now, exit Clean Boot State and uninstall the recently installed software. In addition to this, disable the startup programs to check if any of them is causing the problem.
Read: Arrow keys are not working in Windows 11/10
5] Repair or Reset the Microsoft Teams app
If nothing helps, reset the Microsoft Teams app. The way to reset programs in Windows 11 is a bit different than the way to reset programs in Windows 10.
Follow the instructions given below:
Open Windows 11/10 Settings app.
Go to "Apps > Apps & features."
Locate the Microsoft Teams app in the list of installed programs.

In Windows 10, select the Teams app and click on the Advanced options link.
In Windows 11, click on the three vertical dots next to Microsoft Teams and select Advanced Options.

Now, click Reset.
Related: Arrows keys not working in Excel
Why are my keyboard arrows not working in Teams?
There might be many reasons why your keyboard arrow keys are not working in Teams, like a conflicting background or startup application, corrupted Microsoft Teams cache, etc. You can try some fixes to get this issue resolved, like clearing the Teams cache, disabling the GPU hardware Acceleration in Teams, troubleshooting in the Safe Mode, etc. If nothing fixes the problem, resetting the teams may help.
Read: Keyboard shortcuts and Hotkeys are not working in Windows
How do I fix my arrow keys not working?
If your keyboard arrow keys are not working, the first thing that you should try is to connect your keyboard to another computer (if available) and test your arrow keys. This will let you know if the problem is with your hardware or not. If your keyboard works fine on another computer, you can try some fixes, like running the Hardware and Devices Troubleshooter, Running the Keyboard Troubleshooter, updating, rolling back, or reinstalling your keyboard drivers, etc. Sometimes, problems occur due to a background program conflict. To check this, you can troubleshoot your system in a Clean Boot State.
Hope this helps.
Read next: Fix Microsoft Teams Login issues: We couldn't sign you in.