I am sure at one point you must have noticed that there are apps and games on your Windows PC which you have rarely used. However, these apps have been updated regularly or keep running in the background. While one way is to uninstall such apps, but that means you will have to reinstall them and configure them when needed. That's where the Archive Apps feature in Windows 11/10 comes into the picture.
Archive Apps feature in Windows 11/10
Archive Apps feature saves bandwidth, and space by putting apps into an archive. Apps downloaded from the Microsoft Store apps can make use of this feature. The option is enabled by default and works only for Microsoft Store apps. Windows will save the data locally or in the cloud, and when the app is unarchived, the app will be installed again and restored to the full version to the state as it was.
To enable or disable the Archive Apps setting in Windows 11: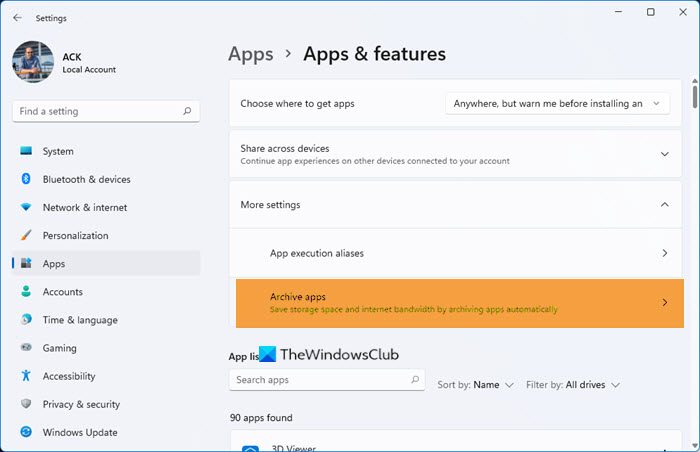 Go to Windows 11 Settings
Navigate to Apps
Select Apps and features.
Expand More settings
Click on Archive apps to jump to the next page
Toggle Archive apps toggle switch Off or On as required.
To enable or disable the Archive Apps setting in Windows 10: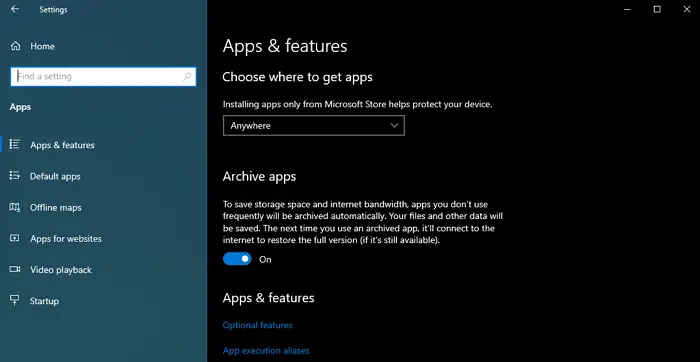 Go to Windows 10 Settings
Navigate to Apps
Select Apps and features.
Locate Archive apps toggle switch.
Toggle it off or on as required.
Having done that, Windows 11 or Windows 10 will not be able to archive any of these apps automatically.
Disable Archive Apps feature using Registry
If you need to quickly deploy this on multiple computers, the Registry method is the way to go ahead. However, make sure to take a backup or create a restore point in case you need to revert back.
Open PowerShell or Command Prompt with admin permission
Type and execute the command to find the SID— whoami /user
Note the SID in notepad or anywhere you can find it again
Open Registry Editor by typing regedit in the Run prompt followed by pressing the Enter key
Navigate to the following path:
HKEY_LOCAL_MACHINE\SOFTWARE\Microsoft\Windows\CurrentVersion\InstallService\Stubification
Locate the one the belongs to you
Double click to edit the EnableAppOffloading DWORD
Set the value to 1 for enabled and 0 for disabled
You will need admin permission to execute this.
The Archive Feature concept is not new and the data is already available in the cloud and restored when the app is installed again. Microsoft should offer an on-demand feature that can archive and unarchive apps.
I hope the post was easy to follow, and you were able to disable or enable the Archive app feature in Windows 11/10.