Antivirus software plays a pivotal role in the smooth functioning of our computer systems. In this digital era, our computers are being increasingly exposed to malware and cybercriminals. And antivirus software acts as a shield and protects our system against such vulnerabilities. An antivirus program inspects data from web pages, applications, software, files – drifting over the internet network to our computer systems. It further inspects by looking for known threats and monitors the behavior of all programs, highlighting any suspicious behavior.
Why does an antivirus block your activities?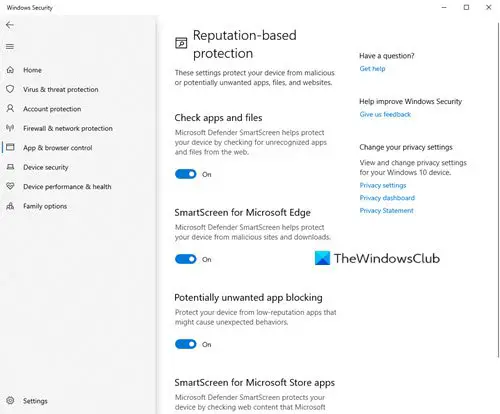 The answer is simple, it wants to eradicate computer viruses and other malicious software from making way into your system. Viruses and malware are designed to give criminals access to their victims' devices. Malware has the potential to steal your login information, use your system to send spam, crash your computer system, and give cybercriminals ready access to your devices and the information stored on them. In some cases, malware can give the hacker the ability to monitor and control your online activities.
All in all, if a hacker successfully enters your system through this anathematized malware, they can break into your privacy exposing you to greater risk.  Basically, your Antivirus is trying to protect your privacy.
So, if you are not able to open a website, having difficulty in downloading or installing software, having difficulty in installing system updates, cannot access the camera or the internet – Your antivirus could be somewhere responsible for it.
Antivirus is blocking a Program, Downloads, etc.
To keep viruses and malware away from your system, the anti-virus software that you are running may be blocking the program from performing these functions.
This may look like a problem and you must accept the fact that there is no specific solution to it. With increasing vulnerabilities of the online world, securing your system is of utmost importance. Antivirus blocking such functions is a part of one of the precautions that you must take to be safe.
Antiviruses are amazing, but sometimes their vigilance can be a living nightmare; its blocking feature is one of those. If you are on a quest to prevent your antivirus software from blocking your activities, you must check out these solutions.
Antivirus blocking Internet or Wi-Fi network
Antivirus is blocking the camera
Antivirus blocking installation of applications
Antivirus blocks email
Let us look at these fixes in more detail.
1] Antivirus blocking Internet or Wi-Fi network
Most of us install a third-party antivirus program or use the built-in tool to protect our data and system i.e. Windows Defender. These solutions offer cloud protection and firewalls. Sometimes, firewalls block the Wi-Fi and prevent the user from connecting to the internet.
Also, while using Google Chrome browsers to visit some website, you would have come across the following error message:
Your Internet access is blocked. Firewall or antivirus software may have blocked the connection. The error code is ERROR_NETWORK_ACCESS_DENIED.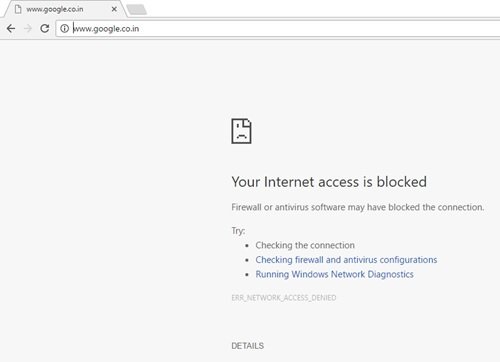 Try the below suggestions to remove the blocked Internet access error.
Check the Internet connection:
There can be many reasons for your system not being able to connect the internet. Before blaming the Antivirus, check your Internet Connection and confirm if it is working fine. Try the below:
If you still cannot access your internet or Wi-Fi move on to the next tip.
Check Firewall exceptions:
Firewall and antivirus are designed to prevent potentially harmful programs from entering your computer. If your browser is not added to the firewall exceptions list your Internet access may be blocked. In such circumstances, you will need to check the Firewall exceptions and your antivirus configurations. Here, we are taking the Windows Firewall as an example:
Open Control Panel in Windows 10.
Go to System & Security and click on Windows Defender Firewall.
In the left panel, click Allow an app or feature through Windows Defender Firewall.
Ensure the box of Google Chrome is checked on the list.
Save changes.
Read: How to check or test if Antivirus is working properly or not
Reset the antivirus settings to default:
At times, an antivirus or a firewall blocks the Internet since the user interfered with the applied firewall on his/her own or update changed certain parameters. In such a case, resetting the antivirus settings to default helps.
Reset everything to its default values and restart your system.
DisableFirewall/Antivirus:
Disabling the antivirus is one of the common actions that users take to fix the firewall blocking the Internet/Wi-Fi problem. If you are a Windows Defender Firewall user, you can go to the Control Panel > System and Security > Windows Defender Firewall > Turn Windows Defender Firewall on or off and then disable it.
Do note that disabling your security software makes your PC vulnerable.
One of these tricks may work and remove the "Your Internet access is blocked" error.
Read: Bypass Download Failed – Virus detected message in Chrome
2] Antivirus is blocking the camera
The first thing you can try here is to temporarily disable the antivirus software and then try using the camera. If your camera works fine, the antivirus was the culprit. To avoid this in the future, you will need to add a new exclusion in your antivirus software. If you are using Windows Defender, here is how you can do it:
Open Windows Defender Settings.
Select Virus & threat protection.
Go to Virus & threat protection settings
Now, click Add or remove exclusions.
Select the application you want to have access to your webcam.
So, if your camera is inaccessible due to antivirus this solution could work.
Normally when the web camera is not working, the user should first try updating or reinstalling its drivers. Sometimes, updating Windows or removing an update after which the cameras stopped working also does the work. In most cases, these general solutions related to the inbuilt or the external webcam should fix the issue. If it does not follow the above steps.
Read: How to allow or block a program in Windows Firewall
3] Antivirus is blocking installation of programs
Sometimes users may experience an issue where their antivirus program prevents the installation of applications due to a security risk. This is likely a result of a feature blocking the setup.exe file from downloading and installing the necessary files.
You can temporarily disable the antivirus program and try to reinstall the program again. It is important to note that disabling the antivirus and installing software is completely on the user's risk. Once whitelisted, the .exe file exposes your system to risks. Hence acting with caution is crucial, act only if you are sure about the application or program. This is a temporary solution, for permanent solution add exclusions for .exe files.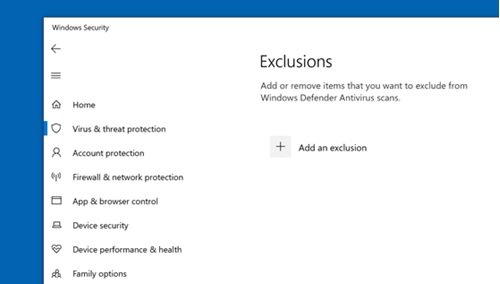 Follow these steps to add exclusions on Windows Defender:
From the Start Menu open Windows Defender
Select Virus & threat protection.
From the options hit Virus & threat protection settings.
Under the Exclusions section, select Add or remove exclusions.
Click on Add an exclusion.
Select Folder or File you wish to exclude.
Confirm selection.
This should fix your issue. But always remember if you whitelist an EXE file your computer may be at risk. So, be careful with this hack.
4] Antivirus blocks email
Windows 10 comes preloaded with integrated mail support. So, these security programs can scan most of your incoming/outgoing emails. This security feature is very important but can sometimes trigger issues by blocking your emails for no reason. What happens here is that without scanning the possible threats the antivirus by default blocks all the incoming and outgoing emails.
In this case, the user will need to re-enable the email client functionality. And like most of the fixes, adding an exclusion or setting a new rule within the antivirus firewall works.
Please Note – Depending on your antivirus software, the steps for performing these fixes may vary. Please refer to your antivirus documentation.
We hope this guide helps you control your antivirus from blocking your system activities. Please do share your observations and experiences with us in the comments section below.