You may be using Windows Defender or a third-party Antivirus software or an Internet Security Suite to protect your Windows 11/10 system – whatever it is, if you want to test if your Antivirus protection, Cloud Protection, Protection against Potentially Unwanted Programs (PUPs), Phishing, Drive-by-downloads, and Compressed malware is enabled & working then you can do so using the test files from EICAR & AMTSO.
EICAR or the European Institute for Computer Antivirus Research was founded as an organization to further antivirus research and improve the development of antivirus software. AMTSO or The Anti-Malware Testing Standards Organization is an international non-profit association that has developed tests to make sure that your Windows PC is safe. The website offers tools to check if your PC is secure from viruses, drive-by-downloads, potentially unwanted applications (PUA), archived malware, and phishing and cloud attacks.
Test if Antivirus is working or not on Windows 11/10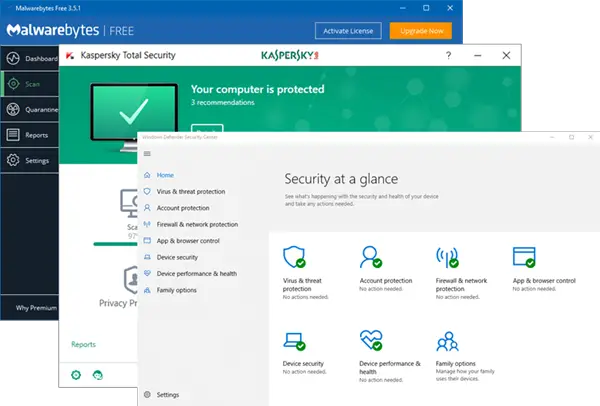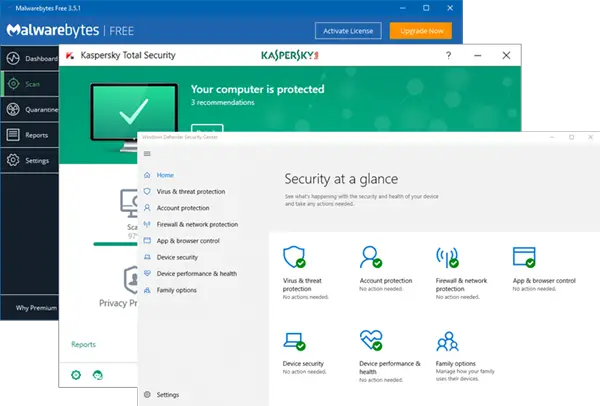 It is possible that your browser, security software or Windows SmartScreen may mark the download page, download link or the downloaded file as harmful. But rest assured that these files downloaded from EICAR and AMTSO are safe. If your access is blocked, you know that your software is working – but you may proceed to visit the download links by opting to Continue.
I have verified the links mentioned here in this post to be safe. But if you wish to verify if the links are safe, you may use online URL scanners like Google Safe Browsing, MyWOT.com, etc., and check if they are safe to visit.
Companies like AhnLab, Avast, Avira, Bitdefender, CHOMAR, ESET, F-Secure, G Data, Intego, Kaspersky Labs, McAfee, Microsoft, Panda Security, Sophos. Symantec, Trend Micro, etc. support the EICAR and AMTSO checks.
Check Virus Protection
When you download the EICAR Test file from eicar.org, it only mimics to be malware to trigger Anti Virus protection software on your PC. If your Antivirus program catches it, it proves that it's configured properly, and is up to date to protect your Windows 10 PC against such threats.
If the file is downloaded, you will receive a message as well which will have details of your Anti-Malware product along with instructions on how you can enable this protection.
TIP: RanSim Ransomware Simulator will tell you if your computer is protected against ransomware.
Check Drive-by download protection
Drive-by downloads happen in two ways. When a file is downloaded in the background without user consent,  or when a person has authorized but without understanding the consequences. In both cases, an EXE or malware can be downloaded, and executed in your Windows 10 PC.
This AMTSO page simulates drive-by download, and your antivirus should be able to catch it as well.
Check Protection against the download of compressed malware
If malware is packed in a compressed file, your PC may be able to download it. However, if your anti-virus program has the capability to scan the files inside a compressed file, it will be blocked.
When you visit this AMTSO page, it starts downloading a compressed file which includes an EICAR test-file. This way you can test if your antivirus has this functionality. If the download is successful, you will see a detailed page of instructions to prepare for this kind of issue.
Check PUP protection
A  potentially unwanted application (PUA), also called a Potentially Unwanted Program (PUP),  is software that the end-user may perceive as unwanted.
When you visit this AMTSO page and download the exe file which simulates the download of a PUP, and your security program should immediately block it. If not, you will have your instructions to fix it.
Check Protection against Phishing
Some Phishing websites try to appear as the official website of websites, especially when related to Payments. If you visit the AMTSO page, and your browser or the system fails to block it, then you may receive an error message which says-
If you can read this page, it indicates either:
Your Anti-Malware solution is not (yet) supporting this Feature Settings Check
Your Anti-Malware solution's Anti-Phishing feature is not enabled or misconfigured.
Check if your Cloud protection is enabled
This AMTSO page, lets you download CloudCar Testfile.  This file has been marked by various vendors who develop Anti-Malware product's cloud as malicious.  So if the download is complete, it means you do not have cloud protections. In simple words, Cloud lookups mean, that your antivirus can receive a definition of new malware from the internet, and is not dated.
Other online sites to test your security software
1] SpyShelter: Download this test zip file from spyshelter.com. Use this file to test your security software.
2] Test My PC Security:  TestMyPCsecurity.com has a wide range of downloadable firewall leak and HIPS tests so you can find out just how good your security software is.
3] Sophos Web Security and Control Test Site: You can visit the site here on sophostest.com. This test site contains pages classified by SophosLabs for the purpose of testing our web security and control products. Note that some pages are classified as potentially offensive or dangerous however the page content itself should be considered safe for viewing in all circumstances.
4] GRC: GRC.com ShieldUP benignly probes the target computer at your location. Since these probings must travel from our server to your computer, you should be certain to have the administrative right-of-way to conduct probative protocol tests through any equipment located between your computer and the Internet.
5] FortiGuard: Metal.Fortiguard.com offers a compressed file. This is a simple test to see if your network security will catch malware hiding in a compressed file – TAR.GZ, 7Z, and CAB.
6] Test My AV:  TestMyAV.com offers malware, testing guides and tools you need to test antivirus products for yourself.
7] Firewall Tests: Take the free Online Firewall Test to find out how your Firewall performs.
Let us know how your security software performed.