Incorporating tablets into our workforce won't necessarily make our work better but will make it fun. When it comes to tablets, we have two options, Android and Windows, as iPads don't even think of coming out of the ecosystems. Google and Microsoft both want to capture the vacant market and have tried refining their operating systems for tablets. In this post, we will compare Android and Windows tablets and see which one is better for you.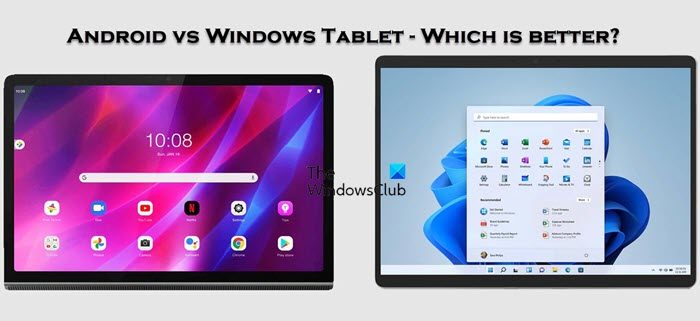 Android vs Windows Tablet – Comparison
In this battle, Android vs Windows Tablets, we are going to go over the following points.
What's special about Android tablets?
Points to note about Windows tablets
What's better for you?
Let us take a look at all these points.
1] What's special about Android tablets?
There are various things that make Android tablets special. Back in 2014-2015, they were a rage. Mobile phones were not outlandish big and not just enthusiastic, but even the general consumers were buying them. Even today, Android tablets hold a special place in the workflow of a lot of people. The following are the factors that make Android tablets a useful commodity.
Apps and Games: Android tablets, just like Android phones have PlayStore that hosts a lot of games and applications. If you are in the market looking for something that can do everything that your phone does but has more real estate, you can look into Android tablets.
Ease-of-Use: Do you know how to use an Android phone and don't want to learn any new device? If your answer is yes, go for the tablet powered by Google's Android. To some, it is just a stretched version of the operating system you get with your phone.
Customization: Even though Windows offers a lot of customization options, they can not match the ease of installing an app, selecting an aesthetically pleasing theme, and then applying it. There are themes for Windows as well, but they are not so easily accessible and they lack variety as well.
Variety: There are more options in the Android section. There are brands such as OnePlus, Xiaomi, Oppo, Lenovo and more trying to compete with others to become the second most popular Android tablet after Samsung, which rules the market. You can also tablets in different price ranges. Samsung has its Galaxy A series in the budget section and the Galaxy S series for people looking to get the best the brand has to offer.
These are not the only good things about Android tablets, there are various other quality-of-life improvements that you can find there. For example, the Camera app of Android is far superior to the one found on Windows.
Read: History of Windows Tablets
2] Points to note about Windows tablets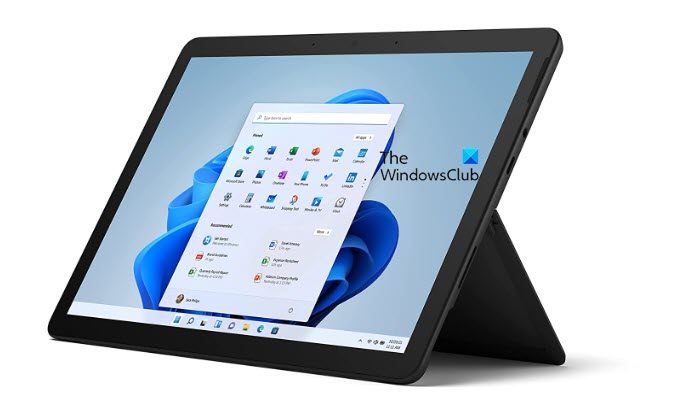 Windows tablets are not too far away from their Android counterparts when it comes, in fact, in some cases, they are more fun to play with. Let us talk about things that make Windows tablets great.
Portable Computer: Windows means business, it is not something to just play around with. You are carrying a powerful tool in your backpack and can do all the jobs that your laptop would do. However, it is important to note that not all Windows tablets are powerful. So, if you are in serious need of processing power, you will still be better off buying a laptop. Or, look for gaming tablets, they are powered by a strong engine that you can make use of.
Multitasking: There are a lot of new things included in Android to make it apt for multitasking, but they can not beat the ones found on Windows. You can easily switch tasks, add a new Desktop and if you want, you can create a virtual machine on your tablet as well.
Software Support: As mentioned earlier, you are carrying a computer, so, every desktop app, be it Oracle VirtualBox, Visual Studio, Photoshop, and Microsoft 365, will work on it. One should also keep in mind that Windows 11 comes with Amazon App Store. Due to this, in some regions, users can install Android apps on their Windows tablets as well.
Ports and Peripherals: Windows laptops are not just made as fun gadgets, they are supposed to perfectly integrate with your workflow. You get multiple C-type and A-type ports, sometimes, even an HDMI port in a work where companies are removing the headphone jack from their devices.
You can think of Windows tablets as a complete PC. However, they cannot use all of their power as that would result in heat production and can affect battery health.
Read: How to use Tablet mode in Windows 11
3] What's better for you?
What's better for you depends on what you want your device to do. If you want something to have fun with, Android tablets are the way to go. However, for someone looking to get their job done or looking to replace their laptop, a Windows tablet is a better option. It doesn't mean that you can not have fun on Windows laptops or not get your work done on its Android counterpart. However, it's just that both devices are made keeping different users in mind.
Hopefully, now you know which device is better for you.
Read: Gaming PC vs Gaming Laptop: What's best for gaming.
Which is better Windows or Android?
Windows tablet is what you need to replace your laptop as the Android operating system does not have the potential to be your sole computer. However, Android tablets are more fun to use.
Read: Should I buy iPad or a laptop? Benefits of both discussed
What's the difference between Android and Windows tablets?
There are various differences between Android and Windows tablets. The major difference between the two is the Software support. Android doesn't have the suit of professional software that Windows possesses. In case, if you already have a laptop or do not need a professional device then Android tablets hold the upper hand. There are other differences that we mentioned in this article, go over them to know more.
Read: Laptop vs Desktop – Which is better? Differences discussed.