There is no doubt that the Microsoft Surface range of devices have been a success. The reason is apparent! People needing little computing resources got what they can say – a good portable OS – that runs perfectly on a tablet. Did you know there have been Windows tablets prior to Surface and that some of them have been successful?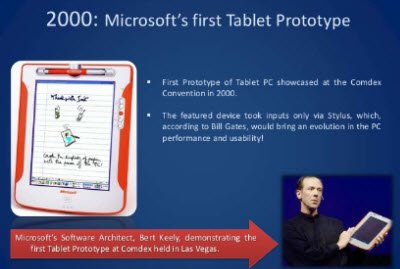 The PPT presentation below shows the different Windows tablets – most of which are from third-party vendors – which have been a success. Right after the History of Microsoft Windows tablet PPT, a PDF version is given for download plus quick reference.
Presentation Transcript For (Differently abled) People Using Browser Audio
History of Windows Tablets
• 2000: Microsoft's first Tablet Prototype; First Prototype of Tablet PC showcased at the Comdex Convention in 2000; The featured device took inputs only via Stylus, which, according to Bill Gates, would bring an evolution in the PC performance and usability! Microsoft's Software Architect, Bert Keely, demonstrating the first Tablet Prototype at Comdex held in Las Vegas.
• Microsoft comes together with Compaq & Toshiba 2001: Compaq showcases its prototype for another version of Tablet PC at the Comdex 2001, with Windows as its Operating System; Gates' prediction: In the next 5 years tablets will be the highest sold form of PCs in America; Toshiba steals the show with the Portégé 3500 – A Convertible Tablet PC; Ran on Windows XP edition for Tablet PCs, best amongst the competition, with its sleek design and a larger screen. 2002: Toshiba Portégé 3500
• 2002: Fujitsu Stylistic ST4110; Developed by Fujitsu Siemens, the Stylistic ST4110 was the first 'Slate' Style Tablet PC; Launched with Microsoft Windows XP Tablet PC Edition, a new version of Microsoft Windows XP Professional; Launched with Microsoft Windows XP, supported Digital Pen Operation as well as Natural Handwriting Recognition.
• 2003: HP Compaq TC1100; Well-known as a Hybrid Tablet, it is one of the most successful tablet PCs of its time; Its detachable screen and an innovative keyboard with hinges made it truly flexible; OS: Windows XP Tablet PC Edition.
• 2004: NEC VERSA T400: A sleek and light-weighted Tablet PC; developed on the latest NEC ùs Technology, which made it faster, delivering superior performance; The ideal mobile device with thickness: 15mm & weight: 999 grams; Enabled notes-making when walking/traveling & direct sketching on-screen; VoIP Support; OS: MS Windows XP Tablet PC Edition
• Tablet PC & UMPCs 2005: Tablet PC Microsoft, along with its Hardware partners tried hard to create a niche for their Tablets, like a stunt with the caricaturists. Though, this strategy did not work much
• 2006: Asus R2H Ultra Mobile PC: The UMPC was Microsoft's effort to attract customers in 2006. It was built with a passive touch screen and failed to find a market due to being over-priced.
• 2006: LifeBook T4215 Tablet PC: In 2006, Fujitsu announced the ultra-light12.1-inch screen LifeBook T4215 tablet PC with Windows
• 2009: Courier Tablet: In 2009, Microsoft's Courier Tablet was successful in creating hype amongst Tech lovers, but to their dismay, this concept didn't materialize any further! The Courier was said to be developed on the dual-screen concept of a booklet.
• 2010: ThinkPad X220 & Microsoft Slate: The Slate 500 is a multi-touch capable tablet that runs on Windows 7 and was launched to create a dynamic user experience for various multimedia usage, although it failed to compete against Apple's iPad; Microsoft CEO Steve Ballmer showcasing Slate in CES; When, in 2010, Apple was launching the iPad, pretty much covering the entire Tablet market, Microsoft came up with Windows Tablet device in the form of Lenovo ThinkPadX220, which continued to prove useful to corporate & enterprise users.
• 2012: Lenovo IdeaPad Yoga 13 & Surface RT IdeaPadYoga 13 Surface RT: Windows 8 has been developed, keeping in mind, the touch-friendly interface of smart mobile devices such as tablets and Lenovo IdeaPad is an apt example. Surface RT is Microsoft's most recent attempt at building its own hardware for tablets. Offering class, it is targeted at the high-end segment and comes at a price, similar to the iPad.
How Windows 8 can change the future of Computing by cornering PCs; Standard HTML 5 used to write native apps for Windows 8 ¬ the usual C#. PC +HTML5 will rule the gen-next Computing by going responsive! Windows 8 is a Gamer's Dream as it easily runs Xbox Games! Buy a game from your Win8 PC & run it on your Xbox! Even XNA games can be easily played on your game console. You've got the power of connection! A revolution, yet again! Decades ago, Microsoft arrived with PC, the world changed. Windows 8 & the Microsoft ecosystem 'may' transform devices like TV, smart & feature-phones, even ATM etc. to run on Windows 8!
Download: History of Microsoft Windows Tablet PDF.
Read next: History of the Digital Camera.
Thanks, Supreet Bhatia for the PPT presentation.