When Apple introduced its iPad Pro with its very own M1 chip in 2021, a question that was sitting on the horizon for almost a decade arises, should I buy an iPad or a Laptop? In this post, we will answer this question and discuss every detail worth knowing about both products. We are going to discuss the benefits of both devices, making it easier for you to make a buying decision.
iPad vs Laptop Comparison
Before making your purchasing decision, and before answering the question, should you buy an iPad or a Laptop, there are some things we need to go over. Following are the parameters we will compare the iPad and Laptop on.
Portability
Performance for Price
Software
Design
Let us talk about them in detail.
1] Portability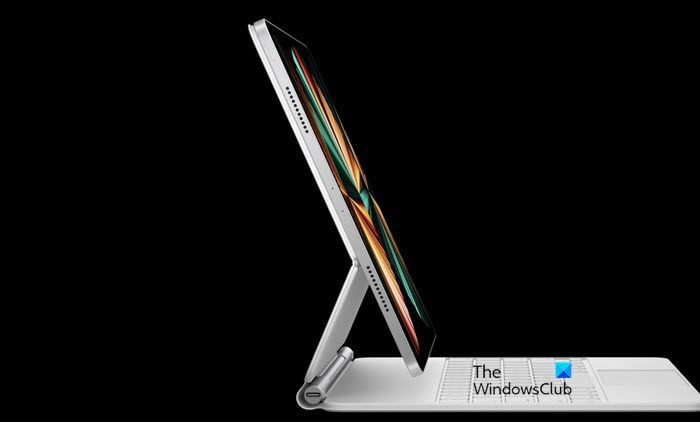 Laptops are a portable alternative to desktop computers. Initially, they were made keeping portability as one of the primary objectives, even now, manufacturers are trying to make their ultrabook as light and slim as possible. However, when compared to the ultralight and slim iPads, they will always fall short. One thing to also keep in mind is, to get the full computer experience, you need to attach a keyboard to the iPad screen. Which will increase its weight and thickness slightly, but still it will be lighter and slimmer than most laptops.
Another aspect of Portability that most reviewers don't talk about is the ability to use the device anywhere. Even though it is not recommended to use your laptop while placing it on your lap because of biological reasons, you can still do that if you want, and the experience will be fine. But the same can not be said about the iPad + Keyboard combo. Since the most weight of the device is on the screen, it is very difficult to use it while placed on your lap.
Another argument can be made, most laptops can not be used vertically or placed on a table, so it depends on you and what you want your computer to do.
2] Performance for Price
We can not talk about raw performance as even though there are limited options in the iPad world, in the world of laptops, there are zillions of options ranging from the budget end to the high-end. When talking about performance-for-price, you will notice that iPads offer you a bit more value for money. iPad Air with an M1 chip starts at $599 and the Macbook Air M1 starts at $999 (you can get it at $899 sometimes). In the Windows world, the same amount of performance can be bought anywhere from around $800 to $1000. So, yes Price-to-Performance is slightly better on the iPad but when it comes to the maximum performance one can achieve, there is no comparison, laptops are miles ahead of iPads.
3] Software
There is a vast suite of apps available on both devices. On an iPad, you get the App Store with all its glory. There are tons of games and apps ingrained in the store. However, if you are someone who wants to use some of the most advanced apps such as Final Cut Pro, Microsoft Visual Studio Code, etc, you need a laptop. There are some very notable limitations with the iPadOS making the device not sufficient for developers, video editors, and other professions that required professional software.
4] Design
Even though design or looks are subjective, one can not shy away from the fact that iPads do look a lot better than most laptops. The all-aluminum flat design looks sleek and the thin bezels are the cherry on top. Although the Laptop design is a bit more practical, there are more ports, and weight distribution is better. But, the design award will still go to the sleek aluminum chassis of the iPad.
What are the benefits of a laptop over an iPad?
There are a lot of things that you might want a laptop for and an iPad with its limited OS is just not enough. We have mentioned a few of them below, but keep in mind that the list is not exhaustive.
Programming: iPad is not enough of a computer for developers. There are no feature-rich apps and the workarounds are just not enough. Even if you are an amateur, we won't recommend you get an iPad over a laptop for coding.
Gaming: Even though mobile gaming is a thing, it can not be compared to the vast library that you get on a PC. There are dedicated gaming laptops with excellent sustained performance for your gaming needs.
Video Editing: A professional video editor can not survive with just an iPad. You can toss small footage in iMovie for iPad and make some minor adjustments, but if you want to play with large 4k footage in Adobe Premiere or Final Cut Pro, a laptop is the way to go.
Virtualization: If you are someone who creates a virtual desktop and uses multiple operating systems, get a Laptop. There should be no discussion, regardless of how powerful your iPad is – laptops have better software in this regard.
These are some of the advantages of a Laptop, but there are a lot more.
What are the benefits of owning an iPad?
There are some perks of getting an iPad as well, some of the major ones are listed below.
Note Taking: iPad with Apple Pencil is probably the best virtual notebook out there. It is lightweight, and easy to carry from class to class, also, taking math notes on a laptop is not easy at all.
Fun to use: Is it me or using an iPad Pro with its 120 Hz refresh rate is way more enticing than even the 144 Hz gaming laptops? I don't know about you, but iPads are just fun to use.
Better UI: iPads are made for the mass market, even the most amateur users, such as kids or elder people getting into the tech world can use these devices easily. However, it is subjective, because if "Better UI" means more features, then you might have to reconsider getting an iPad.
Photo Editing or Drawing: Because of the fact that an iPad is a giant touch screen, it is better for photo editors or artists. You can use the Apple Pencil to draw and adjust contrast, brightness, hue, and all other stuff. Although you can edit photos on a laptop as well, there are some professional tools on both macOS and Windows for the said purpose, but it's more fun to edit on an iPad, plus you are also getting an extremely responsive Apple Pencil
Hopefully, now you have a better picture of the differences between the iPad and Laptop.
Is it worth getting an iPad instead of a laptop?
Your buying decision should depend on your needs. If you are getting a device for professional use cases such as coding, video editing, etc, then a laptop is what you need. But if you are not a professional or you already have a device that can do every work-related thing, then an iPad is the way to go. Pro Tip: if you are a photo editor or artist, the iPad is an objectively better device for you.
Note: If your workflow doesn't require you to get a laptop, then do check Chromebooks out, they are cheaper than both laptops and iPad and have a better keyboard than an iPad.
Read: Laptop vs Desktop – Which is better? Differences discussed.