When you try to eject a CD or DVD you see a message – An error occurred while ejecting DVD RW Drive, then this post offers some suggestions that may help you resolve the problem. It mainly happens due to a hardware issue, but it can occur for different reasons as well.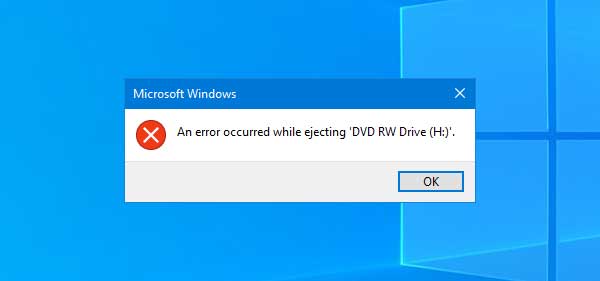 The Drive letter will be mentioned in the error message, and it could be H, E, D, etc. Before you begin troubleshooting, you should install the latest version of your CD/DVD driver.
An error occurred while ejecting DVD RW Drive
To fix this DVD writer ejecting problem, you can follow these steps-
Close the task using the Task Manager
Close third-party CD burning software
Use a dedicated Eject button
Contact the manufacturer.
To know the details, read on.
1] Close the running task from Task Manager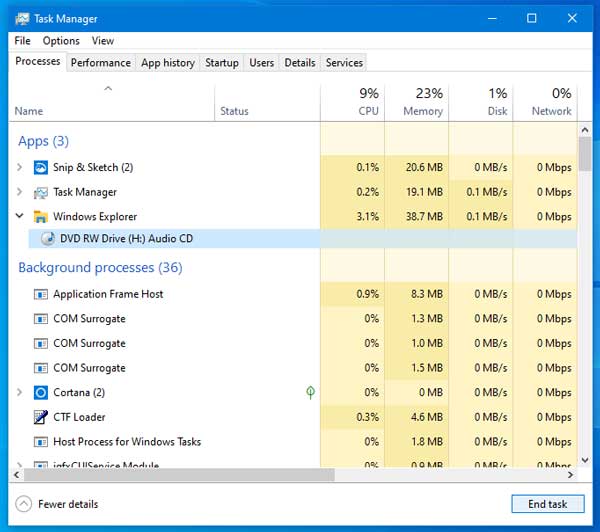 If the DVD writer is not ejecting your CD or DVD, it can mean that some other program is using it currently. You need to close that task from Task Manager so that the internal link between that running program and CD/DVD can be broken, and you can eject the CD.
To do that, open up your Task Manager and expand the Windows Explorer section. You should see the name of your CD or DVD along with the drive letter. For example, DVD RW Drive (H:) Audio CD is visible in the image.
Select it and click the End task button. Following that, try to eject the CD/DVD.
2] Close third-party burning software
If you have burnt a CD or DVD, the disk is not being ejected even after completing the task, you need to close the software manually. You can use the Task Manager to terminate the background process of that burning software.
To get started, open the Task Manager on your computer, and find out the name of your software in the Processes tab. Select it and click the End task button. After that, try to eject the CD from your computer.
If you are sure that your DVD writer is working, it is recommended to wait for a minute or so before trying out this solution. Otherwise, your CD or DVD may get corrupted if you interrupt the burning process.
3] Use the dedicated Eject button
This specific problem occurs when you try to eject the DVD writer using the "Eject" option in your right-click context menu.  Almost all DVD writers have a dedicated Eject button, and you can try to perform the same job using this button.
Read: How to burn DVD on Windows 11 PC
4] Contact the manufacturer
If nothing can solve your problem, this is the time to contact the manufacturer. You can also take help from a professional, but it is recommended to contact the manufacturer if the product is under warranty.
Hope these solutions will help you.