Response problems from a graphics card can prevent an operating system from receiving a signal or an input within a certain amount of time. This issue is referred to as Timeout Detection and Recovery (TDR). What can be the possible causes of this issue and troubleshooting steps one should take to prevent the error from recurring, we'll find out in this post.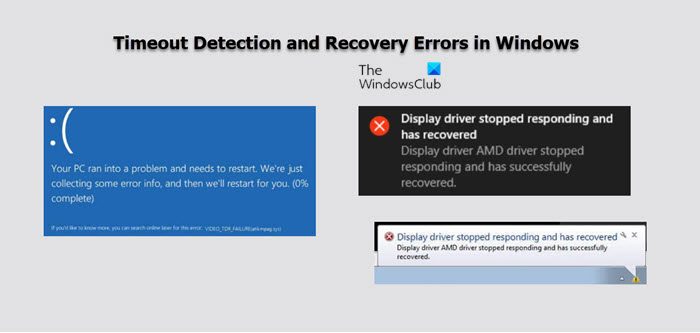 When a TDR error occurs, the system displays a message that may reference one of these files: ATIKMDAG.sys, ATI2DVAG.sys, ATI2CQAG.dll, ATIVPK.sys, AMD2DVAG.sys, AMDKMDAG.sys, AMDVPK.sys.
Fix AMD Driver Timeout Detection and Recovery errors
If you have recently installed a new operating system, 3D game, or application, chances are you must have come across AMD drivers. Its company, Advanced Micro Devices makes drivers that bear a good reputation, last long, and have an efficiency that matches industry-leading user satisfaction. On a few occasions, some unknown problems may lead to Timeout Detection and Recovery Errors. Read what troubleshooting steps you should take to fix it, permanently!
Keep the operating system up to date.
Use the System File Checker tool to repair missing or corrupted system files.
Use AMD Cleanup utility.
Replace any faulty hardware.
Fix Unstable overclocking and overheating.
Normally, when the OS fails to respond from a graphics card within a certain amount of time (default is 2 seconds), the operating system resets the graphics card. This solves the problem but at times, the missing Windows application/game updates, corrupted Windows registry or system files, corrupted or known graphics driver issue, unstable overclocking and overheating and faulty hardware issues can spiral into Timeout Detection and Recovery Errors. Do the following to fix it.
1] Keep the operating system up to date
It is important to keep your system updated because software updates usually include fixes to known issues as well as optimizations for supported hardware. Also, check if there are any available recommended and critical updates for your Windows operating system.
2] Use the System File Checker tool to repair missing or corrupted system files
As the time passes by, your operating system's performance gets hampered by registry entries that are remnants from uninstalled 3rd party applications or system file version conflicts. To remove it use the System File Checker tool. The utility allows users to scan for and restore corrupt Windows system files.
3] Use AMD Cleanup utility

As an alternative to the above method, you can download and run the AMD Cleanup utility. It scans thoroughly to remove any previously installed AMD driver files, registries, and driver store from systems running Microsoft Windows® 7 and later. The AMD support site recommends this method should be used when the normal uninstall procedure using the Windows Control Panel's Programs and Features option fails or proves unsuccessful.
4] Replace any faulty hardware
Over time, due to wear and tear under normal use hardware can start behaving erroneously and become incompatible, especially when it has not been designed to work with certain devices. Thus becoming a possible source for TDR errors. To keep it under check, make sure Check to make sure that the CPU, graphics card, memory, storage, power supply unit, all have been qualified for the motherboard and the BIOS version.
Refer to the motherboard hardware qualified vendor list (QVL). It can be found on the motherboard manufacturer's website. Apart from it, check that the power supply unit (PSU) meets the requirements of the graphics card and that the PSU cables are properly connected to the graphics card (if required). Try reseating the graphics card into the PCIe slot, and if feasible, test it in a different PCIe slot or system.
5] Unstable overclocking and overheating
Lastly, it has been found, TDR errors can be triggered from unstable overclocking and overheating of the CPU, graphics card, and/or system memory.  If these system components were manually overclocked, restore them to factory default settings and check if the TDR error persists. You may need to reset settings in the BIOS, through overclocking utilities, or within the graphics driver menu.
Related: Fix AMD Driver Timeout has occurred error.
What is the newest AMD processor?
The latest release from AMD is Ryzen 9 5900X. It's an incredibly powerful processor for gaming and marks a significant jump in a single performance in years. The processor supports 12 cores to power through gaming, streaming and more.
Which is better AMD Ryzen or Intel?
Both, AMD Ryzen and the Intel Core CPUs offer similar performance, but AMD Ryzen processors are better at multi-tasking. Intel Core CPUs are faster and get an upper hand when it comes to single-core tasks.