AeroAdmin is free stable, secure, no-configuration, easy-to-use, portable Remote Desktop software for Windows PC, that works behind NAT. You can use the tool right away after downloading it, and it requires minimal configuration. The tool is absolutely free for personal, as well business use, but there is an option for free registration that can be availed by Liking the page of a developer on Facebook, and the entire registration process unlocks a contact book feature.
AeroAdmin Review
The basic concept is somewhat similar to TeamViewer, where on the left-hand side your session ID is displayed, and on the right side, there are options to connect to another computer. The program is considered completely secure as all the connections are secured by hybrid AES+RSA encryption.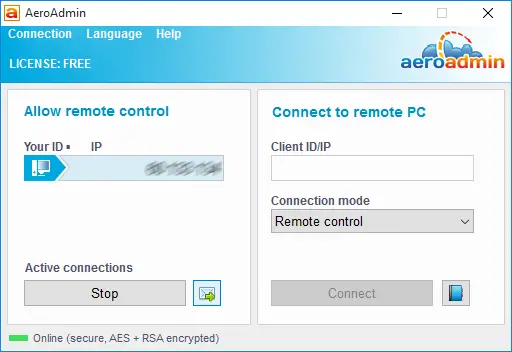 AeroAdmin allows parallel sessions, which means you can control or view multiple computers at once or you can give control of your computer to multiple computers at once. You can even avail unattended access by enabling the AeroAdmin service which can start the program with Windows startup, and the computer can be accessed remotely without the presence of humans.
AeroAdmin comes with an inbuilt file manager that lets you download or upload files remotely and even pause or resume the transfer process if the connection is interrupted at any scene.
The software is quite intelligent as it automatically detects the internet connection speed and then adjusts the frames per second or the quality of images shared over a remote connection.
With a stable and fast internet connection, it is even possible to play videos on a remote computer.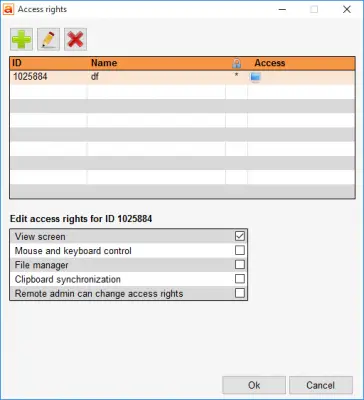 The flexible access system allows you to create different rules for different connections, for instance, you can choose from several types of admin authorization. Moreover, you can even make the program remember a computer and let it pass the authorization process every time the same computer connects to your computer.
All other auxiliary features such as clipboard synchronization, system keys transmission, auto-scaling, auto-scrolling, remote Windows lock, etc. are readily available.
Overall the tool is well designed and well built. It is fast, easy, and secure. I just loved the no installation, no configuration policy, and moreover the tool is available for free of cost, to both personal and commercial users. So you don't need to pay the price for the same features if you want to use the tool for commercial purpose.
Some features mentioned in the post are of limited usage in the free version and can be availed only in paid versions – but the limits in the free versions are considerably well laid for the average user.
What is the best free remote desktop software for Windows?
There are many free remote desktop software available for Windows 11 and Windows 10. However, you may not want to rely on all of them due to some security concerns. Therefore, you can opt for TeamViewer, AeroAdmin, etc. These are some of the best free remote desktop software for Windows OS.
Is AeroAdmin really free?
Although users can download AeroAdmin for free on their Windows computers, it is limited to some features. Users need to pay some dollars to obtain the paid version, which includes more other options, features, priority support, etc. The pricing starts from $80/yr ($56 – with discount), and it goes up to $120/yr.
Click here to download AeroAdmin.
Ammyy Admin is another similar tool you may want to check out.