Microsoft recently released update KB3004247 for Internet Explorer 11, that added a Bing Search bar to the New tab page. The New tab page, is the page you see, when you open a new tab, and includes your frequently visited websites. The idea behind releasing this update was to increases prominence of web suggestions, so that users of Internet Explorer on Windows 8, can easily select web search suggestion.
How to get rid of Bing on Internet Explorer
If you are seeing this Bing Search bar, it means that you have set Bing Search as your default search engine. If you have set Google Search or any other Search as your default search engine, you will not see it.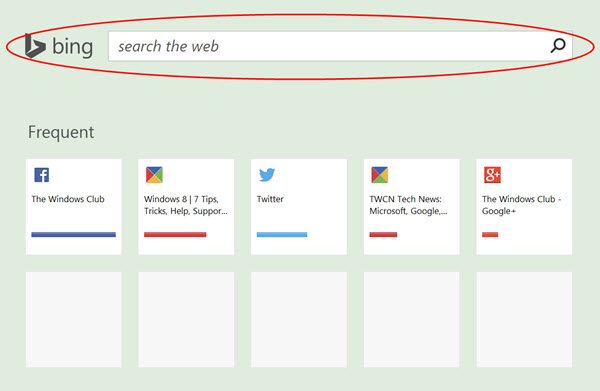 Remove Bing Search Bar from Internet Explorer New tab page
If you do not like this bar and would like to disable or remove it, you can do the following.
Open Internet Explorer > Settings > Manage addons.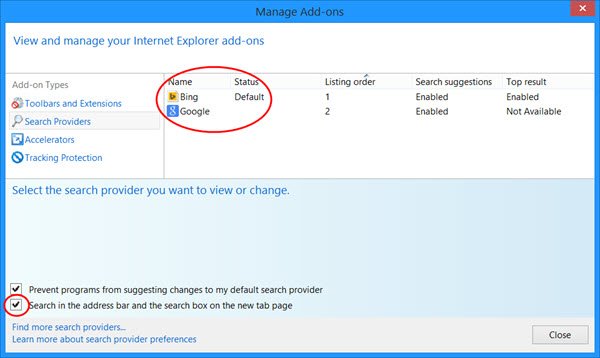 In the left side, select Search Providers. Now you have two ways to do it. Change your Default Search from Bing to any other, or to uncheck the Search in the address bar and the search box in the new tab page option.
If you select the first, you will have to change your search engine. If you do not want to do that, unchecking the checkbox would be the best option.
As I mentioned earlier, if you are using Google or any other as your default search, you will not see this search bar in the New tab page.
If you are an Internet Explorer user, you might want to have a look at these posts too:
Check this post if you want to disable Bing Search from the charms bar search in Windows 8.1.