Internet Explorer today, is arguably one of the most secure browsers available. But how can we secure Internet Explorer further? The browser is considered to be safe – by default – with features such as smart screen filtering and location filter. It has plenty of safety features. All you need is to make sure you have those features turned on so that you enjoy secure browsing. Here are few tips on securing the Internet Explorer.
Secure Internet Explorer
1] Enable Smart Screen Filter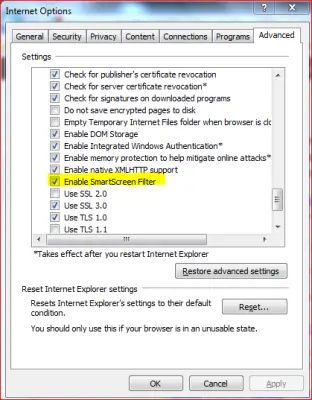 Make sure that the smart screen filter is enabled. When you install IE9 or later versions, Internet Explorer asks you if you wish to turn on the Smart Screen Filter. If you did not already turn on the filter, you can do it from Internet Options -> Advanced Tab.
Open Internet Options dialog box from Tools menu (ALT+T)
On the Advanced Tab, in Settings, locate the option Enable SmartScreen Filter
Click to check the box if it is not already ticked
Click OK to close Internet Options dialog box
2] Prevent Tracking Of Location By Websites
One option could be using a proxy. However, not all proxies are trustable. To turn on the location filter, open Internet Options, and on the Privacy tab, select the check box saying "Never Allow Websites To Request Your Physical Location". This gives you safety to some extent. Other websites such as Google will always find a way to trace your location using your IP address when you log on to those websites. The location filter in IE fails to prevent them from tracing your location. However, you still get a little protection when it comes to malicious websites.
3] Internet Explorer Security Zones
Internet Explorer includes 4 predefined security zones: Internet, Local Intranet, Trusted Sites & Restricted Sites. To customize a security zone. Open Internet Explorer > Settings > Internet Options > Security tab. Here you can select the zone and then choose the security levels you wish to set for these zones, individually. You can read more on this at how to manage the Internet Explorer Security Zones.
4] Prevent Third Party Cookies
It is a tough task having to use a website without allowing it to store third-party cookies on your computer. It is not that third-party Internet Cookies are always bad but still, we are concerned about our privacy. To prevent the storage of third-party cookies:
Open the Internet Options dialog box from the Tools menu (ALT+T) or from Control Panel
Select the Privacy tab
Under Settings, you can see the default value of the slider to be Medium.  This setting allows for saving third-party cookies when you visit noted websites. Since we do not want anything third-party, we will change the setting.
Click on the Advanced Tab
Click to tick the box saying "Override Automatic Cookie Handling"
Under First Party Cookies, select Accept
Under Third Party Cookies, select Block
Click to uncheck "Always Allow Session Cookies"
Click OK
Click OK to close the Internet Options dialog box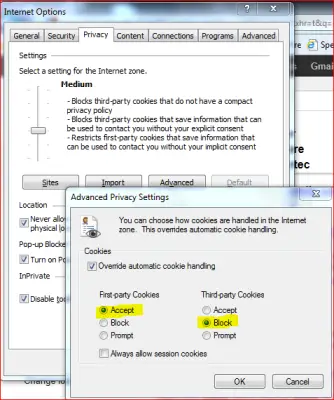 This setting prevents websites from saving unwanted cookies to your computer.
5] Run Internet Explorer Security Troubleshooter
It might also be a good idea for you to run the Internet Explorer Security Troubleshooter from Microsoft. It will check your Internet Explorer settings and make recommendations. It will enable IE pop-up blocker, enable phishing filter, enable Data Execution Prevention for IE, and reset IE security to recommended settings.
Now read: How to harden Internet Explorer Privacy Settings.
These IE security related links may also interest you: