If you have multiple Microsoft accounts then you must have suffered the excruciating process of multiple logins and logouts. However, the launch of Outlook's Android app has been a sign of relief and it is a beauty.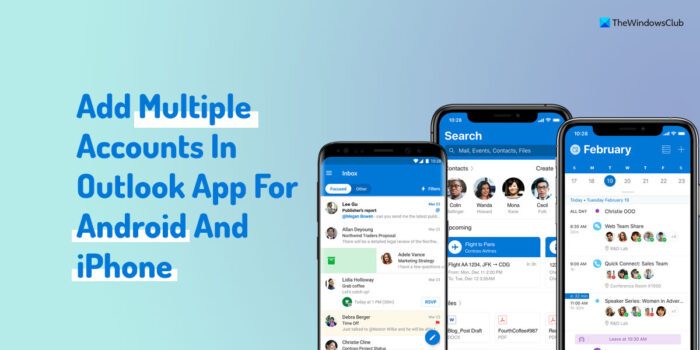 The Outlook app for Android and the iPhone is already available on Google Play Store and Apple store respectively for free. Most apps support the feature of adding multiple accounts, but not everyone is able to locate it easily.
There's a way to add multiple IDs in Outlook app for Android and iPhone without juggling multiple phones or multiple logins on one phone. Here are few tips how you can make your life easier. For your information, you can add up to 25 accounts in the Outlook app for mobile and use them together without any problem.
Add multiple accounts in Outlook app for Android
When earlier Microsoft released an Official Outlook app for Android, it was just a rebranded and modified version of old Hotmail app. However, the new version of Outlook app has a completely new interface with lots of added functionalities that are more consistent.
The current version has numerous features including accessing multiple accounts using one app. Here is how you can add  multiple accounts to the latest Outlook.com app for Android:
Open up the Outlook.com app on your Android device. If you don't have it yet, download it from Google Play Store.
Swipe the screen towards right from your inbox. You'll see 3-lined hamburger menu.
Tap on the round icon appearing on the top. You can also click on the Settings icon towards the bottom to add a new account.
Now tap on the "Add account" option to add your Microsoft account. Follow the steps and fill up the required details to complete the process.
If you want to delete any of the added accounts from the Outlook.com app, simply go to the "Settings" while using that particular account you want to delete, go to Manage accounts section and select remove.
Add multiple email IDs in Outlook app for iPhone
In a similar way, Outlook app for iOS lets you set up multiple Outlook accounts. The current Outlook.com iOS app version is a significant improvement over the previous OWA.
Open the Outlook application for iOS. If you don't have it yet, download it from the Apple Store.
If you are using the Outlook app for iOS for the very first time then just tap get started. If using already and want to add new account then simply tap on the menu icon appears on the upper left corner.
Tap on settings and then tap add account.
 Enter your email account details, password, and tap on "Sign in".
So, this is how you can add multiple accounts in the Outlook app for Android and iOS. Both the applications are available on the respective app stores and you can download them for free. Let us know if this tutorial was helpful to you by leaving feedback in the comment section below.
Can we add additional mailboxes in Outlook for iOS or Android?
Yes, you can undoubtedly add additional mailboxes or email accounts in Outlook for iOS and Android. However, before adding more than one account, you must update the app to the latest version. Following that, you can go through the aforementioned steps to use multiple accounts in Outlook for Android and iOS.
How many Outlook accounts can Android and iOS support?
As per the official statement, you can add up to 25 accounts in Outlook for Android and iOS apps. It could be outlook.com, Hotmail.com, gmail.com, or any other IMAP or POP3 email account. In total, you can add and use 25 accounts simultaneously.