If you receive a message stating that Your Windows license will expire soon, You need to activate Windows in Settings on Windows 10 – but your Windows 10 is already activated – then what do you do? Here is the solution.
Your Windows license will expire soon
Before you begin, you should find your Windows product key and keep it handy. You could retrieve it by running the following command in an elevated CMD:
wmic path SoftwareLicensingService get OA3xOriginalProductKey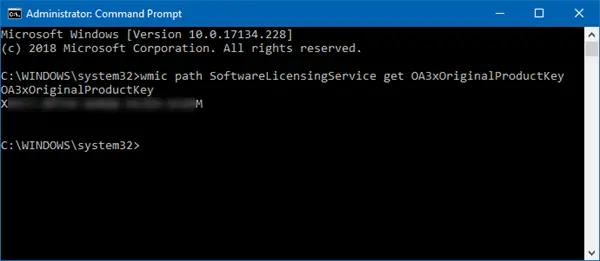 You will see the licence displayed below OA3xOriginalProductKey. Mine has been displayed above in the image as X ——– M. Copy it elesewhere safely.
Now you may proceed.
1] If you are using the correct product key, click on Go to Settings button and click the Activate button once again. If you have another license key which you want to use, click on Change product key, enter the new one and select Activate. Does this sort out the issue? If you see an error code, then this post will show you how to Troubleshoot Windows 10 Activation Errors. If you see the same message again, read on.
2] Open an elevated Command Prompt. To do this in Windows, click the Start button, enter cmd in the Search box, and press Ctrl+Shift+Enter.
Next, type the following and hit Enter:
slmgr –rearm
This will reset the licensing status.
Restart your computer and see if this helped. It should…
3] Uninstall the product key. Then enter the product key anew and try again.
4] The Tokens.dat file in the Windows operating system is a digitally signed file, which stores most of the Windows activation files. Sometimes the Tokens.dat file may get corrupted as a result of which Windows Activation may not take place successfully. Rebuild the Tokens.dat file and then try to activate Windows again.
5] Run the Windows 10 Activation Troubleshooter and see if that fixes your problem. The Windows Activation Troubleshooter will help you address most commonly encountered activation issues on Genuine Windows devices including those caused by hardware changes.
6] If you still face this activation problem, you may activate Windows 10 by Phone. Else you should contact Microsoft Support and explain your situation. The Windows Support agent will verify your Windows 10 Product Key and then give you an ID for activating Windows 10 on the new computer.
Hope something helps!