Some Windows 10 users might encounter the error message Your files, apps and settings can't be kept when they try to perform a Windows in-place upgrade. In this post, we will give an explanation of why you encounter this error, as well as provide the workaround you can try to overcome this anomaly.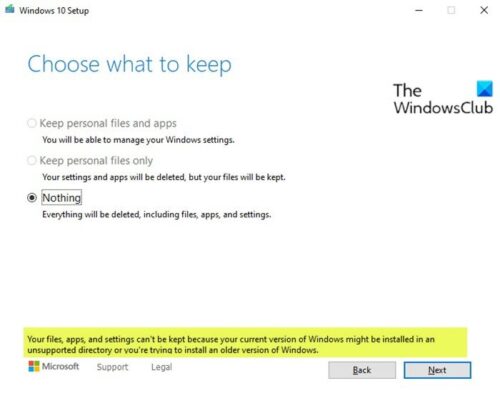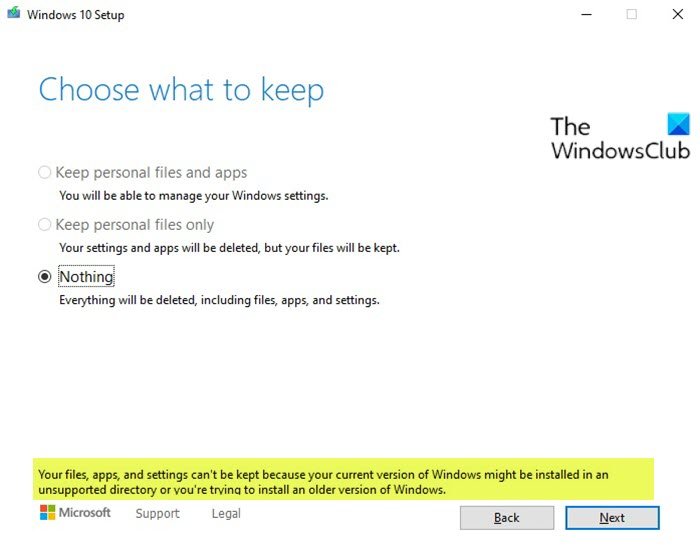 Below is the full error message that you'll receive when you encounter this anomaly;
Your files, apps, and settings can't be kept because your current version of Windows might be installed in an unsupported directory or you're trying to install an older version of Windows.
When you perform an in-place upgrade using the Media Creation Tool, the current Windows 10 system files are replaced with fresh versions – this allows you to address Windows 11/10 problems, broken features or apps and even update issues. Additionally, an in-place upgrade leaves user files intact and also retains settings and customization. In fact, several pre-installed apps and their data also remain unchanged.
Your files, apps and settings can't be kept
You may be faced with this error because a bug in the Windows enablement package disables two options –
Keep personal files and apps
Keep personal files only.
As you can see from the image above, those two options are greyed out.
This means you're restricted to only the third option Nothing. If you select this option, you cannot perform an in-place upgrade of Windows 10 20H2 by keeping your personal files. This option wipes everything on the drive.
Note: The MCT works as expected when you upgrade from Windows 10 version 2004, but if you install the Feature Upgrade via Windows Update, you'll be forced to choose the Nothing option during an in-place upgrade and lose your files.
Workaround
To work around this Your files, apps and settings can't be kept issue, you'll need to uninstall the KB4562830 update.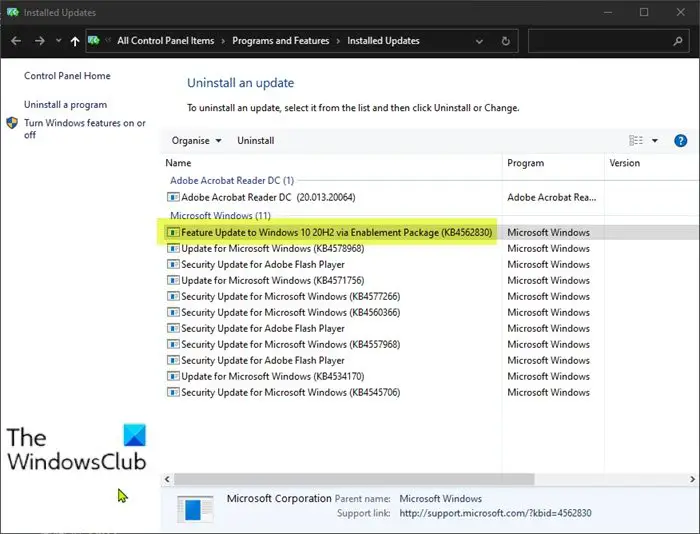 Here's how:
Press the Windows key + I to open Settings.
Select Update & Security.
Select Windows Update from the left pane.
Click on View update history.
Click on Uninstall updates link.
In the Installed Updates Control Panel applet
Look for the Feature Update to Windows 10 20H2 via Enablement Package (KB4562830) entry.
Right-click the update package and click Uninstall.
Reboot your system after the uninstall process.
On boot, you can rerun the Media Creation Tool – the two options that let you keep your files will now be available. A permanent fix for the issue is expected to be released shortly.
Apart from this, there are other scenarios too where this error can appear:
Windows OS has been installed in an unsupported location
If you are trying to upgrade From Windows 32-bit to Windows 64-bit
If you are trying to upgrade directly from Windows 32-bit lower version to Windows 64-bit higher version. Example – Upgrading Windows 8.1 Home 64-bit (English) to Windows 10 Pro 64-bit (English). Here, first, you need to upgrade to Windows 8.1 Pro then to Windows 10 Pro
If your Locale has changed. You need the same Language installer to keep the Apps too
You are trying to install an older Windows version by mistake.