Some PC gamers have reported they get the Your credentials are incorrect or have expired error messages in EA when they enter their credentials to access their account via the browser, Origin client, or EA desktop app. This post offers practical fixes to easily resolve the issue.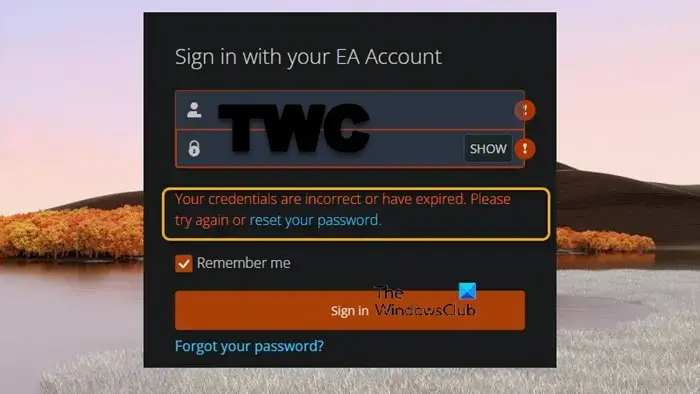 Your credentials are incorrect or have expired. Please try again or reset your password.
You may encounter this issue due to the following reasons:
Hacked account.
The account is linked to an old email.
EA maintenance period.
Affected PC gamers reported that after entering their credentials, this error occurs, and even if their credentials are accurate, they are unable to access their account. Even though all EA services appear to be operating as they should, the error suggests that the EA account is unreachable.
Your credentials are incorrect or have expired in EA
If you see that Your credentials are incorrect or have expired while logging into your EA account via the browser, Origin client, or EA desktop app, then the fixes we have presented below can help you resolve the issue and get back to your gaming on your rig.
Change your password
Clear cache
Check if your account is linked to an old email
Contact EA Support
Let's look at the description of the process as it relates to each of the listed solutions.
1] Change your password
Your EA account's password needs to be changed as soon as possible. You must take this action to prevent losing your account since it's possible that your account was hacked. According to players, this strategy may still be useful even if your account wasn't hacked.
You only need to change your EA account password. You can complete this process using different methods.
You can change your password from the Origin sign-in page. In the space provided, enter your email address after clicking the Forgot your password option. To finish the password recovery process, you must now adhere to the on-screen instructions.
The procedures should be the same if you want to proceed from the EA App sign-in screen.
The official EA password recovery page at signin.ea.com is another location where you can change the password for your EA account. You only need to enter your email address or EA ID and verify that you are not a robot. After that, a message including a link allowing you to change your password will be sent to your email address. To finish the procedure, adhere to the directions.
Keep in mind that you may have to repeat this procedure for a while if you have changed your EA account password but are still unable to get into your account. As some of the affected players have mentioned, some of them were able to access their accounts after changing their passwords multiple times.
Read: Can't sign into Steam with the correct password
2] Clear cache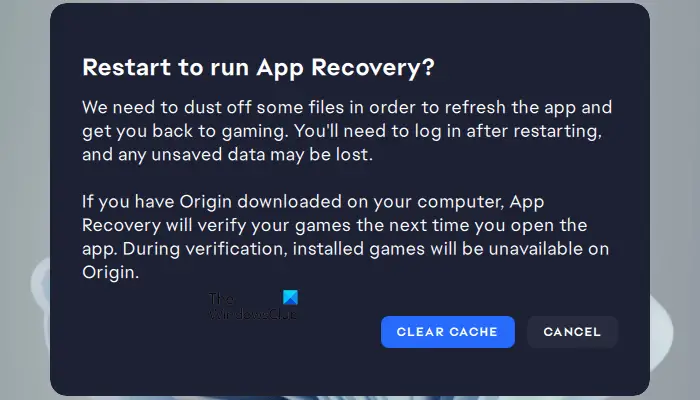 A cache is a high-speed data storage that caches data so that requests for it in the future can be fulfilled more quickly by accessing the data's primary storage location. You can effectively reuse previously acquired data by using cached data.
Occasionally, the cache of your browser could prevent you from login into your account and display the error message. In this case, you can clear your browser cache or clear the Origin client cache as the case may be, or you can clear the EA app cache by following the steps:
On the hamburger menu in the far-left corner of the EA app, select Help > App recovery > CLEAR CACHE.
If you can't open the EA app, click Start > EA > App Recovery > CLEAR CACHE.
Read: Origin client won't sign in on Windows PC
3] Check if your account is linked to an old email
If changing your EA account password didn't work, see if your EA account is still connected to an older email address you previously used. Some gamers were able to resolve this issue after discovering that their account was tied to an outdated email, which prevented them from accessing the account.
If this isn't the case for you, then you can continue with the next suggestion.
4] Contact EA Support
You may have to contact EA support for further assistance if nothing else works for you in resolving the issue.
Hopefully, this post helps you!
Read next: Fix Epic Games Launcher login errors
Why does EA say my credentials are expired?
The Your credentials are incorrect or have expired, please try again or reset your password message may appear due to a problem with EA login servers or a player-related security issue, such as being requested to log in again after a period of inactivity.
What happens when EA Play expires?
You won't be able to play games offered by EA Play after your membership expires or is canceled unless you buy them separately or reactivate your membership. On how long EA accounts last, according to the terms, if you have not used your Entitlements or Account for twenty-four (24) months or more and your Account has associated Entitlements, your Entitlements will expire and your Account may be canceled for non-use.
Also read: Fix We couldn't find your account info EA app error.