Refreshing the browser cache is a way of clearing browser data, and you should do it occasionally. Why is it essential? Whenever you visit a website, data from that site is automatically transferred and stored on your computer. This stored data is called "Internet Cache". It allows the website to load faster the next time you visit it by loading stored data from your computer instead of from the site's server.
This is a regular practice, but at times, website developers may want to send you updated data when some changes have been made to the website and uploaded. Then, a browser refresh is required since by using the basic Refresh command, you can force the website to send you fresh data.
Browser Refresh for Windows PC
Browser Refresh is a portable Windows application that comes to the rescue of Web Designers and Developers. The application allows users to quickly clear browsers from anywhere with one keystroke.
Read: How to Refresh and Hard Refresh a web page.
Clear Browser Cache of multiple browsers instantly
The application is designed to work as a service. You can download zip file extract all contents and run the file. If prompted with a SmartScreen warning, click 'More Info' and hit the 'Run Anyway' button.
Once started, it displays a simple notification via Action Center of Windows and resides silently in the background. A Notification indicates that the app is now active and running.

To see all the options the app houses, simply click the application's icon from the System Tray. The menu lists all the options required for tweaking and sets them based on a user's preference.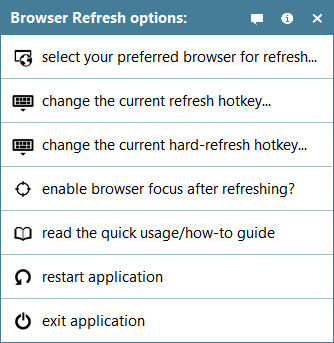 Control+D hotkey is set as the browser refresh key, by default. The hard refresh hotkey is Alt+D. A user can configure both hotkeys from the options menu. From the hotkey configuration dialog opened, press in the key or key combination of your choice then click on save hotkey to save the key(s) you've set.
If you've not currently opened your selected browser or even all of the supported browsers while Browser Refresh is active, it will begin launching it/them, and you will in addition to this, be asked if you wish to open any particular file with the selected browser(s). This allows for a quick and convenient way of opening your web pages with the same hotkey.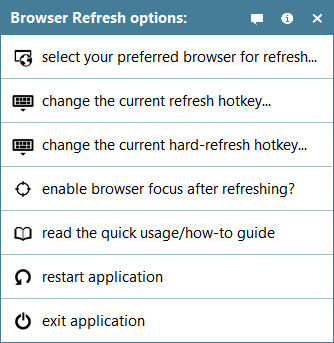 If you've chosen all the browsers to be refreshed, close them. Browser Refresh will then automatically refresh the ones currently active and running. Browser Refresh currently supports Google Chrome, Google Chrome Canary, Mozilla Firefox, Firefox Developer Edition, Opera Browser, and Yandex Browser and is compatible with Windows 10.
You can download Browser Refresh from here. The application requires .NET Framework 3.5 to be installed on your system. Download the required files to allow the application to run.