Usually, signing in to a computer running Windows 10 is fast and straightforward. If there are not many programs in the Startup, it works out well. However, if many things are loading as soon as you log into the computer, it slows down everything. It is also possible that there are too many users already logged in. All of this can result in errors. One such error is — Your computer is running low on resources. The exact error message reads:
Your computer is running low on resources, so no new users can sign in. Please use an account that has already been signed in.
In this article, we will be checking out how to get rid of this low on resources error which doesn't allow to login to Windows 10.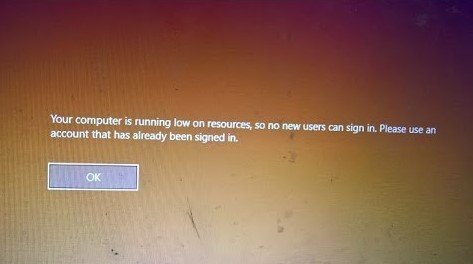 Your computer is running low on resources error, so no new users can sign in
When a user signs-in to Windows 10, computer allocates resource so it can work smoothly. However, many a time, the System is running low on resources. That's why it blocks a sign-in of a new user. Follow the recommended fixes to resolve this issue.
Log out existing users
Perform Cold Boot
Run System File Checker and DISM
1] Logout existing users
If you have a shared Windows 10 computer, check if someone has not logged out. It is possible that some background task or an existing program is still running under that account.
Do make sure to ask the same user to log out in case he or she has some unsaved work. However, if the person is not around, you may have to reboot the computer.
2] Perform Cold Boot
Press and hold the physical power button on your CPU until it goes off too
Boot your laptop regularly now and check if you can log in to your account
The above process is called as performing a Cold Boot. It makes sure Windows 10 Kernel shuts down completely, and releases all the resources held by any account.
3] Run System File Checker and DISM
Execute System File Checker and DISM in an elevated Command Prompt. Both these tools will make sure to fix any corrupted files on the computer.
These commands should be executed from a different admin account or Advanced Recovery mode. If you do not have any other Windows account, here is how to create one without signing-in to the computer.
Let us know if this helped.