Windows Defender gives your system complete protection by bringing together machine learning, big-data analysis and in-depth threat resistance research. Although good, this protection can sometimes throw up errors. One such is – You'll need a new app to open this windowsdefender link. If you cannot open it and you see this message, then this post may help you.
You'll need a new app to open this windowsdefender link
Windows 11 comes integrated with in-built primary system protection – Windows Defender. It works well most of the time but when it does not, you can experience all sorts of problems. For instance, when you can't open Windows Security or Defender from Settings app, you'll see an error saying 'You'll need a new app to open this windowsdefender link'. If you face this issue, try the following suggestions:
Use Windows PowerShell fix
Run System File Checker scan.
Remove any third-party Antivirus solution.
Before you begin, you might want to manually update Windows11.
1] Use Windows PowerShell fix
To start with this, type Powershell in the search box of Windows, right-click Windows PowerShell, and select the Run as administrator option.
Next, in the PowerShell window that appears before you, type the command –
Add-AppxPackage -Register –DisableDevelopmentMode "C:\Windows\SystemApps\Microsoft.Windows.SecHealthUI_cw5n1h2txyewy\AppXManifest.xml"
Hit the Enter key.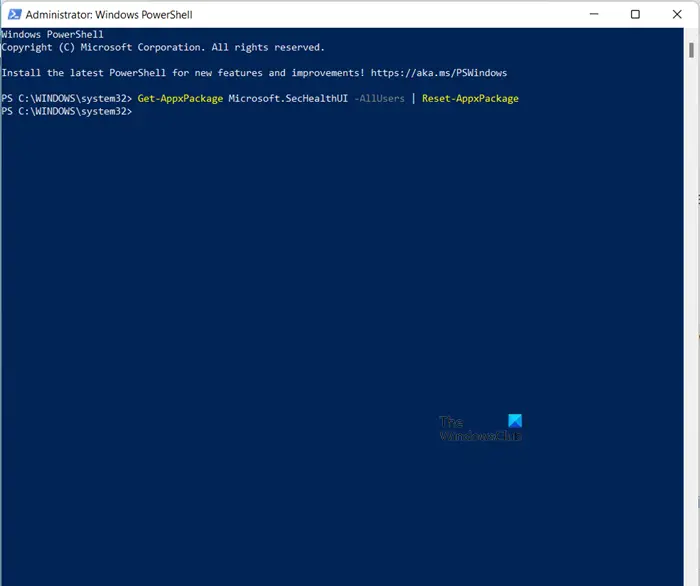 If you cannot still open the antivirus app, try another command –
Get-AppxPackage Microsoft.SecHealthUI -AllUsers | Reset-AppxPackage
Then, press Enter. After finishing the process, you should be able to open Windows Defender like before
2] Run System File Checker scan
The System File Checker is integrated with Windows Resource Protection, which protects registry keys and folders as well as critical system files. If any changes are detected to a protected system file, the modified file is restored from a cached copy located in the Windows folder itself.
3] Remove any third-party antivirus solution
It's quite possible that some other antivirus program running in the background is interfering with the opening of the app and thus stopping you. So, try disabling it for a while and check again.
What antivirus works with Windows Defender?
Although Windows Defender offers good protection, you can use Avast, Avira, Kaspersky, or any other good free antivirus software. These software solutions too provide robust protection.
Is Windows Defender free with Windows?
Yes. Microsoft Defender Antivirus is a free real-time malware protection feature that comes pre-installed with Windows. It's also activated by default if no other active antivirus software is detected.
I hope that helps!