Depending on how often you play your Xbox Series X/S, it is possible for the console to overheat, and that's understandable since the Series X is the most powerful console in the world right now, so it will generate a lot of heat.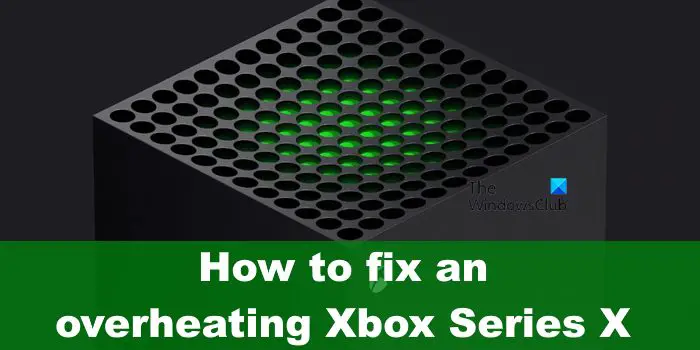 Fix Xbox Series X/S overheating issues
Most gamers will never experience this issue, but that doesn't mean you must be complacent.
Whenever the Xbox gets too hot, it will likely overheat, and from there, you can expect slow performance and even crashes. But worry not because there are ways to solve the problem of your Xbox overheating, though not a permanent fix unless you stop playing altogether.
The first telltale sign of an overheating Xbox Series X/S is when performance drops. You will probably see increase load times and dropped frames on a regular basis. There might also be graphical glitches such as flashes of pink or green.
In some situations, the Xbox might become louder than normal, which is a clear sign the fan is spinning in overdrive in a bid to get rid of excessive amounts of hot air. If things get out of control then the device will automatically shut down abruptly. This is a safety mechanism and normal in cases like this, so don't be alarmed.
What to do if the Xbox Series X/S gets too hot?
If the console is exhibiting any of the issues we discussed above, then it is likely overhearing. Calmly stop playing and turn the Xbox off. Let it sit for a few hours with the vent facing the upward position to aid with the cool-down process.
At all times the console must be in a well-ventilated area, so no warm places where there is not enough room for the system to breathe.
Furthermore, while the console is off, we suggest taking a look at the vents. If you come across dust, then take a few minutes of your time to clean it. Any debris blocking the vent can cause severe overheating problems, and we do not want that at all.
Once you start the console, we recommend you clear your Xbox cache before you proceed.
Can I prevent Xbox Series X from overheating?
Yes, you can, which is why most gamers will never have to experience an overheating situation. The console comes with a sophisticated heatsink designed to absorb heat from the motherboard. There is also a vapor chamber that brings in heat from the CPU and sends it evenly around the system. When this is done, no one area will stay hot for very long periods.
Additionally, the console has vents at the top in the form of a mesh and a large fan at the bottom for expelling hot air from inside, sending it through the mesh at the top.
Despite all the above, your Xbox can still overheat, so we suggest monitoring how many hours you play. If you are the type of gamer to play for multiple hours non-stop, then consider taking breaks or using an external fan to blow air onto the console.
READ: Where is Xbox Play Anywhere files located on PC?
Do cooling fans work for Xbox Series X?
Cooling fans do work for the Xbox Series X, and if you cannot create your own, there is nothing to worry about since several are available on Amazon for sale. For example, you can search for G-STORY Cooling Fan, one of the best-rated on the website.
How hot is normal for an Xbox Series X?
Normally, your Xbox series X will run between 60 and 75 degrees, though that's quite low when compared to the PlayStation 5, a console that is not as powerful. This is due to the vapor chamber and heatsink used to cool the console.