The wait is finally over. If you ever wished to mirror your Windows screen to Xbox One, it's possible now. Microsoft's Wireless Display app can cast Android or Windows screen or games to Xbox One. When using this app, Xbox acts like a Miracast receiver where other devices can project.
Cast Android/PC screen to Xbox One with Wireless Display app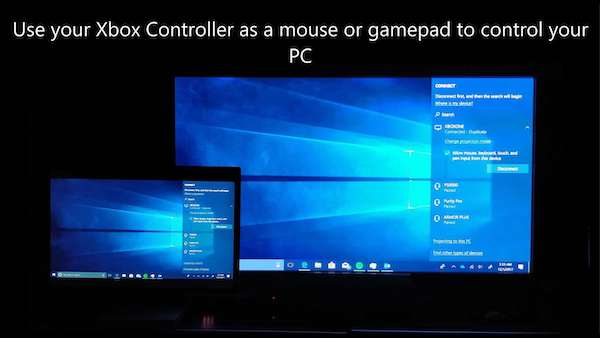 When playing games using the Xbox App, you can stream it to Xbox One. Till date, it was only possible to stream Xbox games to PC, but it's the other way now. On the top of this, you can use the Xbox One controller as well.
Here is the list of features Wireless Display app supports:
Instantly share photos you've just taken with family and friends without having the photos sync through a cloud service.
Share video clips you've recorded with family and friends
Project your favorite websites with Microsoft Edge to the biggest screen in your house
Mirror your Android games to your TV so your friends can watch
Play your PC games on your Xbox while using the Xbox controller as a gamepad
Use your PC on your Xbox One and use the Xbox controller as a mouse/keyboard
However, it doesn't allow to stream any copyright-protected content. It means you cannot stream videos from streaming videos from services like Netflix.
Play PC games while the controller is connected to Xbox One
Projecting Windows 10 games to Xbox One is old. However, Playing PC games while the controller is connected to Xbox One, is one feature many where waiting. The  Wireless Display app supports controller in a way that it can send input from Xbox controller via Xbox One to the PC. The feature makes everything seamless. However, you will have to set this up which we will talk about in detail in our post later.
You will also be able to choose latency mode just like how we're able to do it when streaming Xbox Games to Windows 10 PC.
Use Controller/Gamepad as Mouse and Keyboard
Streaming Windows or Android to Xbox One doesn't make sense without having a keyboard and mouse. You can use the controller as the mouse, and if you have a gamepad, you can use it to type. While I have not tested, if you have a Bluetooth keyboard connected to Xbox One, you should be able to type to Windows 10 PC directly.
Overall its a great move by Xbox and Windows 10 teams to bring this functionality together. Not sure of everybody, but I am sure going to enjoy streaming to Xbox, and use the TV as big size, monitor! You can download the app from the Microsoft Store.