At times, when your Windows installation is giving you major problems, you may need to restore your PC using system restore or use the Refresh or Reset PC option. At times, you may even need a bootable DVD or USB. Without these media, you cannot install or reinstall Windows.
But a free software called WintoHDD makes it possible to install Windows without CD or USB drive. It will assist you in reinstalling or installing Windows without a CD or USB drive. That means, if you have the ISO image of your respective Windows, you can certainly install that on your machine. You do not need any bootable USB maker or CD/DVD burner for Windows to create a bootable pen drive.
Reinstall Windows without CD or USB Drive
As mentioned, WinToHDD can help you to install Windows without a CD or USB drive. Apart from that, you can reinstall Windows or clone your entire system using the same tool. It is very easy and not much time consuming to reinstall Windows without bootable CD or USB drive. Whenever you get into trouble and fail to create such a bootable drive, you can simply opt for this method.
Open WinToHDD on your Windows PC. You will get a window like this: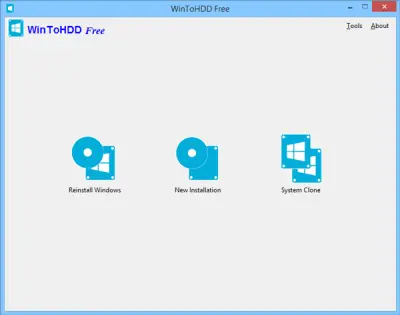 Select Reinstall Windows. Now, you will have to select the ISO file.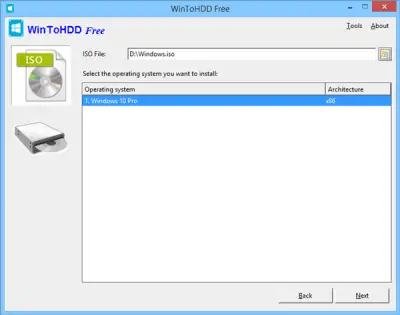 Make sure that you are choosing the same ISO file, which is installed currently.
Here, you can find the architecture or the bit of Windows (x64 or x86).
Choose a version that you have and hit the Next button. The next window will contain these options,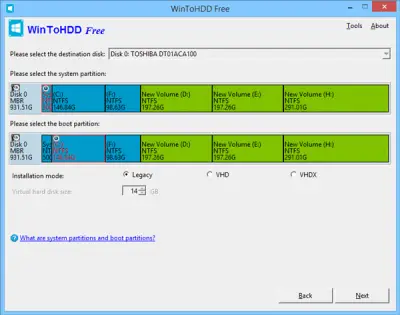 Again click on Next button. Now, you have to create a WinPE image. Click on YES and sit back for a few moments. The tool will create the respective WinPE image.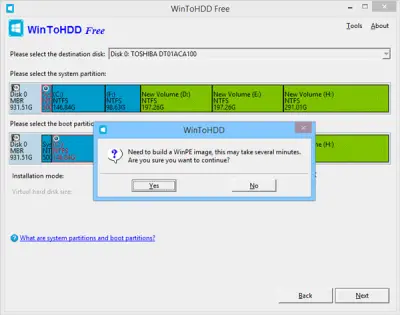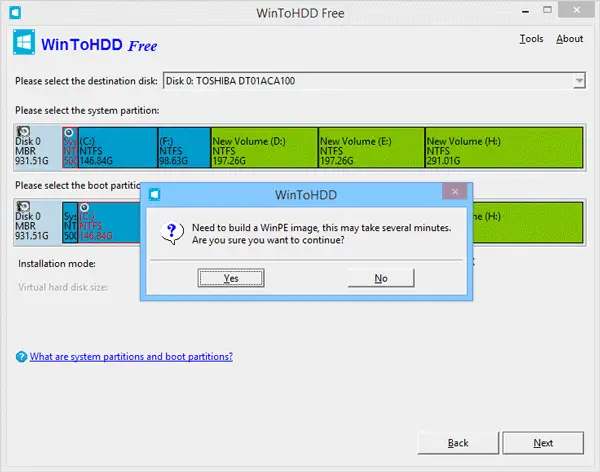 Following that, it will need a restart. Just hit the YES button on the popup menu to restart your computer.
That's it! Now, your machine will reinstall Windows accordingly.
Install Windows without CD/DVD or USB drive
You have already seen how to reinstall Windows without a CD or USB drive using this software. It is also possible to carry out a fresh install using the same software – but, you must have a different partition. You cannot dual-boot your system from one partition. This is the only drawback of this tool. Therefore, create a new partition for your new Windows installation and follow these steps.
This time, you have to select New Installation among those three options. After that, select your ISO image. Then, click on Next and select the partition where you want to install your Windows.
Following that, you will have to give it some time. The tool will setup everything for you. When it restarts, you will have to go to BIOS settings and select Hard Disk as your default boot source.
That's all you need to do!
Clone system using WintoHDD
Sometimes, we need to move our system from one drive another drive. At such times, this tool will help you a lot as it makes it possible to clone your system.
Select System Clone and hit the Next button. Now, you have to choose the partition, where you want to clone your system. Then, the tool will carry out its task. This is a time consuming job, so you will have to be patient.
Can I reinstall Windows without USB or CD?
Yes, you can reinstall Windows without a USB or CD. If you are using Windows 11 or Windows 10, you have two options. First, you can use the Reset option. Second, you can use third-party tools like WinToHDD. It is freeware, easy to use, and you can easily reinstall Windows without any USB or CD.
Can I install Windows 11/10 without DVD or USB?
You can install Windows 11 or Windows 10 without a DVD or USB. There are plenty of ways to get the job done. For example, you can use the executable file in your ISO file. On the other hand, you can use WinToHDD. It is a free program which lets you install, reinstall, and clone Windows without DVD or USB.
WinToHDD download
You can download WinToHDD from here. The free version supports Windows 11/10/8.1/8/7/Vista Home editions only.