Windows 8.1 has revised PC settings – they have undergone minor changes that make it appear somewhat different from the settings that are present in Windows 8. One new category you can find here is Update and Recovery.
The category contains options for, not only updating your PC using Windows Update, but also to prepare it for clean install or use File History. From the Windows 8.1 Charms Bar > Settings > Change PC Settings, you will find the Update and Recovery option listed within the left column.
Clicking the option displays three additional sub-categories:
Windows Update
File History
Recovery
Windows 8.1 Update and Recovery Options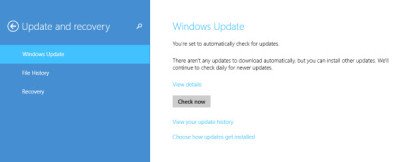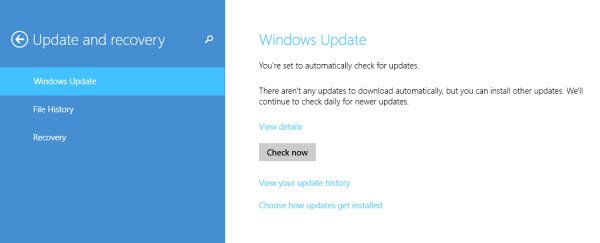 Although the above sub-categories are self-explanatory, let us cover them in brief, here
Windows Update
Here you can see the status of Windows Update. If updates are available, you will see the message – Important updates are available. Go to PC Settings to install them; if not, you will see a There aren't any updates to download" message.
You can view the details here and see your Update History.
You can also choose how you want the Windows Updates to get installed.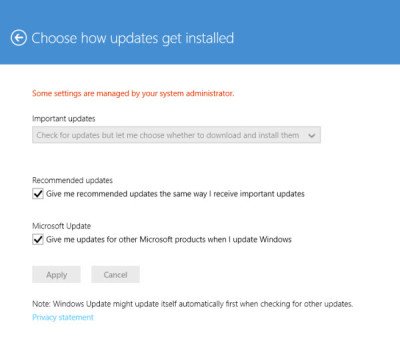 I have set it to "Download updates but let me choose whether to install them".
File History
By default, File History is turned off, but a simple click to slide the bar can change this. If you have an external drive hooked up, select it to back up your data to. Bear in mind, backup is not automatic, so set your choice of drive and click the "Back up now" button visible at the bottom of the window. This places a "File History" folder on the external drive.
Recovery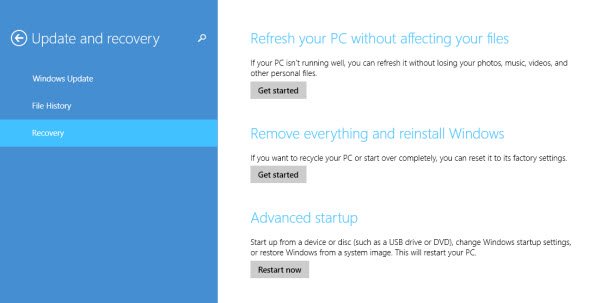 This sub-category displays 3 options, each capable of handling a different task.
Refresh PC – Solves minor problems or slow-down issues, that may be bothering you as a user. It is essentially like a simple button that will try to fix what is wrong, without touching any of your data files.
Reinstall or Reset PC – Pull this trigger only when other options fail. It will wipe out all of your data. It is a clean reinstall of Windows and therefore will fail to retain your files or personal information upon completing its action.
 Advanced Startup – Allows you to choose different options of your choice.
Hope this helps!