A lot of users are reporting an error while trying to update Windows 10 with the error code 0x800f0845. In some cases the error occurs as a BSoD, however, we will discuss the case in which Windows Updates are prevented. If you encounter the Windows Update error 0x800f0845, please read this article for the solution.
Windows Update Error 0x800f0845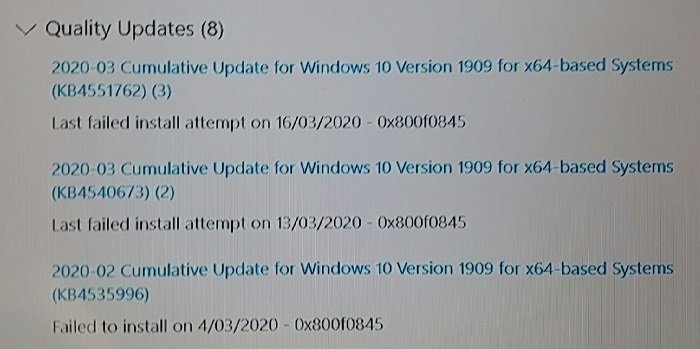 The Windows Update error 0x800f0845 has been a problem for a long time now and we have no news of a suitable fix being pushed for it. For some users, it totally ceases the Windows Updates and for some, it halts the progress after some time. This error is caused by system file corruption or Windows Update mechanism failure and so we will proceed with the following fixes:
Run SFC and DISM scans
Use Windows Updates troubleshooter
Reset Windows Update components
Download Windows Updates manually.
1] SFC and DISM scans
Since the error in the discussion is caused by system file corruption, your first approach should be to perform an SFC scan. The SFC scan utility allows users to scan for and restore corrupt Windows system files. Thereafter, you can perform the DISM scan.
2] Use Windows Updates Troubleshooter
The Windows Updates troubleshooter is an excellent tool that analyses problems with Windows Updates and resolves them if possible. The procedure to run the Windows Updates troubleshooter is as follows:
Click on Start and go to Settings > Updates & Security > Troubleshoot.
Select the Windows Update troubleshooter and let it run.
Restart the system once the troubleshooter has done its job and try updating Windows.
3] Download Windows Updates manually
If the above-mentioned steps aren't helpful in fixing the problem, you can try downloading the updates manually. To do so, go to the Microsoft Update Catalog website. Type the exact KB number of the latest Windows Update (which can be checked online) and download it.
4] Reset Windows Update components
If everything else fails, you can consider resetting Windows Update components. You can either reset Windows Update components through commands or using the Fix WU utility. This procedure will reset all settings related to Windows Updates to default.
All the best!