Microsoft Photos has an option to enhance the pictures you take with just a click using the Auto Enhance button. Some users are reporting that the Windows Photo Enhancer is not working on their PC. In this guide, we have a few solutions that work in fixing the issue.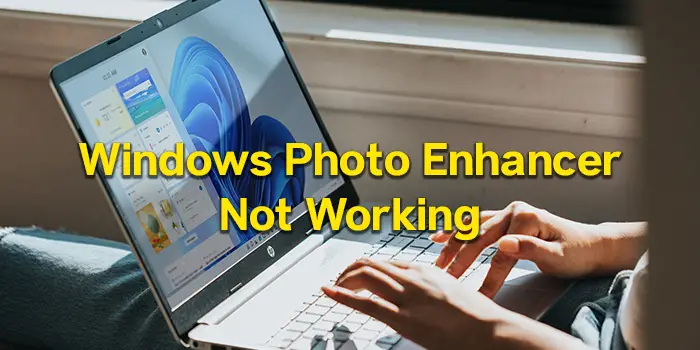 Microsoft Photos has been updated into a great photo viewer and editor for beginners. The need to install a third-party photo viewer on your PC is not in question. Microsoft Photos does all the work. Photo enhancer on the Photos app lets you enhance the images in their look and make the picture a beautiful one. There are some users who are facing issues with it. Let's see how we can fix it.
Fix Windows Photo Enhancer not working
If the Windows Photo Enhancer (Auto Enhance button) is not working properly on your Windows 11/10 PC, then you can fix it in the following ways:
Install Photos Media Engine Add-on
Repair or Reset Photos app
Run Windows Store Apps Troubleshooter
Restore Default Libraries
Let's get into the details of each solution.
1] Install Photos Media Engine Add-on
Photos Media Engine add-on gives the Photos app new capabilities. It is generally, installed by default. If not, you can install it manually from Microsoft Store. It has helped some users fix the issue.
2] Repair or Reset Photos app
Another way to fix the issue is by resetting the Photos app. If there are any changes in the Photos app, that are making Windows Photo Enhancer, it will be fixed with it. See, if it has fixed the issue and if the Photo enhancer is working.
3] Run Windows Store Apps Troubleshooter
Photos is a Microsoft Store app. Any Microsoft store apps can be fixed with the Windows Store Apps troubleshooter. It is found in settings and when run, it will find the issues and errors with it and fixes them automatically.
4] Restore default Libraries
Sometimes, restoring default libraries on Windows, fixed the issue for some users with the Windows Photo enhancer. Restoring default libraries will fix the issue with Libraries and it may in turn let the Photos enhancer work properly.
How do I repair Windows Photos app?
You can repair the Windows Photos app in the Settings app. To repair or reset the Photos app on Windows 11/10, follow the below steps.
Open the Settings app
Select App from the sidebar
Click on Apps & features tab
Then, click on the three-dot menu beside the Photos app
Select Advanced options
Click on Repair or Reset
How do I enhance photos in Windows 11/10?
Windows Photo Enhancer lets you enhance the photos in Windows 11/10. If you face any issue with it, you can follow the above solutions and fix it. Also, you can use third-party apps to edit photos and enhance them.