If Libraries do not work or open in Windows 11 or Windows 10 computer, then you may need to restore defaults Libraries & fix the documents.library-ms is no longer working error.
Windows Libraries not working
If you face this issue, then when you click on Library, nothing will happen. The Library folders will not open. In this case, some may even receive an error message:  library-ms is no longer working
documents.library-ms is no longer working
If you face this issue try the following suggestions:
Restore Default Libraries
To fix this issue, first go and delete all the custom Libraries that you may have created and added. Also, delete all the default ones except the ones which are working. Having done that, restore the defaults.
To restore the default libraries on Windows 11/10,
Select Libraries on the Explorer
Right-click on it
Select Show more options
Click on Restore default libraries
Let's get into the details of the process.
On the Explorer window, select Libraries and right-click on it to see options. Click on Show more options.
You will see more options. Click on the Restore default libraries on the context menu that opened.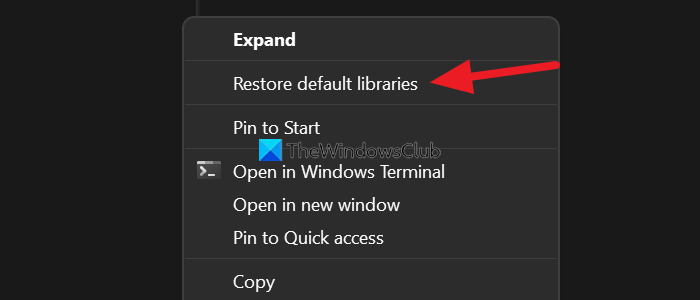 This is how you can restore default libraries on Windows 11/10.
You will find that Windows Libraries will start working properly
Let us know if this tip helped you fix the issue on Windows 11/10/8/7.
TIP: This post will show you how to fix Error 16389, Unable to create the file New Library.library.ms in Windows.
How to add new Libraries to Windows Explorer?
To add some extra Libraries in addition to the default ones browse to the folder which you want to be added to this section. Next right-click on Favorites in the left side navigation pane, and click on Add Location or Include in Library. Or you can right-click in the library folder > Select New > Library. Alternatively, you can also use the drag and drop method to do so or re-arrange them.
How do I restore the default folder location in Windows 10?
The default folder location can be restored easily on Windows 10 using the context menu. Just select a folder or item in the Libraries like Music and right-click on it. Select properties and click on Restore defaults in the properties windows that will open.
How do I restore a folder back to its original location?
If you want to restore a folder to its original location from the Recycle bin, just right-click on the folder and select Restore from the context menu. If you have cut and pasted a folder elsewhere, just go to the original folder and use the Ctrl+Z shortcut and see if it restores the cut folder.