At times, you may find that your Windows Media Player does not open or work, or that it cannot play MP4 or DVDs or rip CD/Media. You could face other symptoms like – nothing happens upon clicking the icon for the player, or upon forcing it to open, the interface doesn't appear, a blue circle keeps circling signifying it's loading, and so on.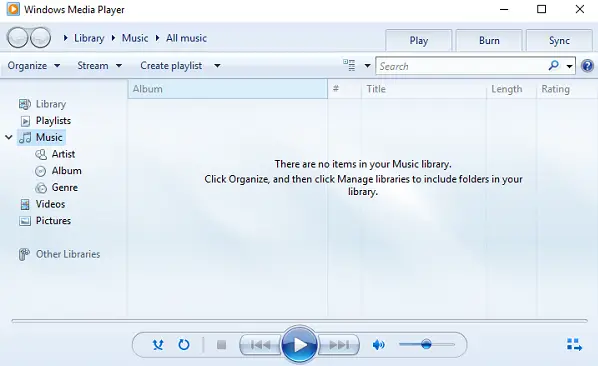 Windows Media Player, the built-in media player for Windows 11/10/8/7 has always been the preferred choice for streaming media, because it comes pre-installed with the Windows operating system and supports most media file formats. It has almost every function, other major media players have – like creating playlists, etc.
Before you begin, try this simple solution and see – Either restart your computer or end all 'Windows Media Player' processes using the Task Manager and then see if the issue is resolved.
Windows Media Player won't open
If your Windows Media Player will not open or work then perhaps some of these suggestions on how to fix the problem may help you:
Run built-in WMP Troubleshooters
Re-register these DLL files
Use Fix WMP Utility
Delete the Window Media Player library
Uninstall and reinstall Windows Media Player.
1] Run built-in WMP Troubleshooters
You can the Run the built-in WMP Troubleshooters. Run Windows Media Player Settings, Windows Media Player Library, and Windows Media Player DVD Troubleshooters and see if they help you fix your problem.
2] Re-register these DLL files

To re-register DLL files, open Command Prompt (Admin) by pressing Win+X and run the following commands:
regsvr32 vbscript.dll
regsvr32 jscript.dll
regsvr32 wmp.dll
Press Enter after each command, and once done, restart the system.
3] Use Fix WMP Utility
Use our freeware Fix WMP Utility for Windows. This freeware portable app re-registers all the concerned Windows Media DLL files required for the smooth functioning of Windows Media Player.
4] Delete the Window Media Player library
A user who is facing a similar issue suggested that deleting the Media Library externally, without opening WMP, helped.
TIP: 5KPlayer is a powerful free Media Player for Windows and Mac.
5] Uninstall and re-install Windows Media Player
If nothing helps, you can uninstall and reinstall Windows Media Player via Control Panel > Programs and Features > Turn Windows features On or Off.
In the list, which is in alphabetical order, expand the option Media Feature. Uncheck the box next to Windows Media Player. Restart the system. 
Once the system restarts, to re-install Windows Media Player, check the same box we unchecked in the previous step, click OK and restart the PC once the process is complete.
On Windows 11/10 you could also open Settings > Apps > Apps & Features > Manage optional features > Locate Windows Media Player and then select Uninstall.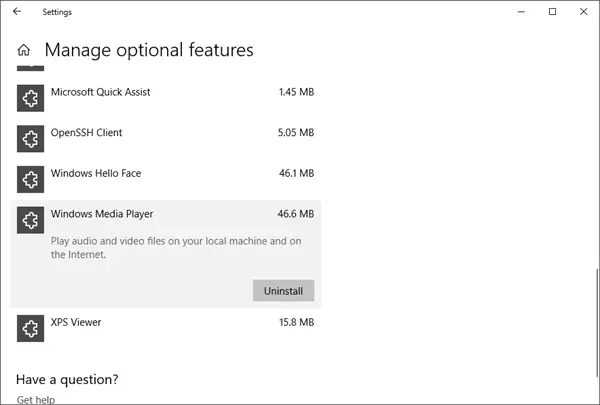 Once the installation is completed, opt to Install it again.
Why is my Windows Media Player not opening?
There could be various reasons why Windows Media Player is not opening or working on your computer. Whether it is due to a malware attack, low available resources, or corrupted system files, you might get this problem due to different reasons. You can start fixing this problem by restarting your computer.
How do you reset Windows Media Player?
Although there is no in-built option to reset Windows Media Player in Windows 11/10, you can use the Windows Features panel to get it done. You need to uninstall Windows Media Player and reinstall it on your computer.
Please let us know if any of our suggestions helped you.