Some Windows users, who use an Ethernet port in multiple computers may receive an IP address conflict Network Error – Another computer on this network has the same IP address as this computer. Contact your network administrator for help resolving this issue. More details are available in the Windows System event log. Basically what this message means is that more than one computer on your network is using the same IP address, and this needs to be fixed.
Windows has detected an IP address conflict
There are many people, who do not use any Wi-Fi router and instead, they use an Ethernet cable to connect their computers to the internet.
Why does this IP address conflict occur
If you use direct Ethernet connection without any Wi-Fi router, you can face this issue. When you use such a connection, you need to enter the IP address, Subnet mask, default gateway, preferred DNS server, and alternate DNS server. After entering this, your connection registers the current MAC address or network address as the default. If you unplug the Ethernet connection from the first computer and try to connect it to another computer, your network will not be able to recognize the second computer's MAC address as it has already registered the first computer's MAC address. Hence, you will get a popup window showing the message.
Another computer on this network has the same IP address
If you are on a Home network, power off your router, wait for 10-15 seconds, and then power it on again and see. This simple step may help you fix the issue. If it does not, these suggestions may help you.
Change MAC address
You need to use the first register the MAC address on your second computer. To get the MAC address of the first computer or currently connected computer, open Command Prompt, and enter this command, and hit Enter.
ipconfig /all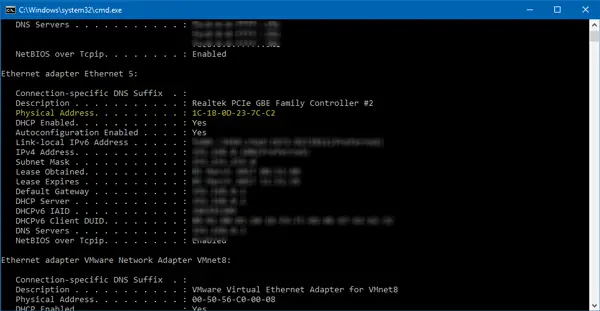 You should see the Physical Address in the result.
Now, open the second computer. Press Win + R, type ncpa.cpl and hit Enter.
Right-click on Ethernet [number] (if any) > go to Properties > Configure > Advanced > Network Address.
Write down the MAC address in the Value box and save your settings.
If you do not want to use the native method to change MAC address, you can use some third-party MAC address changer tools for doing the same.
See if this helps you. If it does not, try the next suggestion.
Renew IP address using Command Prompt
If you have only one computer, but still you receive this error message, you may need to renew your IP address and see if that helps. open Command Prompt. For that, you can search for
Open a Command Prompt window and execute the following commands:
ipconfig /release
ipconfig /renew
The first command will release your current IP address and the second command will let you assign a new IP address.
Also read: Internet works through WiFi router but not Ethernet modem OR vice versa.
Hope something helps you.