When adding a printer to an already connected Printer if you receive an error — Windows cannot locate a suitable printer driver, then this post will help you resolve this error. It happens because of two reasons. The first is when the printer is not adequately shared with the right permissions. Second when there is a problem with the printer driver.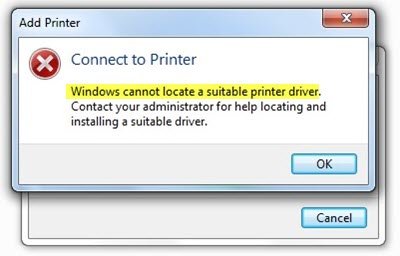 Windows cannot locate a suitable print driver
If your Windows 11/10 cannot locate a suitable print driver, here are some troubleshooting tips which will make sure the network printer can be found from a remote computer.
Share Printer with correct permissions
Network profile of computer is Private
Update Printer Driver
You will need admin privileges to apply suggested settings.
1] Share Printer with correct permissions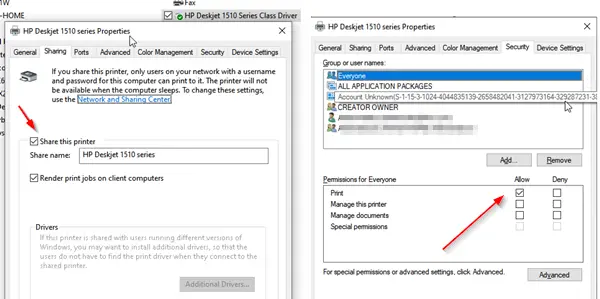 You should configure this from the computer where the printer was initially set up.
Open Run prompt (Win + R) and type Control Panel. Press the Enter key.
Next, go to Devices and Printers.
Find the printer which you need to share, right-click on it, and select Printer Properties.
Switch to sharing tab, and check the box which says, "Share this printer" and "Render print jobs on client computers."
Next, Go to the Security tab, and make sure the user with name EVERYONE is available.
Select the user Everyone, and check the box. Allow under Permissions.
It will make sure that anyone who can see the shared printer, can print to it.
2] Network profile of computer is Private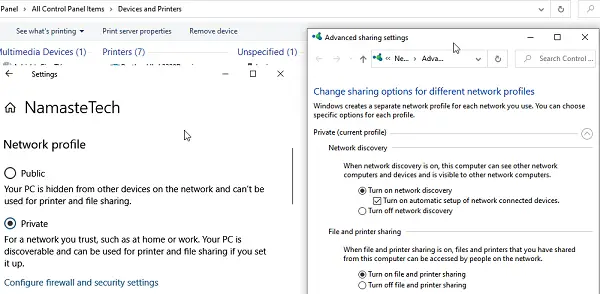 When you connect to a Wifi network, the default mode is set to Public. It makes sure that your PC and any other shared item stays hidden. Since we are talking about a non-public network, make sure the profile is set to Wifi. It is typically useful if you have a non-wifi printer that is shared through a computer.
Click on the Network icon on the Taskbar > properties
Switch network profile from Public to private.
Next, go to Settings > Network and Internet > Sharing Options
Enable the option Turn on network discovery, turn on Printer and File sharing.
It will make sure that if a printer is shared through a desktop or a laptop, then it can be discovered.
Read: How to share and add a Network Printer in Windows.
3] Update Printer Driver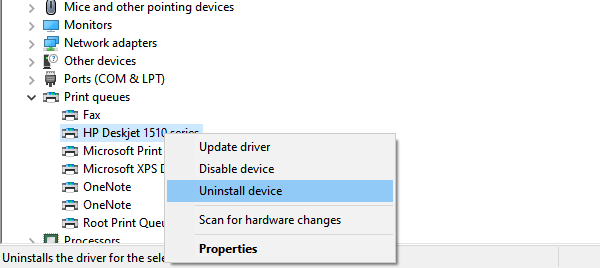 The last option is to update the printer driver. You will have to do it on the remote location, and the local computer as well. When you print, the computer will look for the installed driver to offer you all native features like print quality.
Open the Power menu using WIN + X, and then select Device Manager
You have two options here

Uninstall Device, and re-add the printer
Update driver

If you choose to update the driver, make sure to check the compatibility of the driver with Windows 10.
If you remove and re-add the driver, you will have to configure the Sharing Permission once again.
When removing an existing driver of an old printer or to completely remove an existing printer, make sure to Delete the driver software as well. In the device manager, right-click on the Printer properties, switch to the Drivers tab, and when you uninstall a printer driver, choose to remove printer driver or software as well.
While not necessary, restart the computer to if there are any post-shutdown steps left, it will be taken care of. Once done, it should resolve the issue around —Windows cannot locate a suitable print driver on Windows 11/10.
Related read: Where to download drivers for Windows?