Windows Display Quality Troubleshooter will help you if you find that, on your Windows 10/8/7 computer, the display is not good and the readability of the text is poor too. It could be a problem with your display drivers, or maybe your display settings are not optimal.
Windows Display Quality Troubleshooter
Microsoft has released a Microsoft Automated Troubleshooting Service (ATS Fix it) that will allow you to automatically detect and fix these display problems. It will automatically diagnose and fix an issue that affects the display quality and readability of text.
Once you download this ATS Fix it and run it, it will scan for issues. You can choose to let it fix the problems automatically for you or opt to select and apply the fixes yourself. Once the scan is over it will present you with a Troubleshooting report.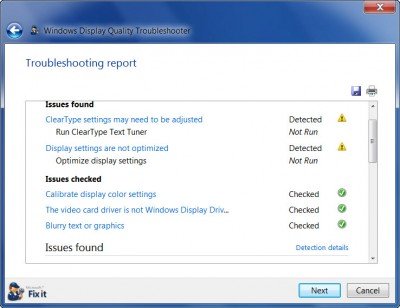 Click on Next to fix the problems. Once the problems are fixed, it will list down and inform you the problems which have been fixed.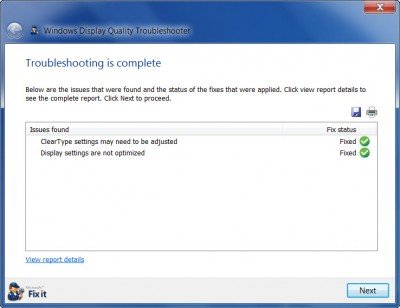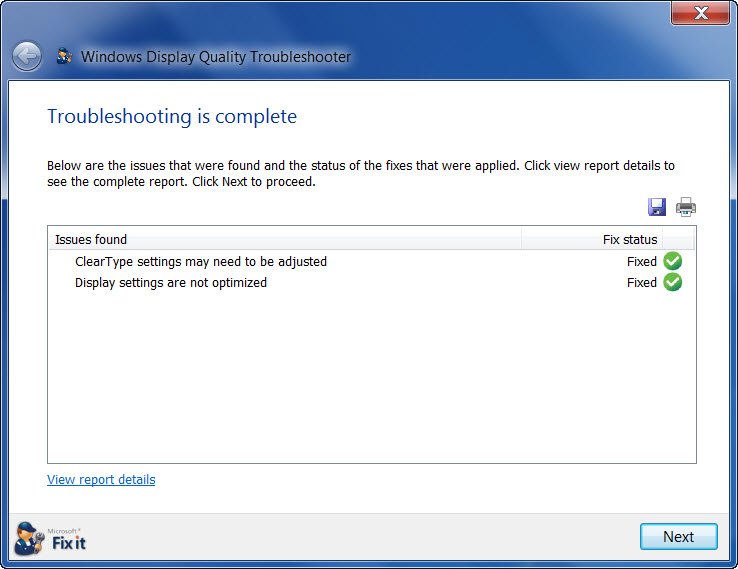 Click Next and complete its normal run. You may have to restart your computer, once the ATS closes.
Windows Display Quality Troubleshooter will fix Windows display problems. It fixes the following problems:
Video driver is not WDDM compatible or is not installed.
Display settings are not optimal for your monitor.
Display color settings need to be calibrated.
The text is blurred and difficult to read.
So if you are facing some Windows display problems, head over to Microsoft to download the Windows Display Quality Troubleshooter.
UPDATE: This troubleshooter seems to have been taken down. Now you may open an elevated command prompt and run this command:
msdt.exe /id DeviceDiagnostic
It troubleshoots problems using hardware and access devices connected to the computer.
Related reads: