Users' preferences are essentially taken into account when selecting the themes to be used on their devices. While Windows 11 has a more attractive display, you can still make your PC look better by using befitting themes. Moreover, the ability to sync settings like themes across all your devices is one of the useful features of Windows computers. For many users, syncing themes and other settings between their devices is a method for maintaining a consistent look and feel across all of the devices.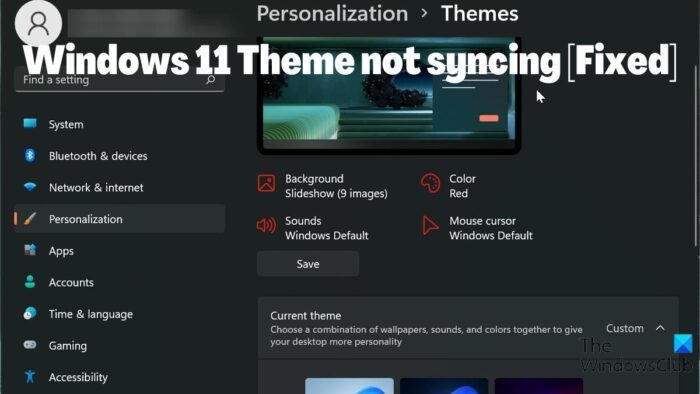 However, some users have reported that the Windows 11 theme is not syncing. This can be an annoying situation, but most times, the issue can be traced to not having theme syncing enabled, a Microsoft account issue, or a simple glitch on your computer. Considering all the factors that could cause the issue, we've put together a few solutions that could help you fix the issue.
Fix Windows 11 Theme not syncing
Are you facing the Windows 11 theme not syncing issue? Here are the best ways to fix it and sync them across your Windows devices:
Ensure theme sync is enabled on your Windows 11 PC
Check your Microsoft account
Perform SFC scan
Turn off and turn on Windows sync settings
Update Windows and restart your PC
Change the theme
1] Ensure theme sync is enabled on your Windows PC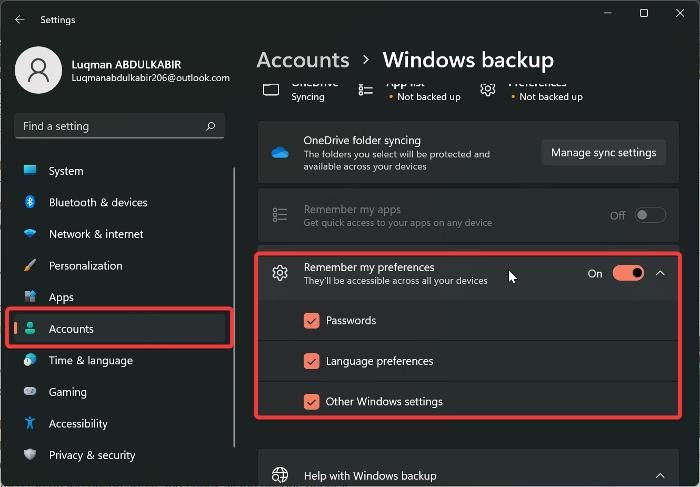 It's possible that you haven't enabled sync settings on your PC if the theme on your Windows computer isn't syncing. And you'll keep having trouble syncing your Windows settings across all your Windows PCs if the sync settings are off. As a result, you must verify that theme sync is enabled on your computer by checking through the Windows settings. Meanwhile, on Windows 11, the location enabling theme sync differs from previous Windows versions. Let's now go over how to enable theme sync on a computer running Windows 11:
Press Windows + I to open Settings on your computer.
Navigate to Accounts and click it.
Click on Windows backup and toggle on the slider in front of Remember my preferences.
Also tap on the option again and check all the options under it.
It's recommended that you restart your PC after turning on this function.
Related: How to configure Sync Settings using Registry Editor
2] Check your Microsoft account
Your computers must all be logged into the same Microsoft account for sync settings to function. Therefore, you must ensure that your Microsoft account is logged in on each of your PCs and that the MS account has been authenticated. Depending on the circumstances around the issue, you could do any of these things.
Log in to the same Microsoft account you use across your PCs.
Make sure the account is verified.
If all the above things have already been done, but you still have the issue, log out and re-login to your Microsoft account across your devices.
3] Perform SFC Scan
Some glitches on Windows computers can be traced back to corrupt system files, which could be the case for this Windows 11 theme not syncing. Therefore, you have to perform a SFC scan to look for and replace corrupt system files on your computer that may be causing the system malfunction. Here is how to perform SFC scan:
Press the Windows key and type Command Prompt in search box.
Right-click the result and select Run as Administrator.
Type sfc /scannow in the command prompt Windows and hit Enter.
Then restart your computer after the process is complete.
4] Turn off and turn Windows sync settings
Turning off and turning on the Windows sync settings could help fix this issue. If you have tried the above solution, but the issue still persists. You should go back to the Windows sync settings and toggle it off. Then restart your computer and toggle it back on.
5] Update Windows and restart your PC
Sometimes, a Windows bug could be the reason why you are facing the Windows 11 theme not syncing issue. If that's the case, trying the solutions above will not be helpful until you update your Windows 11 to a more recent version. Here is how it can be done:
Go to Settings on your computer.
Click on Windows Updates.
Select Check for Updates.
If there are any updates available, they'll be installed on your computer after the process. You should also restart your computer after the update.
6] Change the theme
It's worth a try to change your Windows theme to another option and see if the theme sync, then takes it back to the previous one just to figure out some facts about the issue. If you've switched to another theme and the theme syncing works but doesn't work after switching back to the previous one, then you probably have to use another theme. However, the theme sync setting should restore to working condition after switching back and forth if there is no issue with the theme you are using.
You can let us know the solution that worked for you in the comment section below.
Read:
How do I sync my settings in Windows 11?
Before you can sync Windows settings across your computers, you must have your Microsoft Account signed in on them. Afterward, you can sync your settings on your Windows 11 computer by following these steps:
Press Windows + I to open Settings.
Click on Accounts.
Select Sync your settings and enable the Sync settings option.
Read: Theme keeps changing in Windows 11/10
How do I change my Windows 11 theme?
It's easy to change the Windows 11 theme to another option available on your computer. Here is how to do it:
Right-click on an empty space on your desktop home and click on Personalization.
Select the Theme option from the list on the left pane.
Then tap on the theme you want to set it as your Windows theme.
You can choose a theme from Windows defaults or download it from the Microsoft Store.