You can set up Windows 10 Pro, Windows 10 Enterprise and Windows 10 Education as a device in the Kiosk mode, to run a single Universal Windows app using the Assigned Access feature. This post shows how to do it.
Assigned Access feature is Windows 10
The Kiosk mode is useful if you want to create a lockdown environment and set up and display a Windows system in a general public area, and give access to any user to access and use any single app for a particular function – eg as an information kiosk or a kiosk for checking the weather, and so on.
For a kiosk device to run a Universal Windows app, we can use this Assigned Access feature. For a Windows 10 Enterprise or Education to run a classic Windows software, you need to use Shell Launcher to set a custom user interface as the shell.
When you used the Assigned Access feature, the user does not access to the desktop, Start Menu or any other part of the computer. He can only access and use a particular function.
Setup Windows 10 in Kiosk Mode using Assigned Access
Open Windows 10 Settings and select Accounts. Click on Family & other people on the left side to open the following settings.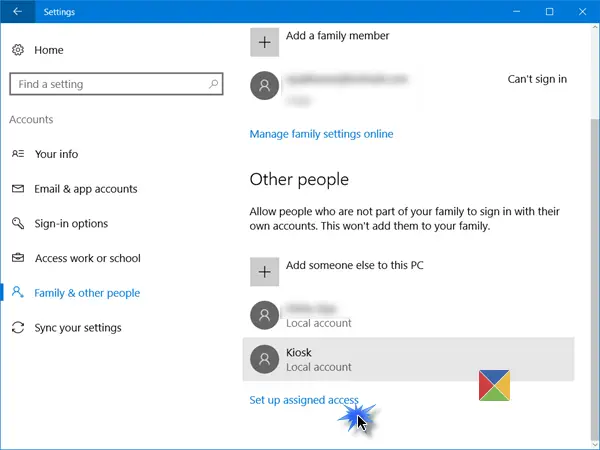 Scroll down and towards the end you will see a Set up assigned access link. Click on it to open the following window.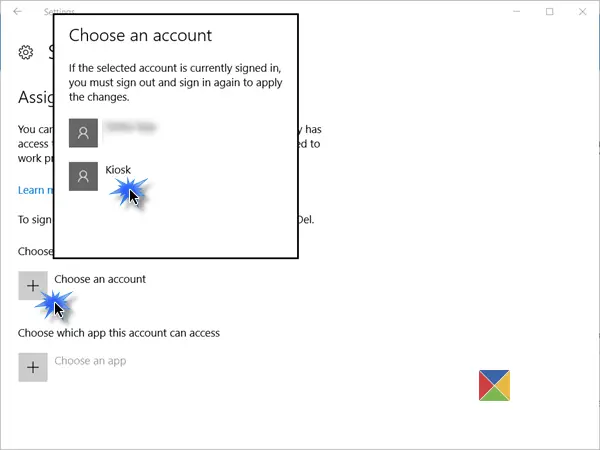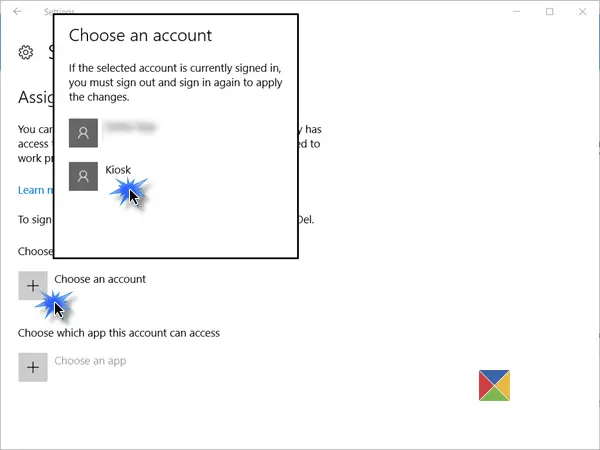 Now you will have to Choose an account, under which you want to run the device in Kiosk mode.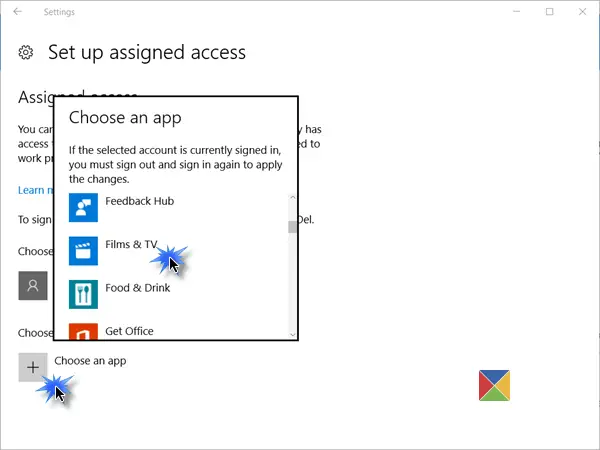 Having done this, you will have to next click on the Choose an app link and from the pop-up, select the Universal Windows app, to which you would like to give access to.
Restart your computer so that you sign out of all user accounts.
TIPS:
To sign out of an assigned access account, since you may not have access to the Start Menu, you will have to use Ctrl+Alt+Del.
To change the Universal app, click on the app (In our example, the Maps app) and select another app from the popup.
To remove the account, select on Kiosk user account here and then select Don't use Assigned Access from the pop-up which appears.
Secure Windows 10 Kiosk Mode
For a more secure kiosk experience, you want to make further configuration changes to the device:
Open Settings > System > Tablet mode and choose On to put the device in Tablet mode.
Go to Settings > Privacy > Camera, and turn off Let apps use my camera, to disable the camera.
Go to Power Options > Choose what the power button does, change the setting to Do nothing, and then Save changes. This will disable the hardware power button.
Go to Control Panel > Ease of Access > Ease of Access Center, and turn off all accessibility tools.
Run GPEDIT and navigate to Computer Configuration > Windows Settings > Security Settings > Local Policies >Security Options > Shutdown: Allow system to be shut down without having to log on and select Disabled. This will remove the power button from the sign-in screen.
Open the Group Policy Editor > Computer Configuration > Administrative Templates > System > Logon > Turn off app notifications on the lock screen.
To disable removable media, in the Group Policy Editor, navigate to Computer Configuration > Administrative Templates > System > Device Installation > Device Installation Restrictions. Make suitable changes here, but ensure that you allow administrators to override Device Installation Restriction policies.
For more details on how you can configure a device running Windows 10 Pro, Windows 10 Enterprise, Windows 10 Education, Windows 10 Mobile, or Windows 10 Mobile Enterprise as a kiosk device, and further lock it down, visit this TechNet link.
FrontFace Lockdown Tool is a freeware that can help you protect Windows PCs that are used as public kiosk terminals.
Read next: How to set up Shared PC Mode in Windows 10 using Group Policy.