Kiosk Mode, also called Demo Mode, is super useful when you want the application or the computer to do just one thing. Windows 11/10, and earlier versions of Windows offer Kiosk mode, and so does the new Microsoft Edge (Chromium) and Edge (Legacy) browsers. You may have noticed it in theaters where feedback is taken from customers or browsers, which doesn't open anything but one page. That's what Kiosk mode is about, and in this post, I will show how you can use the new Microsoft Edge and Edge Legacy in Kiosk Mode.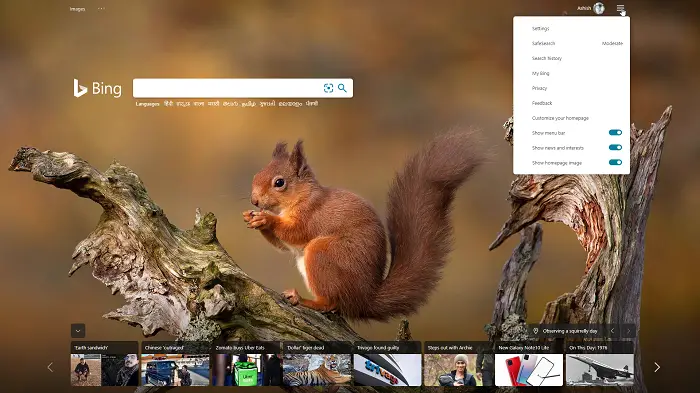 How to set up Kiosk Mode with Microsoft Edge
Windows 10, when configured for Kiosk mode, only allows a single application; however, the new Microsoft Edge is not available as one of the applications to run in the Kiosk mode. It only works with Edge Legacy. I am guessing it has something to do with Microsoft Store App, and since the new Microsoft Edge is built using Chromium, it has to follow a different path. The procedure involved is as follows:
Launch Edge (Chromium) in Kiosk Mode from Command Prompt
Enable Kiosk Mode in Edge (Legacy)
Use Microsoft Kiosk Browser app
Do note that unlike Legacy Edge, Kiosk mode with the new Edge can be differently set, depending on your requirement.
1] Launch new Microsoft Edge in Kiosk Mode from Command Prompt
Command-Line is the best way to launch Microsoft Edge in Kiosk mode. With the policy set to full screen, and the full-screen keyboard shortcut disabled (F11), it will work out just fine.
Open PowerShell or Command Prompt with Admin privileges. To launch Microsoft Edge in kiosk mode, we will have to use "–kiosk" command line parameter. Type the command and press the Enter key.
"<PathtoEdge>\msedge.exe" --kiosk https://www.microsoft.com
So the path in my case is:
C:\Program Files (x86)\Microsoft\Edge\Application\msedge.exe --kiosk https://www.microsoft.com
The drawback of using command line configuration is that it will not prevent the user from accessing Windows keyboard shortcuts. It will also not prevent other applications from running. So use this only where you have a touch screen with no way to use keyboard shortcuts.
To accomplish this type of control, consider using AppLocker to create a Windows 10 kiosk and Keyboard Filter. Using the later, you can suppress Ctrl+Alt+Delete actions or completely block physical hardware keys.
Microsoft Edge can be run with multi-app Kiosk mode in Windows 10, but it's not for the general consumers. If you are in IT, follow this link to get precise instructions.
Set up Group Policies for Kiosk Mode
Open Group Policy Editor and navigate to Computer Configuration > Administrative templates > Windows Components > Microsoft Edge. You should configure these policies for Kiosk mode.
Configure Kiosk Mode Policy
Here can control whether Microsoft Edge runs InPrivate full screen, InPrivate multi-tab with limited functionality, or standard Microsoft Edge.
If enabled and set to 0 (Default or not configured):

If it's a single app, it runs InPrivate full screen for digital signage or interactive displays.
If it's one of many apps, Microsoft Edge runs as normal.

If enabled and set to 1

If it's a single app

It runs a limited multi-tab version of InPrivate and is the only app available for public browsing.
Users can't minimize, close, or open windows or customize Microsoft Edge.

They can clear browsing data and downloads and restart by clicking the End session.

If it's one of many apps, it runs in a limited multi-tab version of InPrivate for public browsing with other apps.
Users can minimize, close, and open multiple InPrivate windows, but they can't customize Microsoft Edge.
Allow Fullscreen Mode Policy
As an example, if you have set up Edge in Kiosk mode, and you want the end-user to only access the website or a set page, then make sure to set the availability of full-screen mode. It will allow Microsoft Edge UI is hidden, and only web content is visible. This mode should be enabled if using the command line is unavailable when full-screen mode is disabled.
2] Setup Kiosk Mode in Edge Legacy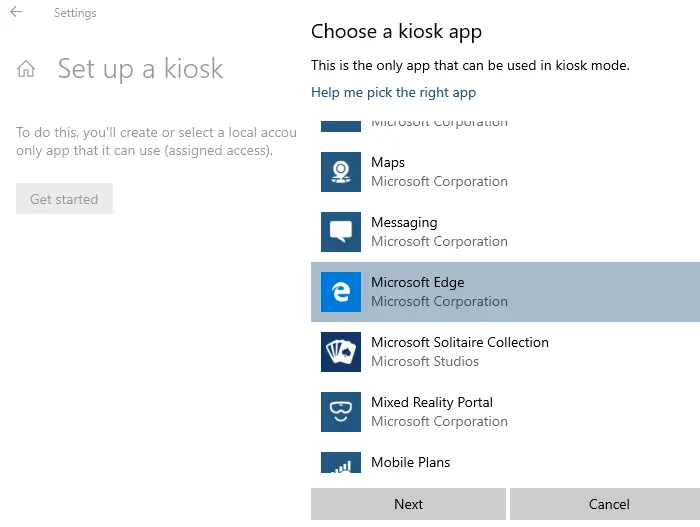 If you want to use Kiosk Mode in Edge Legacy, there are few things you will have to set. When you install Microsoft Edge, it will suppress Microsoft Edge HTML, aka Edge Legacy. So you need to use the Blocker Toolkit to disable automatic delivery of Microsoft Edge or setup for Microsoft Edge Legacy and New Edge side by side browser experience policy.
Once done, you can use the standard way of, i.e., single-app assigned access to enable Kiosk Mode in Edge Legacy. It is useful when your web application works perfectly well on EdgeHTML, and you still have made it ready for Edge Chromium.
3] Use Microsoft Kiosk Browser app
If you do not want to go through such a complicated process, you can use the Microsoft Kiosk Browser app. This app was built for IT to be used with assigned access in Kiosk mode with tailored options.
Apply restrictions such as an allowed list of URLs
Disabling navigation buttons.
It can be configured using runtime provisioning packages created from Windows Configuration Designer or by using a modern management tool such as Intune.
I hope you are able to set up New Microsoft Edge and Edge Legacy in Kiosk Mode.
Does Windows 11 have a kiosk mode?
Kiosk mode is only available in Windows 11/10 Pro, Enterprise, and Education editions. Windows 11 and Windows 10 Home editions do not have kiosk mode. Hence, if you are a Windows 11/10 Home user, you have to upgrade your license key from Home to Pro, Enterprise, or Education edition to use kiosk mode.
How do I get out of kiosk mode in Microsoft Edge?
In kiosk mode, Microsoft Edge is available with a limited set of features. While using Microsoft Edge in kiosk mode, press the Ctrl + Alt + Delete keys. This will bring up four options on your screen. Out of these options, you have to select Sign out. This will sign you out of kiosk mode. Now, you can sign in to your computer with your administrator account.
Also read: How to open Chrome, Edge or Firefox browser in Full Screen mode.