Windows Updates do bring in new features and improvements, but sometimes they introduce problems as well. The main reason for new bugs arising is the incompatibility between old and new software components. One such issue that we are going to talk about in this post is missing, invisible or black Windows Clock. The issue was faced by users after a recent feature update. Well, you can follow the steps mentioned in this post to resolve it.
Taskbar Clock is missing, black or invisible in Windows 11/10
This is a bug that can make Windows Clock in the taskbar to appear black or invisible which makes it difficult to read time on your computer. The bug has something to with Windows Themes and Aero styling. Here are a few solutions to fix this:
1] Restart Explorer
Restart Explorer and see if that helps. Maybe it is a temporary glitch.
2] Disable Custom Theme
The possible reason for a black Windows Clock can be an old or incompatible theme. You might have a custom theme in place, and after an update it became incompatible. So, what you can do now is, switch to one of the default themes and re-create your custom theme.
To do so, right click on the desktop and select Personalise. Then select Themes from the left menu and select Windows 11 or Windows 10 as your theme. Now you can delete all other custom themes are create them again from scratch. This would have fixed black Windows clock and would have turned it back into white.
3] Editing your existing themes
If you don't want to lose your existing theme, there is a solution that can help you preserve your themes. This solution is a little complex, so we advise you to stick to the first one. You can follow these steps to modify your existing themes to fix black Windows clock.
Save your existing theme if you haven't already. To save a theme, right click on the desktop and select Personalise and then select Themes from the left menu. Now click on Save Theme button just below your custom theme to save it. You can name the theme anything (we are going to change it later).
Now it is time to modify this saved theme. Go to C:\Users\UserName\AppData\Local\Microsoft\Windows\Themes. Locate the file with theme name you saved in the previous step. Right-click the file and open it with notepad or any other text editor.
Now locate the line that says:
Path=%SystemRoot%\resources\themes\Aero\AeroLite.msstyles
Change it to:
Path=%SystemRoot%\resources\themes\Aero\Aero.msstyles
Save the file and rename it to something else.
Now go back to themes and select the new theme that you just created.
This should have fixed the black Windows clock problem along with other problems that you might be facing around Themes and Taskbar.
4] Use UWT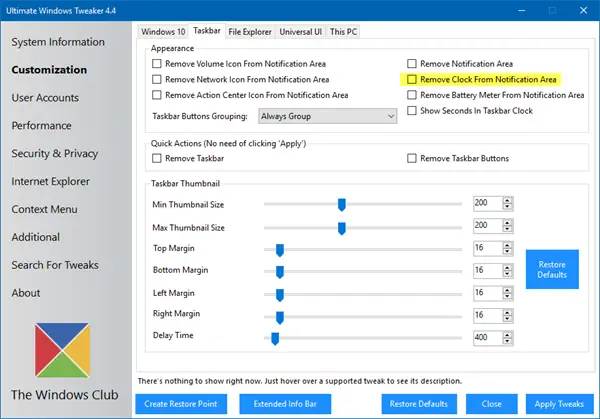 Download and use Ultimate Windows Tweaker. Under Customization > Taskbar, you will see the tweak to show or remove Clock from Notificatoon area. Use it.
5] Disable Small Taskbar Icons
This is a solution for most of the invisible Windows clock cases. If you have an invisible Windows clock, try disabling small taskbar icons on your computer.
To do so, go to Settings > Personalisation > Taskbar. And turn off the toggle button that says Use small taskbar buttons. This is a temporary solution, and it might not work in some cases.
Why doesn't my clock show on my Taskbar in Windows 11?
In most cases, some people claimed that it happened due to a bug or glitch. Keeping that in mind, if you are using a Dev or Beta version of Windows 11, there is a chance of getting such a problem due to a bug. If so, you can open the Task Manager and restart the Windows Explorer process. On the other hand, if you are using a custom theme, it is suggested to switch to any predefined theme temporarily.
How do I enable the clock on my Taskbar in Windows 11?
The clock is already enabled on your Taskbar in Windows 11. However, if you cannot find it on the Taskbar, you can use the aforementioned troubleshooting suggestions to turn it on. The easiest way to get it back is by restarting the Windows Explorer process using Task Manager.
These were a few possible solutions to the black Windows clock problem. If nothing helps, maybe you want to consider a System Restore operation.