Winamp has been one of the most preferred media players on Windows, from the days of its early development to this date. It is the only player that supports a lot of customizations, you can have custom skins, plugins or any other 3rd party content that does not come bundled with the setup. Winamp is a very flexible media player. Its popularity may have decreased, but many people still use it. An issue often faced by its users was the non-availability of backup options for configurations or library databases. Winamp Backup Tool is a free tool that overcomes this problem very easily and lets you backup Winamp configuration files.
Winamp Backup Tool
Winamp Backup Tool lets you backup Winamp configuration files, Skins, Visualization Presets, Icon Packs and Color Themes. With a click of a button, you can backup all these settings and apply them to any other computer having Winamp installed or you can preserve them for your future usage.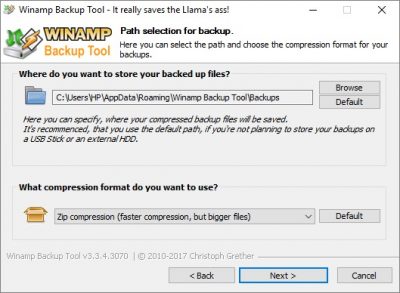 It has a wizard-like user interface and is pretty easy to use, you can perform the operations very easily without any knowledge of how the Winamp configuration files work.
To make a backup of your existing settings, just select the backup option from the main menu and hit the 'Next' button. Now choose the location where you would like to store the backup file, and select the compression type as well. It can be anything from a Zip (faster compression, bigger file size) or a 7Z (slower compression, smaller file size) file.
There are two backup modes available, Automatic Mode automatically decides the important configuration files, library databases or any other important files that are required to be backed up and the Custom Mode lets you decide the files that you want to be backed up.
To restore a backup on another computer or device, just choose the restore option from the main menu and then browse for the backup file you created or the program would automatically pick up the latest backup file from the default directory. Then you need to choose the path for restoration of backup, Winamp Backup Tool automatically detects the restoration path and you don't need to change it generally.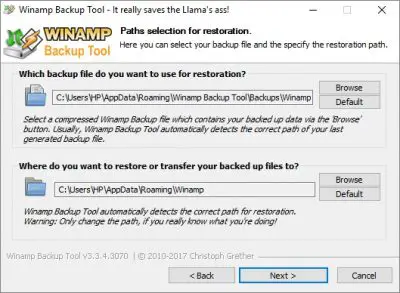 The tool also maintains the log of backups created and the logs and backup history can be easily viewed by selecting the last option from the main menu.
Winamp Backup Tool is a great tool for you if are an avid Winamp user and you've been using the media player for quite a long time. You can easily create and share backup files using this tiny little tool.
How to backup and restore Winamp?
You can backup and restore Windows configuration files with the help of the Winamp Backup Tool. It is free and available for almost any version of Windows, including Windows 11 and Windows 10. It is possible to backup skins, visualizations, presets, themes, etc., with the help of this app.
How to make easy backups of your Winamp configuration?
To make easy backups of your Winamp configuration, you can take the help of the Winamp Backup Tool. As said earlier, this freeware is able to backup themes, skins, presets, configurations, etc. Whether you want to backup the settings or restore them in the future, you can do both using the same app.
Click here to download Winamp Backup Tool