These days most people prefer using a wireless mouse & keyboard rather than a wired one. If for some reason, your existing keyboard and mouse are not working correctly, you can temporarily use a software called WifiMouse which will help you convert your Android phone into a wireless mouse and keyboard. Let us see how to use it.
Turn Android phone into wireless mouse using WifiMouse
WifiMouse is a tool that helps you control your Windows 10 PC remotely from an Android mobile. The best thing is that it is open-source software and the source code is available on Github. It comes with the only functionality so that users can try out this utility when their dedicated keyboard or mouse is not working correctly.
Talking about security, you can set a password so that other people cannot access your computer remotely using this software. To build a connection between your phone and computer, they have to be connected to the same WiFi network.
Download, setup, and use WifiMouse on Windows and Android
To get started with WifiMouse, you need to follow these steps-
Download and install WifiMouse on Windows PC and Android phone
Build a Server on PC
Connect to the server on Android mobile
There is a portable version available for Windows computers. If you do not want to install it, you can download and run the portable version of WifiMouse. After opening, you can find a window like this-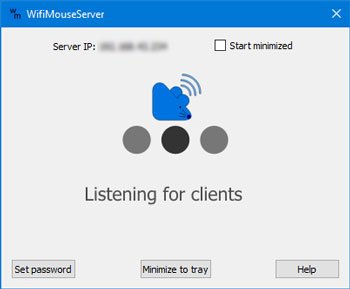 After that, install this app on your Android mobile and open it accordingly. The first window looks something like this-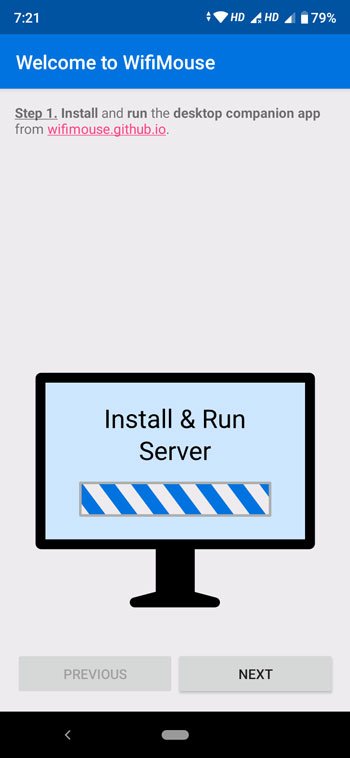 Click the NEXT button to find the available servers. As you have already opened the tool on your Windows computer, you should find your computer name on your mobile screen. You need to tap on your computer name to connect your phone to that server/computer.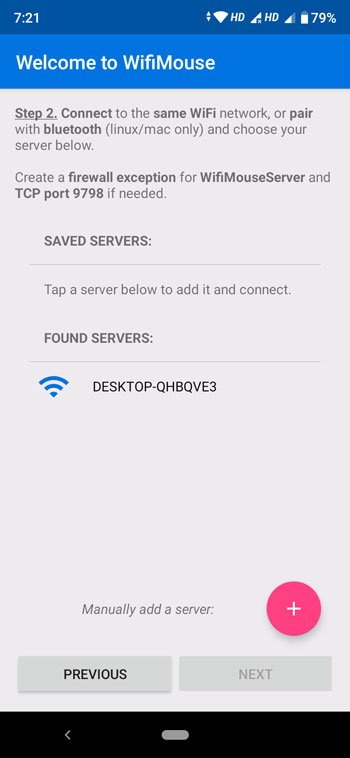 After clicking the NEXT button, you should find all the options also known as remote categories, including Mouse & Keyboard, Screen Mirror, File Manager, etc. In case you need to open Task manager or access power options, you can make use of this 'REMOTES' section of the app.
TIP: These Android apps will help you control your Windows 10 PC remotely.
If you like, you can download this software from the official website. Although you can download this software for Windows, Mac, and Linux, you must have an Android mobile since the iOS version is not available. Please make sure that you have Android 4.1 or a later version.
Other similar tools that may interest you: