If we want to stop a video or want to move to the next slide, which may be running on our Windows desktop, then we need to go to the desktop to do so manually. Have you ever thought of doing these tasks by just sitting at your place? Using Remote Mouse you can use your mobile phone or tablet as a set of mouse and keyboard to operate your computer. You need to install this app on your mobile and the software on your Desktop.
Convert mobile phone into mouse and keyboard
There are many apps to control your computer remotely, but Remote Mouse has some additional features which make it acceptable to everyone. To begin using it, first, you need to set it up on both, your mobile phone as well as your computer. Here are the steps.
Set Remote Mouse on both mobile and desktop and connect them remotely
First, visit your Phone's Store to install the Remote Mouse app on your device. It supports Windows Phone, Android as well as iPhone.
Next, visit the website of Remote Mouse and install the software on your Windows PC. Now, open it on your computer and mobile.
In order to connect your computer and mobile, both the devices should be in the same Wi-Fi network.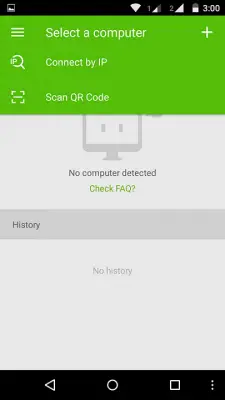 Now, you can connect the mobile to your computer through the IP Address or QR Scan, which are shown on the desktop, once you open the Remote Mouse on your computer.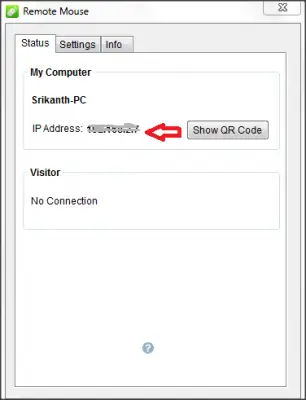 Enter that IP Address or QR Scan Code and your mobile and computer got connected.
These are the 3 simple steps to set it up and connect mobile and computer. Now, everything is ready and you will be able to control your computer remotely, using a mobile or tablet, like a mouse and keyboard.
TIP: These Android apps will help you control your Windows 10 PC remotely.
How to use Remote Mouse
There are many features in Remote Mouse. Apart from using it as a mouse and keyboard, you can control playing videos, presentations, and many more. We will look at them individually.
1] Using your mobile as a mouse
After connecting your mobile with your computer remotely, you can use it as a mouse by just tapping on the screen. There are some gestures to be followed to use left-click, right-click, scroll, and drag. Here they are,
Left-click = Single tap on the screen.
Right-click = Tap the screen with both fingers.
Scroll = Move two fingers on the screen up and down to perform scroll from top to bottom.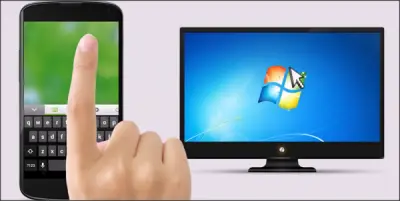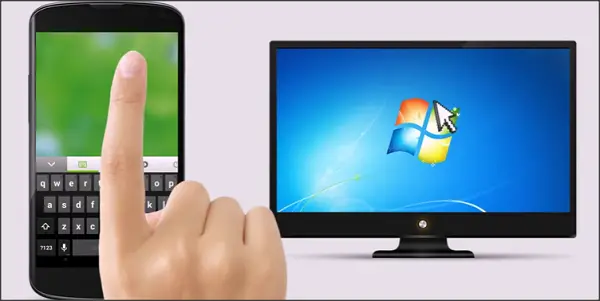 You can even get the buttons and scroll which you see on the mouse on your mobile screen, by just enabling the Mouse option in Panels section which can be accessed through a menu.
2] Using your mobile as Keyboard
Just tap on the keyboard icon and start typing it. You can see the text on the mobile screen and computer. If you do not want the text to be displayed on the mobile screen, then you can toggle the Show Input Text option in Settings.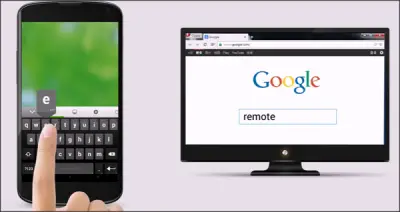 3] Open Applications of your desktop through mobile
Remote Mouse also provides you the feature of accessing applications present on computers. Just tap on the respective icon and it lists down all the applications available on your computer. You can open Notepad, word document, audio/video player, folders, and many more.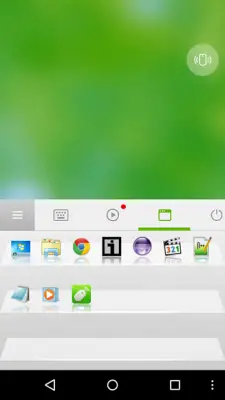 4] Shutdown or hibernate your PC through mobile
You can even Shutdown, Restart, Logoff your Windows PC through your mobile using Remote Mouse. You can even put your PC in sleep mode and controls are displayed by tapping the power icon in the Remote Mouse app.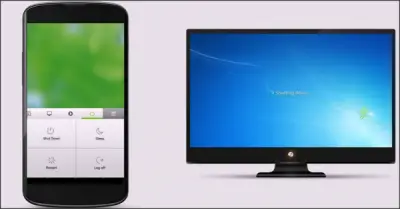 All these features are free of cost for both Android and iPhone users. If you want to use Spotify Remote, Media Control, and Functional keyboard you need to pay separately for each of them.
5] Panels and Settings Sections
You can use Panels and Settings Sections from the Menu to toggle some options. You can show mouse keys, hid/show input text, enabling left-hand mouse, and more.
6] Air Mouse Mode
You can just shake the handheld device to move the mouse cursor on the desktop screen. In order to use this Air Mouse Mode, just press and hold the button on the screen of the app and sway or shake the mobile to move the cursor.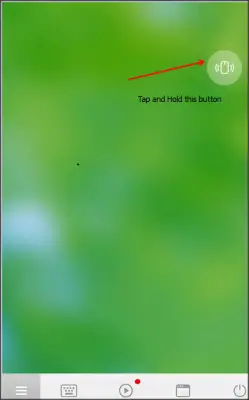 7] Set up a password for the connection
You can even set up a password for connecting your mobile and computer remotely. For this, right-click on the Remote Mouse icon (from quick launch) on desktop and click "Preferences". Then tap on "Settings" tab and create a password.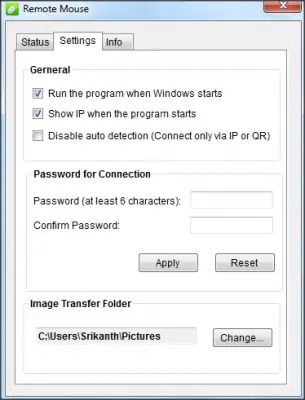 Now the next time, when you try to connect to a computer, it asks for a password. This is very important from a security point of view.
These are the things which you can do with Remote Mouse. This is really a good app to turn your mobile or tablet into a mouse and keyboard. You can control your PC right from your smart mobile. It is free of cost and it very simple to set up and use.
Visit the home page and download Remote Mouse software for Windows PC.
Can I use my phone as a mouse and keyboard?
Yes, you can use your phone as a mouse and keyboard on Windows PC. Although there is no in-built option on Windows 11/10, you can use third-party apps. For that, you can use a program called Remote Mouse. It is freeware and compatible with almost every version of Windows, including Windows 11.
Can I use my phone as mouse?
Yes, you can use your phone as a mouse. If you are using Windows 11 or Windows 10 PC, you can use the Remote Mouse app. For that, you need to connect your phone to your computer via a Wi-Fi network. Following that, you will be able to use your phone as a mouse without any problem.
Other similar tools that may interest you: