We can control TV, AC, and various gadgets using a Remote Control device. But, do you know that it is possible to control a Windows computer using your smartphone? The Unified Remote app can help you to control your Windows PC using your smartphone, as it turns your phone into a remote control device. You can even control multiple computers that are connected to the same network. For example, if you have connected two computers to your Wi-Fi router, you can control both of them using your mobile phone.
Control Windows computer with a smartphone
Unified Remote is available for various platforms, including Windows, Mac, and Linux. You can use this mobile app on Android and iOS as well.
Unified Remote for PC
It is very easy to set up Unified Remote on a PC as well as your smartphone. In this tutorial, I will use Windows 11/10 PC and an Android phone. However, the setup is almost the same if you use any other platform.
Download Unified Remote for your preferred platform and install them on both devices. After opening it on your mobile, it will ask you to create an account. Just enter the details or use your Google account to set up everything. Following that, you will see this screen.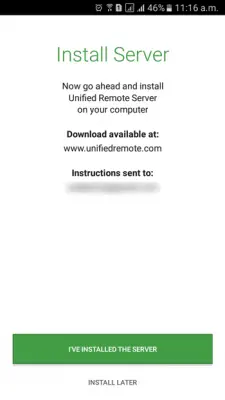 If you have already installed the Unified Remote app on your computer, just tap on "I'VE INSTALLED THE SERVER" button. Otherwise, install it and then tap on the button. Make sure that the app is running on your computer. You can find the Unified Remote icon in your system tray. Now, it will search for the computer/s that is/are connected to the same network.
TIP: These Android apps will help you control your Windows PC remotely.
Now, it will search for the computer/s that is/are connected to the same network and connect the devices when they are found.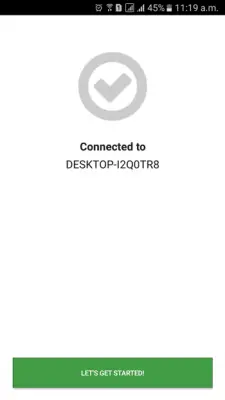 Tap on the "LET'S GET STARTED" button now. You should see these options.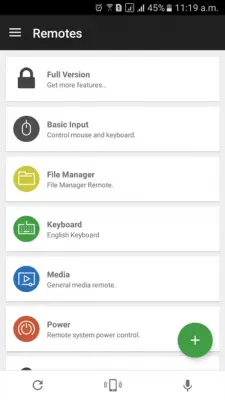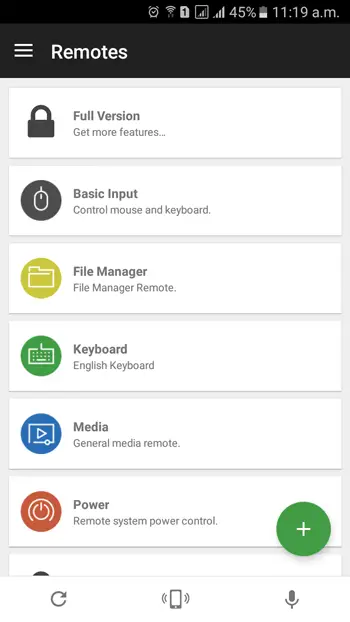 Now, you can carry out several tasks using these options. Unified Remote will let you carry out the following tasks:
Control mouse and keyboard and let you type anything anywhere
File manager: It will help you to browse your drives and various folders
Media: You can play music and control Windows Media Player
Power: Power options such as Restart, Shut Down, Log Off, Sleep, etc. are available here
VLC: If you have VLC on your computer, you can manage that from here
Utility: You can manage your start menu and Taskbar using this option
Presentation: View slideshow using this option
For your information, this app has a paid version, but it is not required for basic tasks. Unified Remote can be downloaded from here.
Can I control my Windows 11/10 PC with my phone?
Yes, you can control your Windows 11/10 computer with your phone. Although there is no in-built application or feature included in Windows 11 or Windows 10, you can install a third-party app. There are multiple apps available in the market. However, you can get an uncluttered experience with Unified Remote.
How can I control my PC with my phone?
You can install Unified Remote on your mobile and computer to control your PC with your phone. It is possible to control Windows PC with Android mobile with the help of this app. A detailed guide is mentioned in the article, and it is recommended to follow it to set things up correctly.
Other similar tools that may interest you: