WhatsApp is a Phone only messenger, and there is no way to install it on multiple devices. However, the need to access WhatsApp messages from computer became so demanding, that the company had to introduce WhatsApp Web. This web version of WhatsApp lets you access, reply, and manage messages. In this post, I am sharing some of the Best WhatsApp Web tips & tricks you can use in everyday life.
How to use WhatsApp Web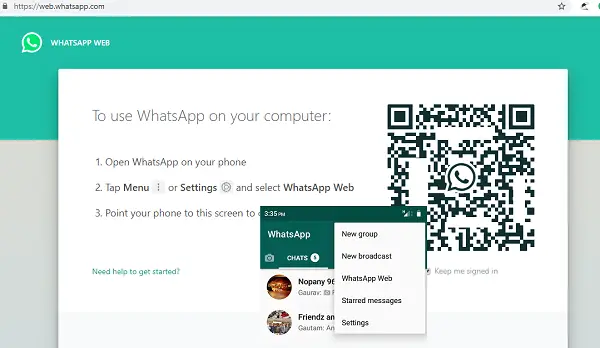 Visit web.whatsapp.com using your web browser. This will offer you to QR code.
Launch WhatsApp on your phone, and tap on the menu bar.
Next, tap on the WhatsApp Web. This will launch the camera.
Scan the QR code, and all the messages, chat group, status messages will be available on the computer.
WhatsApp Web tips & tricks
While WhatsApp Web on your PC is easy to use, there are ways to use it effectively. In this post, we are sharing tips & tricks for WhatsApp Web will help you get the best out of this messaging service.
1] Connect Phone and PC to the same network
The web version of WhatsApp uses data from your phone. This means any message, media you download, your Phone data will be used. So if you want to save data, and make sure WhatsApp web works faster, connect both the devices to the same network.
If you will keep using the WhatsApp web on the computer in the future, check the option to remember on the computer.
2] Logout from all or individual devices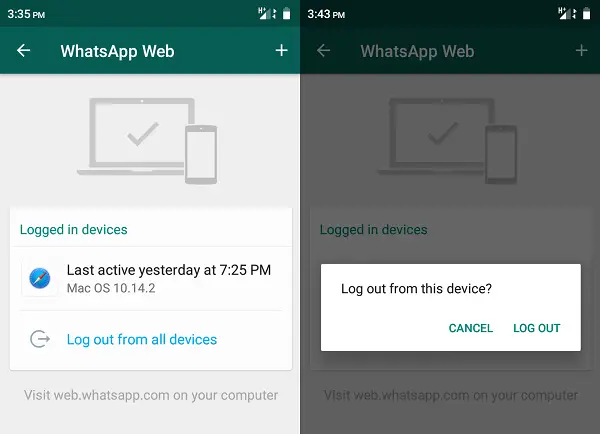 You can connect to any number of devices to access WhatsApp Web. However, it works only on one at a time. If you have used it on a device which you cannot trust anymore then,
Open WhatsApp on your phone > select WhatsApp Web
Tap on the device you want to remove access from or tap on log out from all the devices
Every time you access WhatsApp Web, a notification is sent on your phone.
Read: WhatsApp Web not working on the computer.
3] WhatsApp Web Keyboard Shortcuts
Ctrl + Alt+ N: Start new chat
Ctrl + Alt+ Shift + ]: Next chat
Ctrl + Alt+ Shift + [: Previous chat
Ctrl + Alt+ E: Archive chat
Ctrl + Alt+ Shift + M: Mute chat
Ctrl + Alt+ Backspace: Delete chat
Ctrl + Alt+ Shift + U: Mark as unread
Ctrl + Alt+ Shift + N: Create new group
Ctrl + Alt+ P: Open profile status
Apart from these, all regular keyboard that works on the browser works here as well.
4] To access Emoji from the keyboard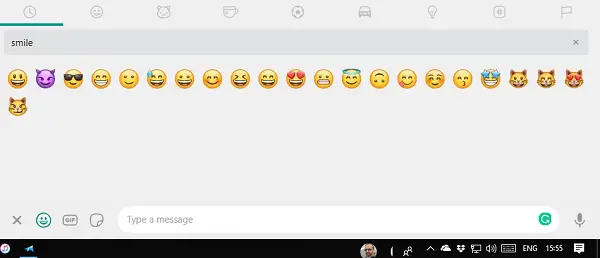 Shift + Tab. This will shift focus on emoji icon.
Hit Enter to open Emoji tab
Start typing to search for emoji
5] View New WhatsApp Messages without switching to the Tab
WhatsApp Web sends out notifications for new messages. However the duration is short, and once the pop-up disappears, it's gone forever. There are extensions like WAToolkit and similar extensions which can let you preview those messages without actually switching to it. This also makes sure you don't trigger the read receipt as well.
6] Download Images and Videos from WhatsApp Web to computer
WhatsApp Web supports all file operations including drag and drop. If you need to upload a lot of files from the computer to WhatsApp, just drag and drop on the chat, and it will upload it.
If you want to download a video or image to your computer from Whatsapp, click to open, and then look for a download button on the top left.
Read: How to find out if you are blocked on WhatsApp
7] Change Chat Wallpaper
Click on the three dots on top. This will open settings.
Next click on Change Chat Wallpaper
Here you change the color of the chat background.
This will not change the chat background on Phone's WhatsApp.
8] Use Multiple WhatsApp Web
If you have multiple WhatsApp number, you can have Multiple WhatsApp Web as well. However, you will have to either use a different browser or use incognito mode.
That pretty much covers all the tips and tricks of WhatsApp Web. In the future, we will cover more posts around it which can help to improve productivity when using it on the computer.
Now read: WhatsApp Tips and Tricks you want to know.